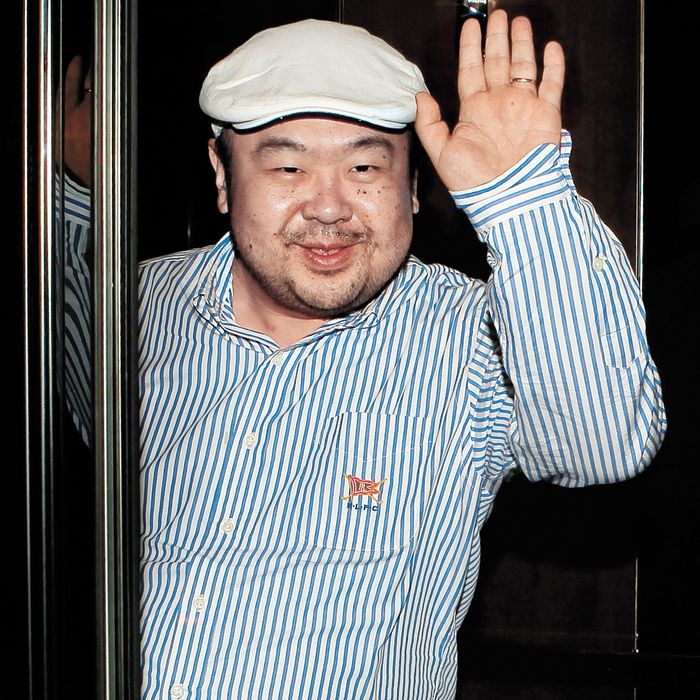 Kim Jong-nam.
Photo: JOONGANG SUNDAY/AFP/Getty Images
On Monday, Kim Jong-nam — the half-brother of North Korean dictator Kim Jong-un — was killed in Malaysia's Kuala Lumpur airport. He died after two women sprayed him with an unknown liquid substance in an attack that is suspected to be the work of North Korean operatives. But one of the suspects arrested in connection with the assassination, 25-year-old Siti Aisyah of Indonesia, says she thought she was taking part in a TV prank.
Per the Guardian, Indonesia's national police chief, Tito Karnavian, said that she had previously been paid for similar acts:
He said she and another woman performed stunts which involved convincing men to close their eyes and then spraying them with water.

"Such an action was done three or four times and they were given a few dollars for it, and with the last target, Kim Jong-nam, allegedly there were dangerous materials in the sprayer," Karnavian said. "She was not aware that it was an assassination attempt by alleged foreign agents."

Siti's boyfriend, 26-year-old Malaysian Muhammad Farid bin Jalaluddin, was arrested as well. The other woman arrested in this case — whose Vietnamese passport identifies her as Doan Thi Huong — was seen on CCTV wearing a sweatshirt that says "LOL" the day of the assassination.