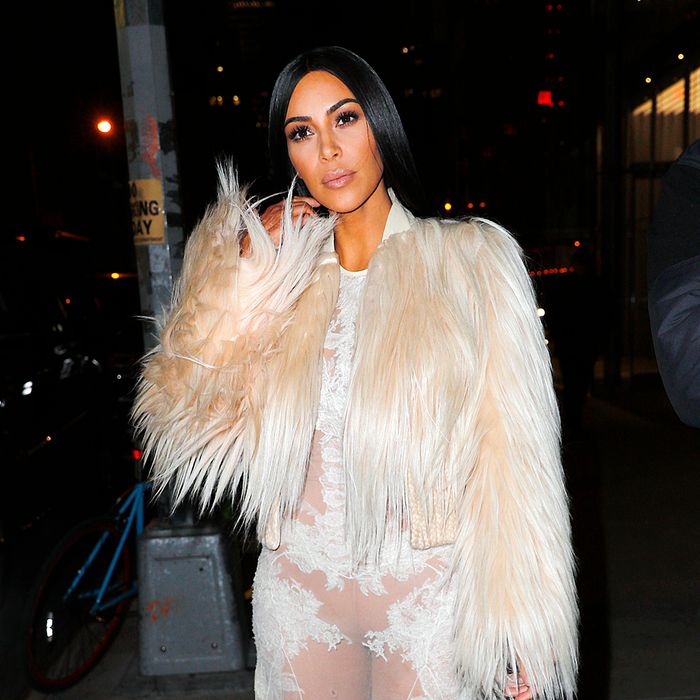 Kim Kardashian.
Photo: Jackson Lee/Jackson Lee
There comes a time in every woman's life when she ponders what pleasantries — what joy! — must come from sharing the wonders of a good book with a good friend. For Kim Kardashian, it would seem that time is now. Late on Wednesday evening, Kardashian announced that she's — surprise! — starting an unofficial book club with her bestie Chrissy Teigen and her favorite hair stylist (and bestie), Jen Atkin. Up first for the eager readers: Embraced By the Light by Betty J. Eadie.

The 1992 New York Times best-seller tells the story of Eadie's very own near-death encounter after a surgery in 1973. According to the book's description on Amazon, Eadie "died" following the surgery, and the book tells "her extraordinary story of the events that followed, her astonishing proof of life after physical death." While Kardashian announced it as the first pick for her unofficial book club, it appears she's already read it. A few days earlier, she tweeted that she'd spoken with Eadie. So perhaps this means she'll be leading the discussion?

Kardashian later tweeted at yet another one of her besties, La La Anthony, to join the seemingly impromptu book club. That apparently left some followers wondering how they could join in on the fun, but thankfully, Teigen cleared things up: