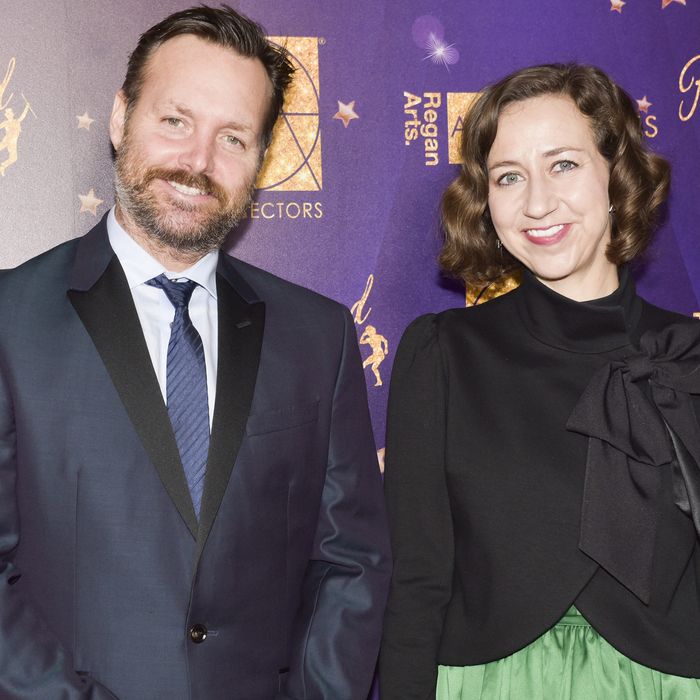 Will Forte and Kristen Schaal.
Photo: 2017 Rodin Eckenroth
Kristen Schaal is on a roll. The multitalented actress was all over last week's Super Bowl with her T-Mobile commercials, and then of course there's her inspired voice work in BoJack Horseman and Bob's Burgers. And let's not forget her role as megafan Mel on Flight of the Conchords, her stint as The Daily Show's senior women's issues correspondent, and her current gig on The Last Man on Earth, opposite Will Forte.
Even though Flight of the Conchords has been off the air for years, Jemaine Clement and Bret McKenzie are still major crush objects among fans. (Clement's appearance on HBO's Divorce as the Other Man was one of the more relatable aspects of the show.) When the Cut caught up with Schaal at the Art Directors Guild Awards in Hollywood (where she sparkled in an emerald Trashy Diva dress with a black Alice + Olivia blouse over it), she admitted that she understood the enduring appeal. "That show is timeless. They just captured a comedy style that's never been replicated since, and they're also incredibly sexy men. Let's be honest. They have a lot of hair," she said with a laugh.
As for current co-star Forte, who once sported an incredibly lustrous half a head of hair during a Last Man arc, Schaal admits she's found herself working with another quirky, handsome guy. "Forte is also found sexy by most. I think it's an even split. Forte is a man, he is," she admitted. With or without hair.