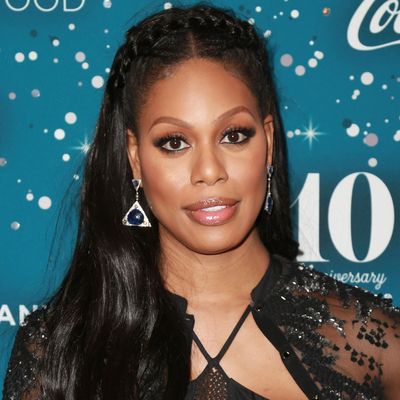 Laverne Cox sets the record straight.
Photo: Leon Bennett/Getty Images for Essence
When North Carolina passed its now-infamous anti-transgender bathroom law, state lawmakers said they were "concerned" about trans women using women's facilities. "There is the issue of privacy," House Speaker Tim Moore said at the time. "[And] obviously there is the security risk of a sexual predator." But according to spokespeople from the Transgender Law Center, the Human Rights Campaign, and the American Civil Liberties Union, absolutely no evidence exists to justify those claims.
In other words, anti-trans bathroom laws aren't actually about "privacy" or the risk of sexual assault — they are, as Laverne Cox pointed out on MSNBC on Thursday, about trans people's right to exist in public space.
"When trans people can't access public bathrooms we can't go to school effectively, go to work effectively, access health-care facilities — it's about us existing in public space," she said. "And those who oppose trans people having access to the facilities consistent with how we identify know that all the things they claim don't actually happen. It's really about us not existing — about erasing trans people."
Cox, who mentioned Gavin Grimm's Supreme Court case in her recent Grammy's presentation speech, went on to cite California's Assembly Bill 1266, which was implemented three years ago and allows trans students to use the bathroom consistent with their identity. "Nothing horrible has happened," she said. "What has indeed happened is trans students feel supported by their schools … it gives them spaces to thrive. And that's what we should want for all of our youth: spaces to thrive."
Trump's administration recently revoked President Obama's protection for transgender students in public schools, choosing instead to let states decide what rights trans students should have. It's unclear what effect that move could have on Grimm's case, which is set to be heard next month.