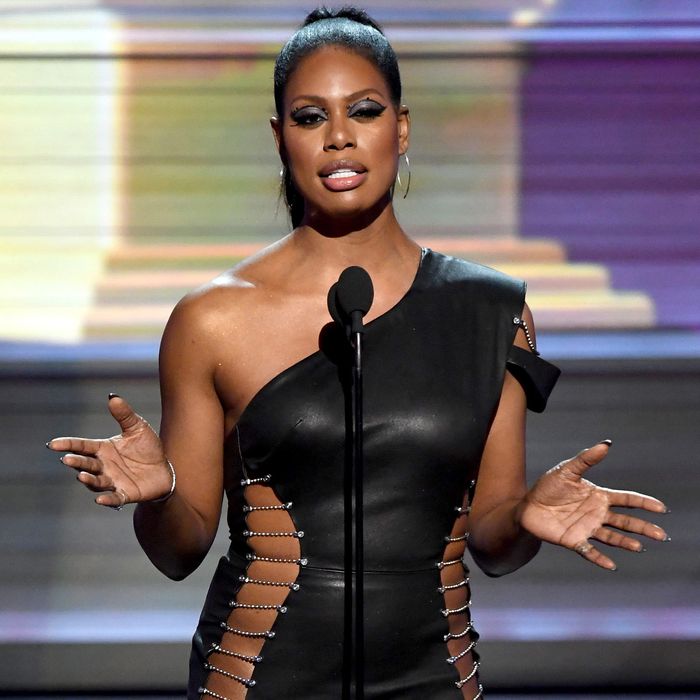 Laverne Cox.
Photo: Kevin Winter/Getty Images for NARAS
As an awards presenter at the 2017 Grammys, Laverne Cox had only a few moments onstage to speak, and she didn't waste her time. Cox had barely finished walking to the mic before she directed viewers to do something that likely wasn't on the prompter: Look up #StandwithGavin. "Everyone, please Google Gavin Grimm," Cox said. "He's going to the Supreme Court in March. Hashtag, #StandwithGavin." She continued, along with a nod to all "non-binary peeps watching tonight," to introduce the next performance featuring Lady Gaga and Metallica (except she mistakingly only mentioned Gaga's name). Still, Cox had made her personal point.
Grimm is a 17-year-old teenager in Virginia who sued his school board after they voted against allowing him to use the school bathroom that corresponds with his gender identity. Initially, the school's principal allowed Grimm to use the boy's restroom, but following complaints from parents and religious groups, the school board voted in a policy that mandates students use bathrooms corresponding with their "corresponding biological genders."
The American Civil Liberties Union filed suit on his behalf in 2015 and are claiming the policy violates Grimm's civil rights. A federal appeals court ruled that the school board was in violation of Title IX, which bars discrimination on the basis of sex and gender, and which the Obama administration stipulated covers transgender students. Whether it does is now a question that the 4-4 Supreme Court has agreed to hear arguments on.