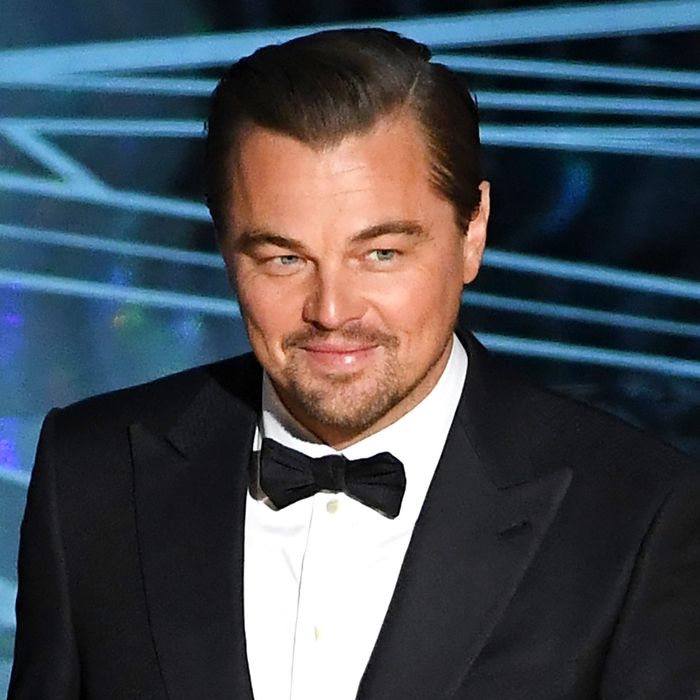 Leonardo DiCaprio.
Photo: 2017 Getty Images
Update: DiCaprio's representatives have told the Sydney Morning Herald that Hamilton was not a part of his Oscars glam squad.
Pussy posse president Leonardo DiCaprio had a very special job Sunday night. As the former Best Actor winner at the Oscars, it was his job to present the winner of this year's Best Actress. Such an occasion couldn't be marred with the terrible tragedy of bushy eyebrows. According to the Sydney Morning Herald, the actor reportedly flew in celebrity eyebrow expert Sharon-Lee Hamilton from Australia.
Sharon-Lee Hamilton was introduced to DiCaprio via Tobey Maguire, whose wife became a client of Hamilton's while Maguire was filming The Great Gatsby in Sydney. Other famous clients on her roster include Serena Williams, Mary-Kate Olsen, and Beyoncé. But last weekend was all about Hollywood, as Hamilton reportedly tended to DiCaprio's and a few other A-listers brows ahead of the big ceremony. Other outlets have disputed the Sydney Morning Herald's claim that DiCaprio sought Lee's brow skills on Sunday, but Instagram shows she was definitely at the Oscars. No word on whether the rest of the pussy posse was treated to her services.