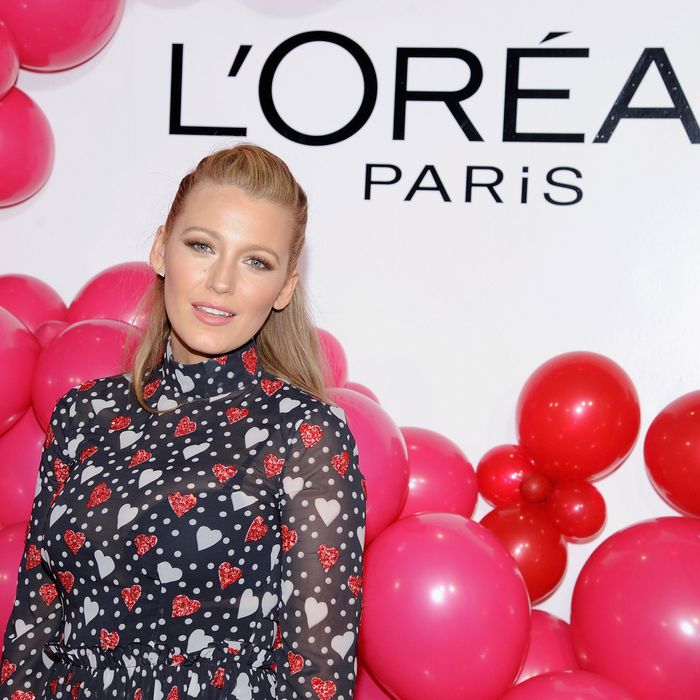 Our gal Blake Lively.
Photo: Matthew Eisman/Getty Images for L'Oreal
On a seminal episode of Parks & Recreation in 2010, Amy Poehler's character Leslie Knope introduced the world to Galentine's Day, a made-up holiday on February 13 celebrating female friendship. Last night, actress and L'Oreal Paris spokesmodel Blake Lively unleashed her own interpretation of Galentine's Day on an expansive loft space in the Meatpacking District. She created the slumber party of every 13-year-old's dreams — replete with makeovers, fortune telling, candy, best-friends necklaces, candy, romantic comedies, temporary hair dye, and pink-lemonade margaritas.
"I got a little too involved," Lively told E! News about the party. "I said, 'I don't really just want to show up. I sort of want to plan it.'"
According to this video on her Instagram page, Lively even plugged in the lights at the venue. We gals got to experience the fruits of her labor on perhaps the coldest Galentine's Day on record.
AMBIANCE
Kelly: Last night, it was -350 degrees out with wind speeds of up to two-million miles per hour (rough estimate). We wandered around the Meatpacking District cursing out loud because we couldn't find the venue. When we did, we were greeted not with the warm embrace of Blake Lively's smile and a heated room, but instead a cold cement hallway where we waited in line behind a contestant from The Bachelor. "I hate this so much," I said over and over. "I REALLY hate this." We were eventually transported to the party by way of a very scary service elevator. "Happy Galentine's Day," Allie whispered. Yes. Happy Galentine's Day, Allie.
Allie: At least the aforementioned Bachelor contestant, Olivia Caridi (Ben's season), had to ride up to the loft with us. Once inside, it was Blake Lively's Female Fun Zone, and there was so much to do.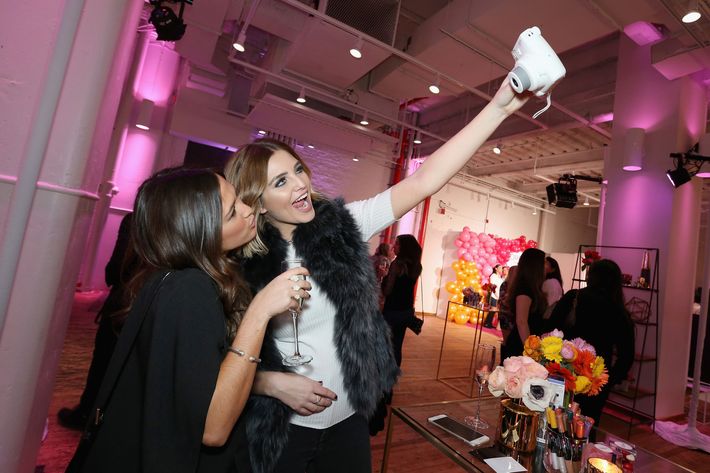 ACTIVITIES
Allie: After we checked our coats and wiped our red noses on cocktail napkins, Kelly and I looked out at Lively's handiwork with quiet awe. There were no less than six makeover stations featuring unlimited L'Oréal products. There was a valentine-crafting table and a valentine-cookie-decorating table. Every surface was covered with pastel marshmallows and Pop Rocks; every TV was playing scenes from The First Wives Club, Legally Blonde, or The Bachelor. On the far side of the loft, there was a graffiti wall where guests could write with metallic Sharpies why they were "Worth It." On the other side, there were two separate photo stations, including one that created disturbingly fast-paced videos with the tagline, "Kisses for my BFF!"
Blake Lively thought of everything, by which I mean, every craft idea that Blake Lively has ever had was spinning around the loft like a whirligig.
Kelly: Allie and I participated in a respectable number of the activities. We got heart necklaces engraved with each others' names, we drank at least one too many drinks each, etc. Most notably, we got makeovers and had our lips "read," which was similar to a palm reading, but with lips. We wiped the makeovers off of our faces in the bathroom immediately, but the lip reading will no doubt stay with us forever.
The lip reader told me I was slightly more outgoing in crowds than Allie, which is false, but still a good "burn" on Allie.
Allie: The lip reader also told me that based on the shape of my mouth, I will never be able to stick to a diet, which felt both rude and freeing.
WERE PEOPLE RESPECTFUL OF BLAKE LIVELY?
Kelly: No. Blake Lively appeared at the party and was immediately swarmed in a way similar to the "lepers" scene in Jesus Christ Superstar, which I understand is an unbecoming reference, please don't judge me for having made it. She looked surprised, which was correct.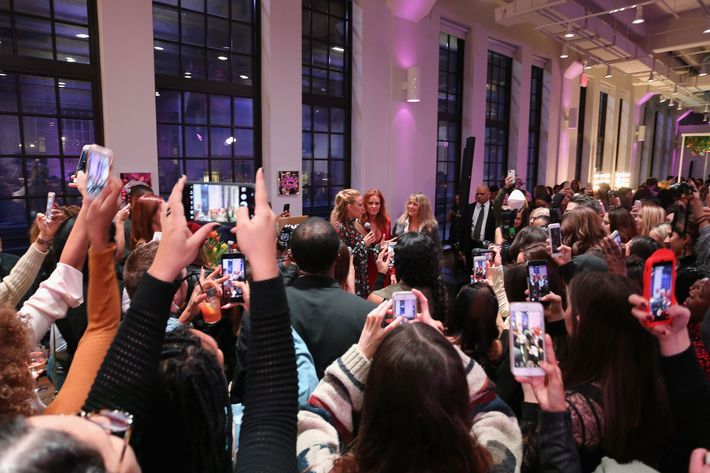 Allie: As soon as Lively took the mike to make a speech about inspiring women, the crowd of seemingly respectable female citizens pitched forward with mouths open and iPhones out. I thought somebody was going to come away with a lock of her hair, which was fashioned into the shape of heart on the back of her head.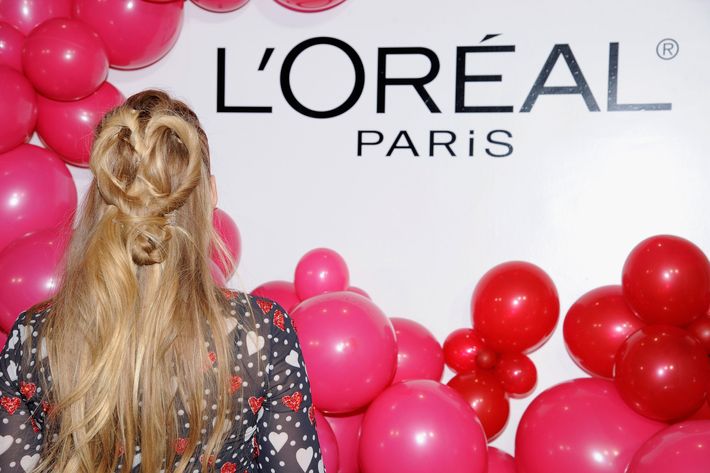 FREE STUFF
Allie: Before we arrived, I told Kelly I thought we would probably get a lot of free stuff at this party, and I have to say: I was right. I walked out with two L'Oréal Infallible Paints™ lip glosses, two L'Oréal Infallible Paints™ liquid eyeliners in "Black Party" (?), a heart necklace that says "Kelly" on it, and a slight pink-lemonade-margarita headache.
L'Oréal Paris Galentine's Day Event Featuring Blake Lively Review: Lively Party.