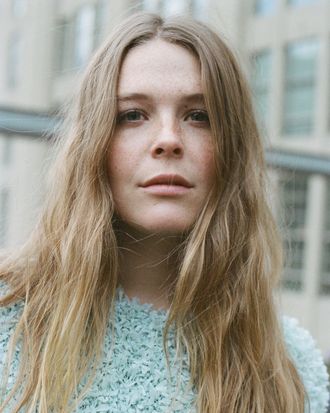 Maggie Rogers's first EP will be released next week.
Photo: Tanya & Zhenya Posternak
Maggie Rogers is standing in the middle of a wide concrete hallway on the fourth floor of a warehouse in Chelsea. She's surrounded by people, one of them fixing her hair, another touching up the sheer-pink gloss on her lips, and the rest standing around talking about lighting. Even in the three-inch heels she's wearing, she looks small standing at the center of such commotion. At one point, she looks up and locks eyes with her manager, who's overseeing the whole shebang. Her eyes widen. "Dude," she asks, rhetorically. "What?"
It's a question that encompasses the entire scene, from the heels to the crowd to the fact that she's become an internationally recognized musician almost overnight. The 22-year-old Rogers was catapulted into the public eye back in May, thanks to a viral video in which Pharrell — who taught Rogers's master class at NYU's Clive Davis Institute of Recorded Music — wigged out over a song she played him. "I've never heard anything that sounds like that," he said of Rogers's sample, which she called "Alaska." "That's a drug for me." It turned out a lot of people felt the same way: Pitchfork estimated that snippets of "Alaska" ripped from the video racked up more than 50,000 views apiece, and the original video has been viewed more than 2 million times. Rogers uploaded a finished version of the song to Spotify in October, and, at the time of writing, it's been played more than 26 million times. After a postgrad trip to Europe, Rogers got to work on her debut EP, Now That the Light Is Fading, out February 16.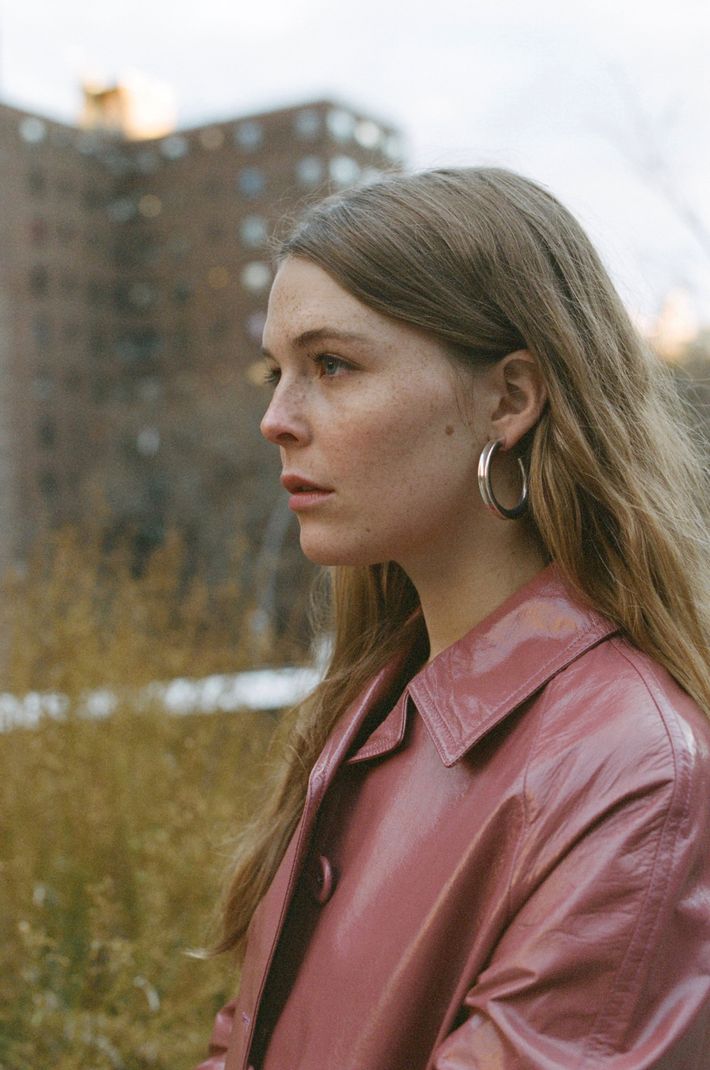 Bottega Veneta coat in dusty rose, $5,100 at 800-845-6790
She'd planned to spend her first months after college working at a coffee shop, or doing freelance writing (she's a former Elle intern), and making music in her downtime. Instead, she'll be playing a nearly sold-out international tour. And in many ways, it's thanks to the internet — a fact she's still grappling with. "I didn't have Wi-Fi in high school," she says. "I went viral on Reddit, and I didn't know what Reddit was. I'm a strange person to be a person of the internet, but I'm indebted to it because this is the only thing I've ever wanted to do."
When you listen to "Alaska," it's easy to hear why it took off. The steady, organic beat, the quick-snapping rhythm, and Rogers's dreamy soprano all combine to make something infectious — something that makes you want to move in time. The rest of the songs on the EP are like that, too, from the slow-swaying "Dog Years," to the explosive "On + Off," to the serene "Color Song," to the smooth-jamming "Better." "It was about trying to make music to inspire as much natural movement as possible," Rogers says. "We spend a lot of time fighting movement, but it's the most instinctual way a human can experience music."
She started writing music when she was around 13, but even before that, she said, "I would always define myself by music — I've always been able to know who I am by knowing what I sound like." (In sixth grade, she DJ'd recess for her entire middle-school class — she played a lot of Usher, Alicia Keys, Missy Elliott, the Killers.) When she went off to college, she was known as the banjo player. But a trip to a French nightclub sparked her interest in electronic music.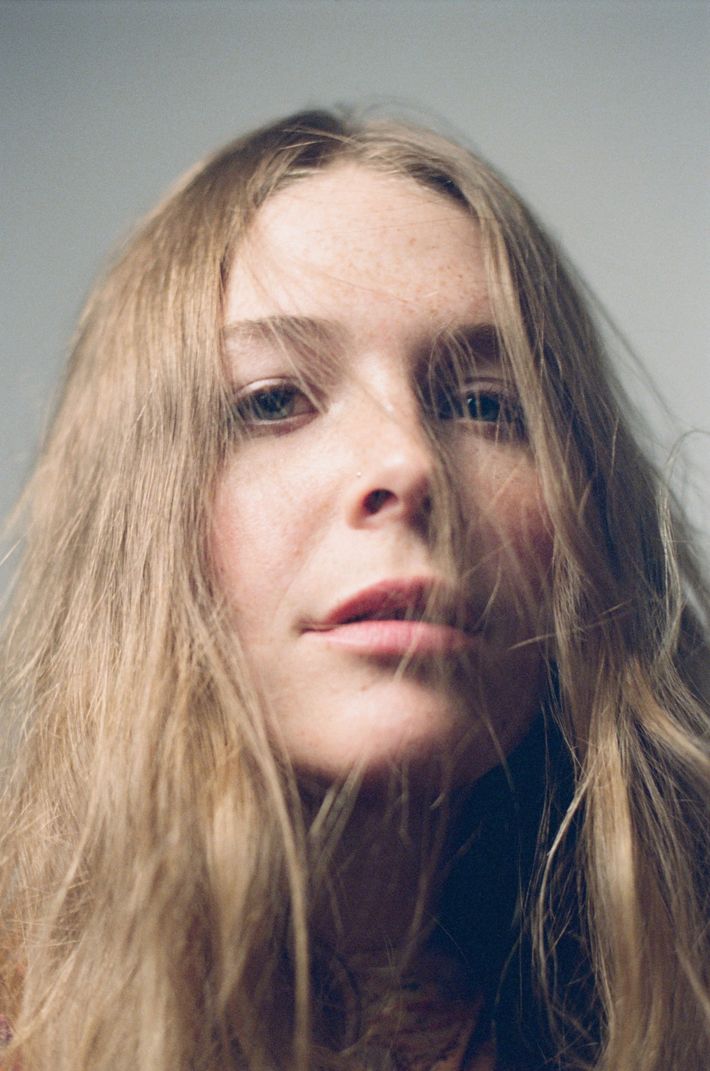 "Watching a group of people move in the same way so instinctually was so connective," she said of the experience. "I realized how instinctive human rhythm is." A longtime student of folk music, she found that the rhythms in electronic music were similar to those in ancient folk work songs. "It's bizarre," she said of the discovery. "There's just a way that feels good."
That sweet spot — that way that feels good — is what she aims to capture with her own sound, which has been described as a folk-electronic blend. How does she know when she's hit the mark? "If you walk into a party and you play the wrong music, you know immediately," she says. Once, she was working on a song with a friend, and they couldn't nail the bass line. As the day wore on, they tried with increasing frustration to get it right, but no luck. Then, on the seventh or eighth try, it finally clicked, "and I started crying," Rogers said. "It was so obvious. That's why I love pop music. When it's good, it just makes sense. There's no explanation. It's like the song 'Yeah' by Usher — just, duh."
Rogers is synesthetic, meaning she closely associates sound with color. (Once, when she was shooting a music video, she changed the lighting scheme from green and purple because the song was clearly orange.) So when she started work on Now That the Light Is Fading, she covered a mood board in colors, textures, and fabrics to embody the sound she wanted. It kept her on track, and because she was producing songs with other people for the first time, "it helped me to understand where I began and ended and where somebody else began and ended."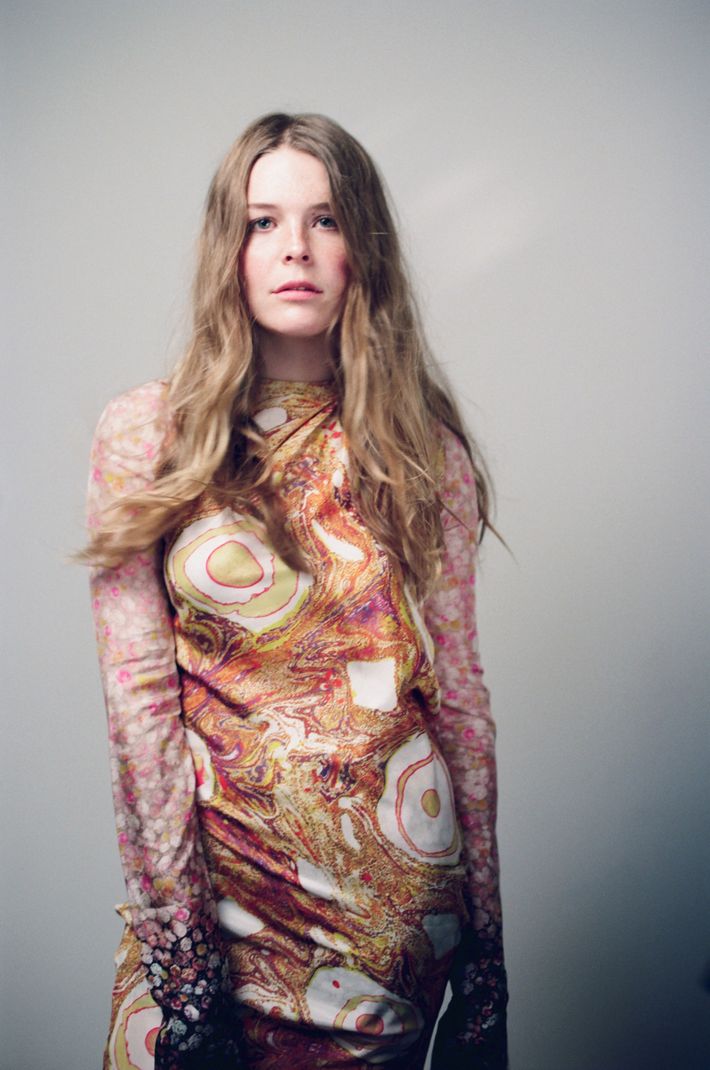 Acne Studios floral dress; tunic dress (worn over), $800 at Acne Studios
That's important to her, too — that the music she makes perfectly reflects who she is at the time: "Otherwise I'll end up playing a role rather than being myself." The world first met her as a college senior, head bobbing to the music, doing exactly what she wanted to be doing in exactly the place she wanted to be doing it. "I got to this place by being myself," she says. "So I feel like I have a lot of freedom because no one expects me to be anything else."
Lead image photo: Max Mara fur effect knit sweater, $835 at Max Mara 813 Madison Avenue; 212-879-6100
Photographer: Tanya & Zhenya Posternak; styling by Diana Tsui; makeup by Sierra Min; hair by Clara Leonard; fashion assistant: Mars Johnson; photo assistant: Jimmy O'Keeffe