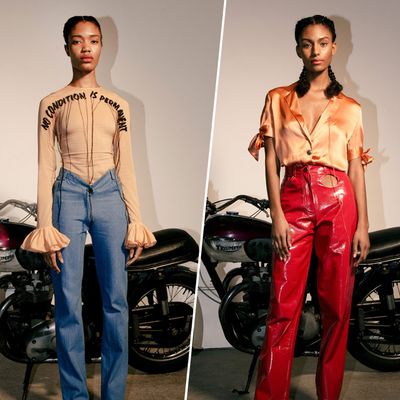 In a bustling corner of Manhattan's Meatpacking District, it was an otherwise typical Wednesday night: the after-work rush of taxis and the unmistakable sound of heels clacking on the cobblestone streets. But inside Maki Oh's 13th Street presentation, guests were transported halfway around the world.
The booming drums and vocals of the night's live band, Oxosi Fuji Ambassadors, and the bright banana-yellow walls were part of a celebration of perseverance and African youth culture. The presentation, in collaboration with Oxosi — an online retail platform that carries designs exclusively from African designers — brought together the often ignored segment of fashion's young black industry creatives.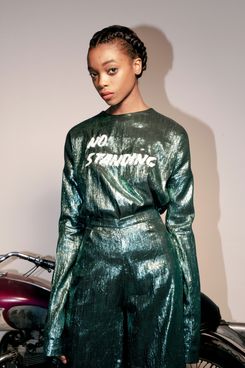 Since starting her business in 2010, Maki Osakwe has taken her namesake line full steam ahead, to the point where it's almost difficult to keep up. When asked which number her most recent collection falls under, she lightheartedly replied, "Oh my god, I don't know the answer to that, can I tell you later?" Her vibrantly patterned dresses have been worn by style icons like Michelle Obama, Lupita Nyong'o, and Solange, but last week's show channeled the heroine of a much less glamorous world. The girl in question, as Maki tells it, is a figure of Nigeria's lower-middle class, "She's going on a casual encounter to see her lover at night, after work, and it's that girl who has to take public transportation. It's normal for girls in Nigeria to have a driver, so imagine the girl that can't have one."

It's at this point the bright-yellow walls take on a deeper meaning. "The yellow is for the Nigerian buses. The girls have to take those buses, and they're like beat-up and have art and slogans on them. They're called Danfo buses," she said. This connection to such a prevalent piece of urban Nigerian culture couldn't come at a more critical moment, as the governor of Lagos recently announced plans to ban the buses in favor of a more complex mass-transit system.
Although much of the collection is imbued with both a playfulness and sophistication (most of which you could easily imagine on any celebrity like Solange or Lupita) the theme of the working-class girl provides the vision behind one of the collection's most standout pieces — a nude sheer top with intentionally half-done threading reading, "No condition is permanent." On the surface it feels like some sort of political commentary of the times, but as I'm told, it's more like the African equivalent of the optimistic parable of the American dream: "I'm driving a Danfo now, but tomorrow is the day I'll make it."