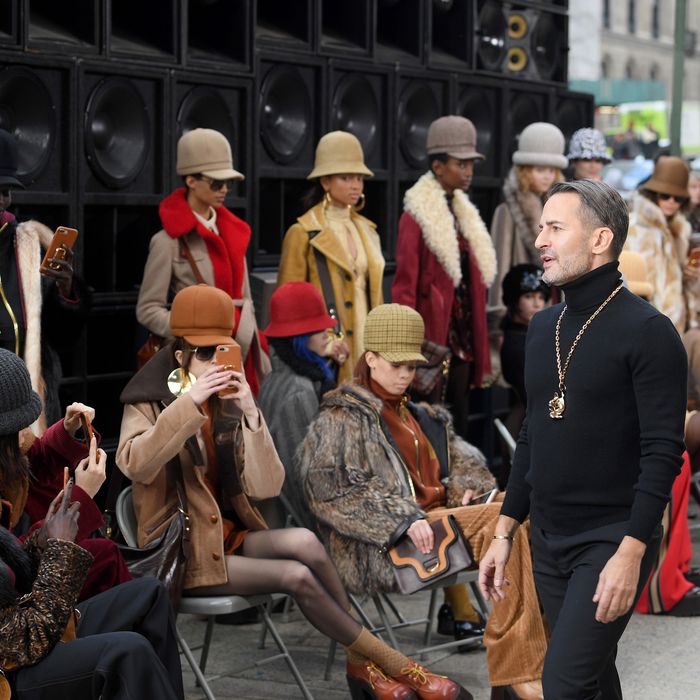 Models snapped selfies.
Photo: Dimitrios Kambouris/Getty Images for Marc Jacobs
Katy Perry and Mandy Moore attended Marc Jacobs's partially outdoor show at the Park Avenue Armory today — a performance-art piece that literally brought streetwear to the street, on a 36 degree day. Models walked and sat down outside, glued to their phones like Instagram-obsessed fashion editors.
The set by Stefan Beckman looked like an empty school gymnasium. Every guest had a front-row seat on metal folding chairs. Katy Perry looked happy about this.
But she seemed to be there incognito — most attendees didn't spot her. In show notes, Jacobs explained the collection was inspired by the Netflix documentary series Hip-Hop Evolution, which traces the genre from the 1970s to the '90s. (We wondered: Perhaps this was a response to backlash over the designer's dreads controversy last season?) Jacobs said these clothes were about "respect," remembering hip-hop's influence on art and style while he grew up in New York. "This collection is my representation of the well-studied dressing up of casual sportswear," he wrote. "My respect for the polish and consideration applied to fashion from a generation that will forever be the foundation of youth culture street style."
The first look: a fur-collared coat over a shimmery mini with boots. Happy, warm neutrals filled this collection as colorful coats — in camel, gold, brown, and red. Models wore boxy shearling jackets, plaid coats, and lavish fur-muff sleeves.
Kendall Jenner, Winnie Harlow, and Natalie Westling walked. The 37 models wore 37 individual beauty looks with a mix/match of eyeliner styles, cabernet lipstick, and eye gloss, with makeup by Diane Kendal and hair by Guido Palau.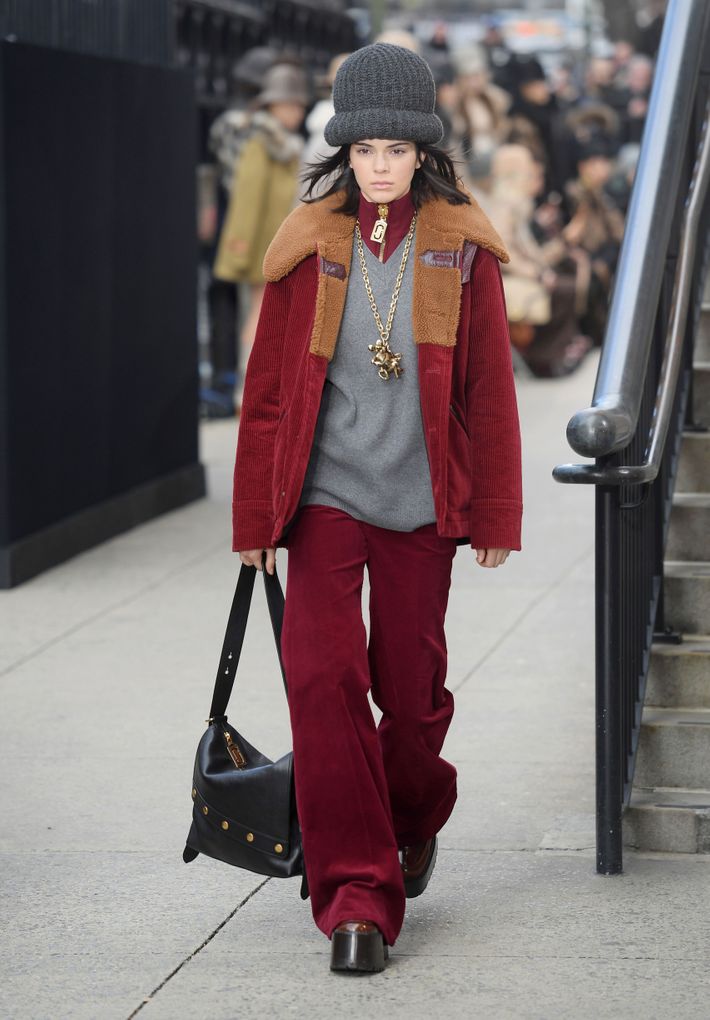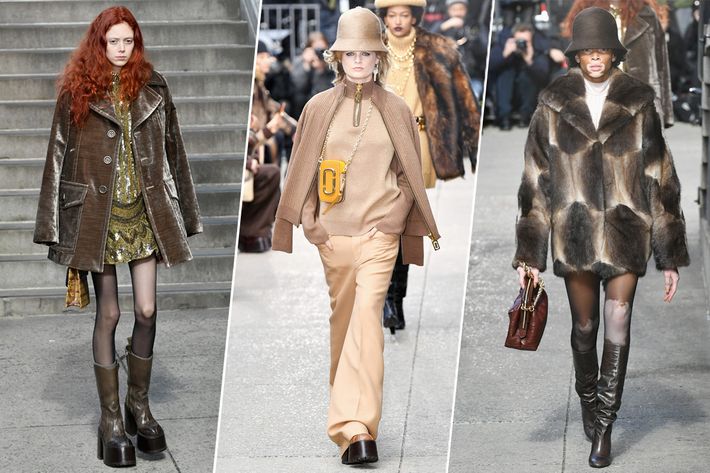 They wore leather platform or high-heel boots, and hats by Stephen Jones — in cheetah fur, tall or tapered silhouettes, and as backwards camel caps.
Gold pendants on chains showcased a jewelry collaboration with the artist Urs Fischer. There were more nods to casual streetwear: baggy jeans with red platform boots and bell-bottom tracksuits.
Models left the runway and exited the building, walking past photographers and commuting New Yorkers. After a final pose, each stood or sat down outside in metal folding chairs. Most took out tan leather iPhone cases and started snapping selfies. Meaning: Now we know how Jacobs feels about phone etiquette at fashion shows.
Other celebrities who attended: Frances Bean Cobain, Terry Richardson, Amanda Peet, Zosia Mamet, Lil Kim, and Lottie Moss.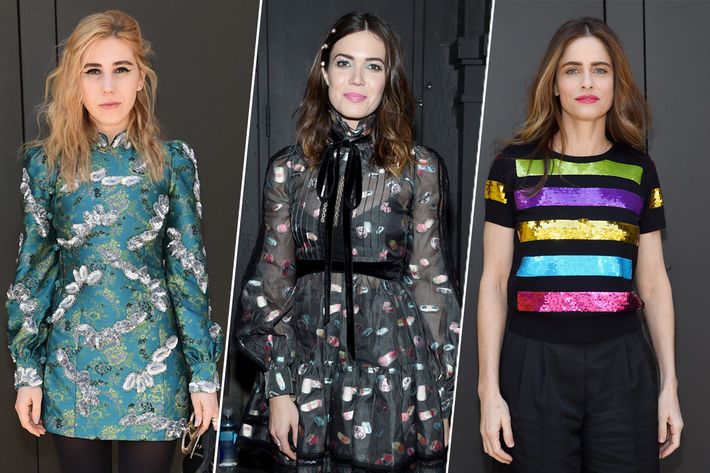 After the last look — red velvet bell-bottoms with a fur coat — Marc Jacobs walked out wearing all black and a gold chain. Models focused their identical phones on the designer as he passed them. Dramatic string orchestra music by Steve Mackey played while celebrities and fashion editors left the building and snapped the looks — the final show of New York Fashion Week.