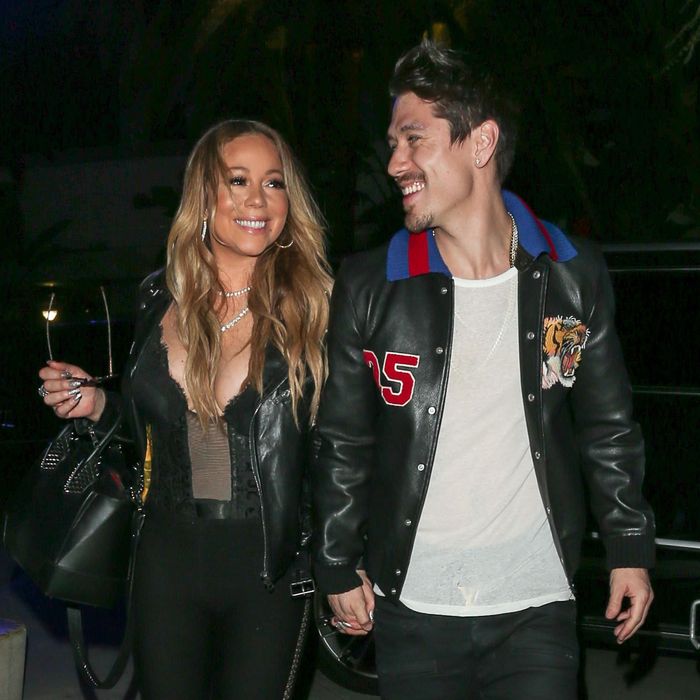 Photo: wowcelebritytv/Bauer-Griffin/GC Images
Mariah Carey sort of confirmed that she's seeing backup dancer Bryan Tanaka during an interview with the Associated Press. Carey posted a sudsy Valentine's Day photo on Instagram of the two sharing a hot tub and some champagne that had fans all abuzz earlier this week, but she played coy during her interview with the AP.
When she was asked if she and Tanaka were dating, she demurred: "I'm just going to be like 'I really don't talk about my personal life.' Because that's what I used to do and it really worked for a minute, back, a while ago," she said, smiling. "I just don't feel comfortable talking about my personal life … Me and my boyfriend don't want to do that."

Carey recently dropped a new music video that showed her setting fire to her wedding dress, ostensibly the same one she had ready to go for her wedding to ex-fiancé James Packer. One of the many rumors swirling around their breakup was that she'd been cheating on Packer with Tanaka. She and Tanaka were filmed making out on the season finale of her reality TV show, Mariah's World, which aired at the end of January. After all, it's Mimi's world, and we're just living in it.