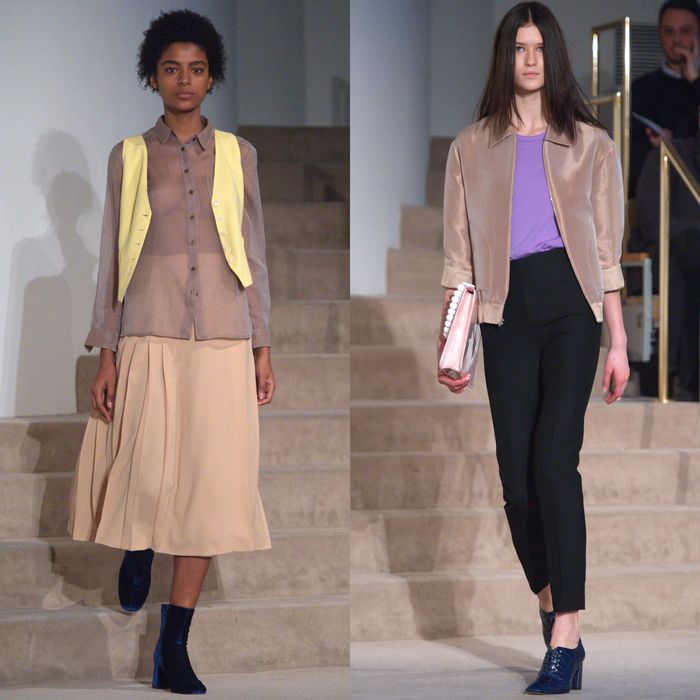 Designer Maryam Nassir Zadeh picked the Guggenheim for her runway show last Monday — an appropriate choice for her fall collection's artful aesthetic. The pieces were all about contrasts, like deep purples and reds paired with buttery yellows or soft whites. Below, a recap of the show's best moments.
The designs were minimalist — feminine, flowing, high-waisted skirts; masculine, tailored vests and blazers; and bodysuits under loose, open button-down shirts. These 1940s-inspired looks mingled with Victorian-era puffy sleeves and embellishments.
The set: a beige-carpeted staircase in the Guggenheim's basement Peter B. Lewis Theater. Models descended as if guests were watching a performance, and in many ways they were — musician Dev Hynes, also known as Blood Orange, played a soothing tune on a keyboard during the show. He told Vogue that the new song examines the themes of family and new beginnings, which aligned with the show's emphasis on fresh and unexpected designs.
The brand's popular block-heeled shoes appeared as new dark-blue velvet and purple suede booties and stark-white pumps. Handbags and belts appeared on the runway for the first time — a launch of two new lines. Small, top-handled bags came in suede, velvet, and raffia, among other materials.
Zadeh cast artists, models, and the brand's "muses" for her lineup, including Susan Cianciolo, Georgia Howorth, and Alexandra Albright. They all stood together onstage at the show's end — a nod to theater's customary final bows.