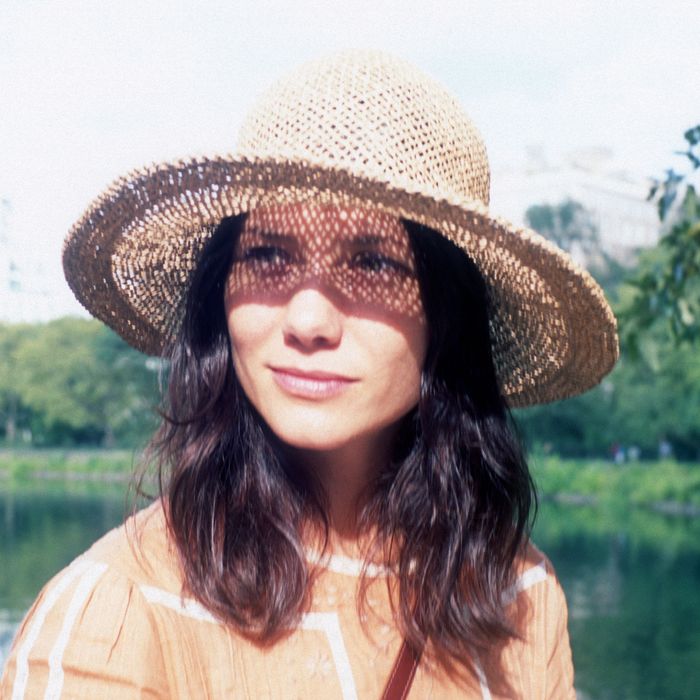 "We're a clothing company that exists to promote the arts, culture, print, craftsmanship, and collaboration — bringing people together," explains Autumn Hruby, the founder of cult knitwear brand and art-literary journal Hesperios, which launched last year. The labor of love is as involved as it sounds, with the Illinois-born, NYC-based designer working "nonstop, 14-hour days" in service of her clothing collection and biannual publication, which have quickly become favorites among the international creative class.
Hruby, an avid bibliophile, originally pursued a career in photography and design (she ran a small agency in Montreal), before embarking on a mission to create a print journal of her own. The project, strongly influenced by the soothing minimalism of Scandinavian design, was years in the making, "It took forever," Hruby says. "But it really evolved through people I met along the way." One such person was artist Jim Drain, a contributor to the journal who gifted Hruby some colorful wool. Inspired, she enrolled in a class in Brooklyn and took up knitting, initially crafting two-tone hats for friends, then sweaters. Encouraged by their warm reception — pun intended — Hruby expanded her repertoire, and a star was born.
And while the cozy knits, made of the softest alpaca fleece, among other materials, are front and center, for Hruby, Hesperios is about more than fashion. Creating a sense of community is paramount. "We've started doing monthly dinners where we bring in musicians and chefs and really good food, at my apartment or places like Café Henrie," the designer says. "It's a nice opportunity to stop and take time to connect."
Read on for more of our interview with Hruby, from details on her new collection to her Post-it obsession and dream collaborations.
What's behind the name Hesperios?
Hesperios means "evening star." I didn't know the word existed until I was hanging out with my friend Evan Dando, he's in the band Lemonheads and loves coming up with nicknames for his friends. I had mentioned at some point that I was ruled by Venus because I'm a Taurus and he started calling me "Hess." I was like. "What is that?" and he said, "Oh, it's from hesperus," which is the original Greek word for Venus. I really needed a name that I could trademark and use for the company and Hesperios just felt right.
How would you describe the fall '17 collection?
We expanded more into sparkly, glittery pieces — there's a little bit of a glam-rock thing going on — because my best friend, Dan, is in a band called QTY. He inspired me for the unisex T-shirts, turtlenecks, and some pleated skirts in a sparkly, almost silky material. Then there's more mulberry silk, a lot of knits, we've just expanded beyond sweaters — long pleated and pencil skirts, crop tops, and more dresses.
What's your uniform?
We have a sweater called the Fåro, it's our unisex rice-stitch style, and I wear it in different colors. I love that it's not too heavy but not light, you never get too hot in it. I'll wear that with jeans or a long knit pencil skirt. I also love sweater-dresses and I've been wearing Céline or the Row ankle boots in the winter.
Who would you love to see wearing your clothes?
So many — I think Miranda July got a piece and I'd love to see her in it. Lauren Hutton. Rooney Mara just came to mind; I think she's really lovely.
What's your studio like?
It's on Lafayette and Bleecker. My friend Eric Goode — who started the Maritime and Bowery Hotel and the Jane — rents us the space. He's had the sixth floor of the building since the '80s and is across the hall. He is also big into turtles and has a turtle conservancy in Ojai. Our office is small: 700, 800 square feet with the inventory in back, and we have three full-time employees and four part-time ones. There's a long wooden table with a marble top that we all work around. I love tables and I can fill them really quickly with books and candles and flowers and Post-it notes — I'm obsessed with Post-it notes.
How do you stay organized?
It's a constant effort. I have a list problem. I was writing lists on email, notepads, random pieces of paper, and also my phone. Now I try to stick to one place and iCal. There's nothing more satisfying than checking all the items off the list and throwing it away. Finding a system that works seems to be an endless challenge.
You have such an amazing community around you — tell us about some of the women in particular who contributed to Hesperios Journal.
One of my biggest collaborators is close friend Stella Berkofsky, whom I met at the Hollywood Forever Cemetery in L.A. — she was dressed as a Russian gymnast and I was Françoise Hardy and she was the only one who knew who I was supposed to be. She's shot most of the look books and done several contributions to our last journal — I work with her on every level I can. Photographer Tierney Gearon also contributed to the upcoming one, and has really been a mentor and an inspiration. She has four children and she really brings them into her art. Diana Stockton, whom I lived with in Northern California, paints watercolor flowers and is a writer. She's done several stories for us and speaks how she writes; she also collaborated on silk scarves for the spring '17 collection.
Dream Hesperios Journal contributors, alive or deceased?
Current: Miranda July, Nick Cave the musician, David Byrne, Tilda Swinton, Zadie Smith, Michael Shannon … From the past, Roald Dahl, Emerson for his essays, and my friend Malcolm's mom, Melissa Mathison, who just passed and who wrote E.T.
What are your favorite books?
Sonia Delaunay's been on my radar lately; Agnes Martin, Virginia Woolf, Vanessa Bell — I love books by women who create a rich inner world, as writers, artists, sculptors. I also just finished rereading this book I've read probably ten times, Women Who Run With the Wolves. It's like a bible to me. It puts everything into perspective. I love how she interprets everything and helps you understand how things work, especially relationships. I'm also really excited to read Eve Babitz.
Favorite travel destination?
I love Sweden [where the journal is printed]; I feel really at home there. The second collection and a lot of reoccurring basics from the line have Swedish names, like the Fåro sweater, which is named after the northern tip of Gotland. And I also love Italy.
What can't you leave home without?
There's always a book in my bag — which is a leather farmers market bag from Altadena Leather Works — and a notepad. I just had Hesperios notepads made in Sweden in four different colors. I always have a good pen, Post-its, and lip balm (RMS vanilla). I don't like looking inside and seeing all my stuff so I have different bags in my bag, which sounds ridiculous. I have a yellow one from Smythson where I put all my pens and pencils. I also have Lipo-Spheric vitamin C, an Alice Park wallet, and hand lotion from Santa Maria Novella.
What's your secret weapon?
A positive attitude is everything in life.