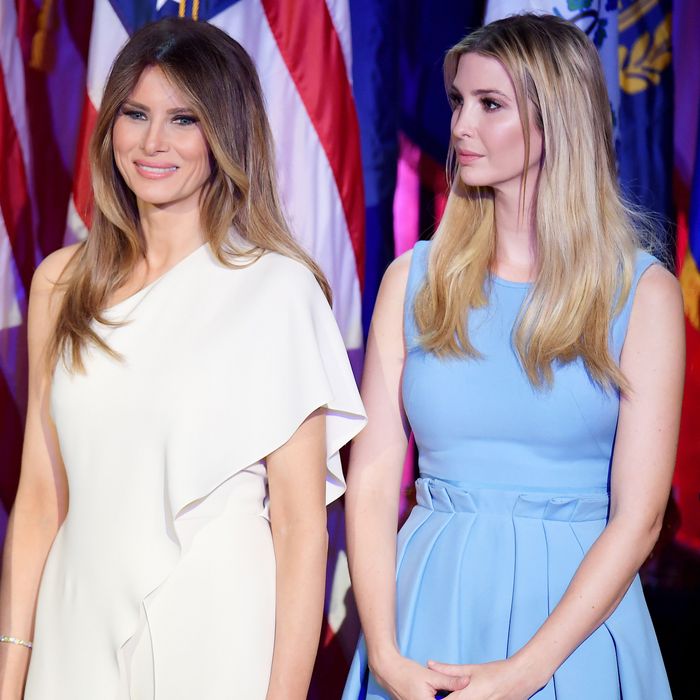 Melania and Ivanka are working in the White House "because they feel it," apparently.
Photo: JIM WATSON/AFP/Getty Images
On Thursday, President Trump gave what was possibly a spontaneous press conference that lasted almost two hours. Near the end of the question-and-answer period, Trump suggested that he'd like to answer a "nice question," and an independent reporter obliged. "Can you tell us all the things Melania does for the country?" the reporter asked, to which Trump replied, "That is what I call a nice question."
"Melania's great," he said. "I think Melania's going to be outstanding. She, like others that she's working with, feels very very strongly about women's difficulties, and she's a very very strong advocate."
He bragged on her modeling career for a few lines before adding, "She was always the highest quality that you'll ever find … and I've known her for a long time."
Then, because he seems unable to discuss women's issues without bringing up his eldest daughter, Trump told the room that "helping her and working [with] her will be Ivanka, who is a fabulous person and a fabulous, fabulous woman. And they're not doing this for money … they're doing it because they feel it."
So far Ivanka has been a more visible presence in Washington than Melania, accompanying her dad to things like a service for a fallen Navy SEAL and sitting in on his meeting with Justin Trudeau. She's said she wants to "fight for" things like wage equality, child care, and "really promoting more opportunities for women" — something she says is "very important" to her — but so far no bill addressing any of those issues has materialized.
Melania, on the other hand, has been fairly quiet about women's "difficulties," although she did thank Emily Ratajkowski for calling out a New York Times reporter who called her a "hooker."
#PowerOfTheFirstLady indeed.