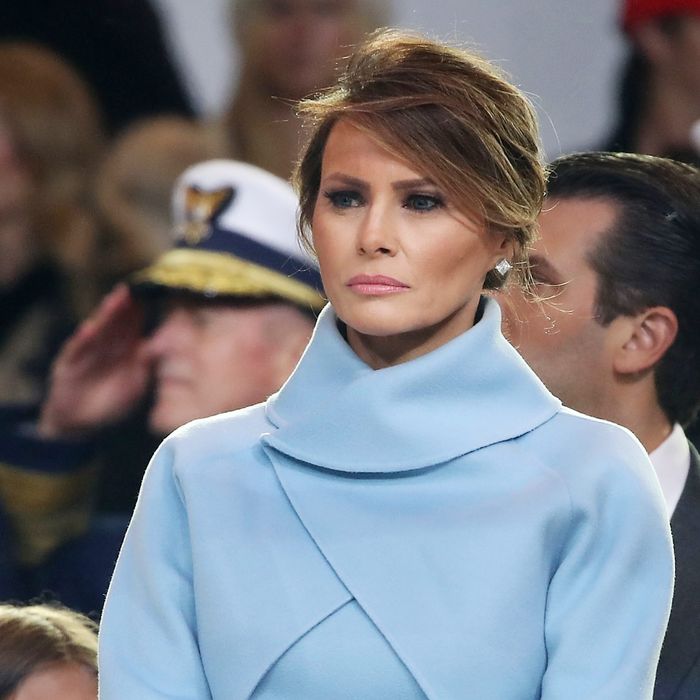 Melania Trump.
Photo: Mark Wilson/Getty Images
While President Donald Trump has been busy at the White House, First Lady Melania Trump has been spending her time in New York with their son Barron, who she's slated to stay with until he finishes the school year. While some reports have circulated the idea that her eventual move to the White House might never actually happen, as of right now, she's still set to move to D.C. at some point in the future. All of which makes the following detail more peculiar: Melania Trump has yet to hire her full staff for the White House, according to CNN. The announcement of her first hire came late on Wednesday evening, when People reported that Lindsay Reynolds was appointed chief of staff to the First Lady and assistant to the president. The selection of Reynolds came hours after CNN reported that no formal hires had been announced for the office of the First Lady.

On Wednesday's The Lead with Jake Tapper, CNN reporter Kate Bennett said that it's unusual for Melania to be lacking a White House staff. Sure, she might not be living in the White House, but the First Lady also doubles as the nation's host, often arranging special dinners and visits from foreign dignitaries. But, as Bennett points out, there's no staff heading the office of the First Lady. "There's no social secretary, no communications director, no chief of staff," Bennet said, prior to the announcement about Reynolds. "So right now even the visitor's office is on hold because there's no one staffed there, which means the White House, the people's house, is not allowing tours." She added that, by comparison, Michelle Obama had a staff of 24, who were mostly in place by the time she arrived at the White House.

Perhaps Melania will get a chance to clear things up this weekend in Florida? She's set to join President Trump at Mar-a-Lago for what seems likely to be the American Red Cross Annual Ball.

Update, January 1, 2017, 11:50 p.m.: This post has been updated to include Reynolds's appointment as chief of staff.