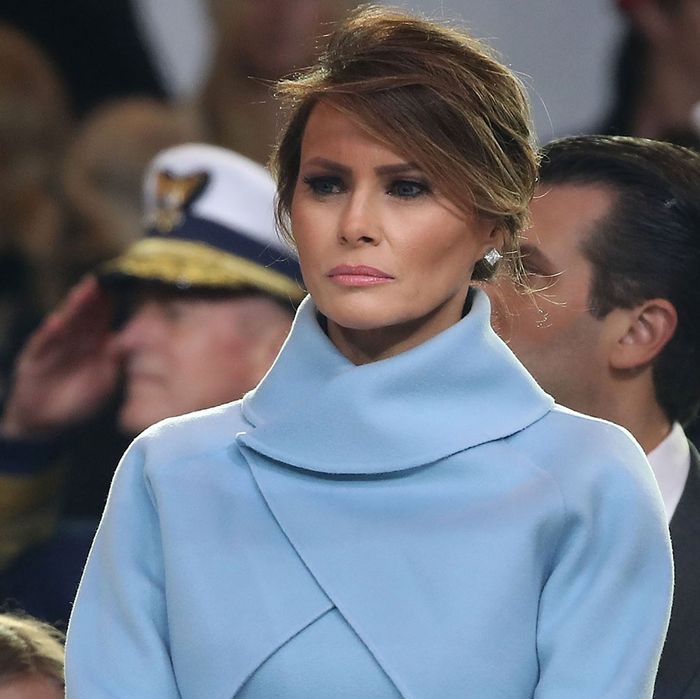 Melania Trump.
Photo: Mark Wilson/Getty Images
A few weeks ago, a clip of President Donald Trump and First Lady Melania Trump interacting on Inauguration Day made the rounds, suggesting that there may be icy relations between the two. Now, a new report in Us Weekly gives additional insight into what may be going on behind the scenes: Melania is apparently "miserable" in her role as First Lady.
Citing a Trump "family source" — as well as family friend and stylist Phillip Bloch — the report claims Melania is "unhappy" with the added pressures and scrutiny that come along with her new life in the political spotlight. She reportedly never expected to one day be serving as First Lady when she moved to the U.S. in 1996 to pursue fashion, and has largely been holed up in her $100 million Trump Tower apartment since the inauguration.
"This life wasn't her dream. It was Donald's. Truthfully, it's a lot to cope with," Bloch told Us Weekly, explaining that Melania has also been "staying hidden more" in recent weeks. A family source added, "Melania is unhappy with how her life ended up."
The "family source" told Us Weekly Melania has stopped accompanying her son Barron to and from school (in a chauffeured SUV) because of the protesters outside of Trump Tower. Yet, she has left her apartment a few times to run errands and visit Mar-a-Lago in Florida, where the First Lady was recently photographed while Japanese prime minister Shinzo Abe and his wife Akie were visiting the Palm Beach estate. "Don't let her smile in those photos fool you," the family source told Us Weekly. "She hates this."
However, a "Melania source" denied the claims, saying "she is very happy with her life and supporting her husband and family."