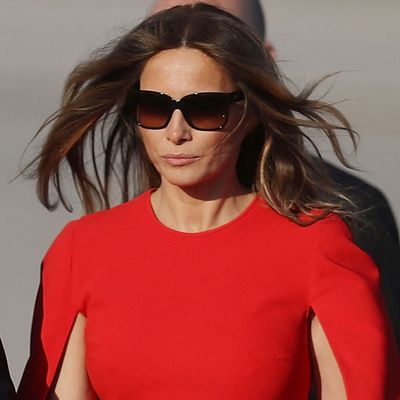 Donald and Melania Trump.
Photo: Joe Raedle/Getty Images
Last week, Montgomery County Circuit Judge Sharon V. Burrell dismissed First Lady Melania Trump's libel lawsuit against the Daily Mail's parent company, Mail Online. Trump had initially filed the $150 million suit against Mail Online, as well as 70-year-old Maryland blogger Webster Griffin Tarpley, in the state of Maryland back in September. While the suit against Tarpley will continue as planned, Judge Burrell ruled that there wasn't enough of a connection between Mail Online and Maryland for the company to be sued in that state.
On Monday, Trump refiled the suit against Mail Online, this time in the state of New York. The libel claims concern a now-retracted Daily Mail article that published allegations from a Slovenian magazine, which claimed that Trump's old modeling agency was also an escort service.

Per the Washington Post, the suit states that it caused her brand, "Melania, to lose 'significant value' as well as 'major business opportunities that were otherwise available to her.'"

Some of the language may seem a bit familiar — and may reveal her intentions to profit off the role of first lady. Take the part in which the suit states Trump "had the unique, once-in-a-lifetime opportunity, as an extremely famous and well-known person, as well as a former professional model, brand spokesperson and successful businesswoman, to launch a broad-based commercial brand in multiple product categories, each of which could have garnered multi-million dollar business relationships for a multi-year term during which Plaintiff is one of the most photographed women in the world."

Trump's lawyer is Charles Harder, who recently represented Hulk Hogan in his suit against Gawker; Hogan won $140 million, leading to Gawker's bankruptcy.