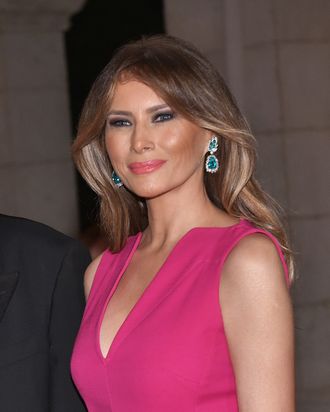 Melania Trump.
Photo: MANDEL NGAN/AFP/Getty Images
Melania Trump has reached a settlement with 70-year-old Maryland-based blogger Webster Griffin Tarpley, in a lawsuit over a blog post in which he claimed Trump is "obsessed by fear of salacious revelations by wealthy clients from her time as a high-end escort." As BuzzFeed reports, Trump's attorneys said in a statement that Tarpley "agreed to pay her a substantial sum as a settlement," but no further details were released.
The news comes the same day that Trump refiled her $150 million libel lawsuit against Daily Mail's parent company, Mail Online, in New York. She had originally filed suit against both Mail Online and Tarpley in Maryland back in September, but Montgomery County Circuit Court Judge Sharon Burrell ruled that there wasn't enough of a connection between Mail Online and Maryland for the suit to proceed in that state. Yet, on January 27, Judge Burrell also refused Tarpley's bid to dismiss the suit, finding that "there could be no more defamatory statement than to call a woman a prostitute."
*This post has been updated to show that Melania's libel lawsuit will cost $150 million.