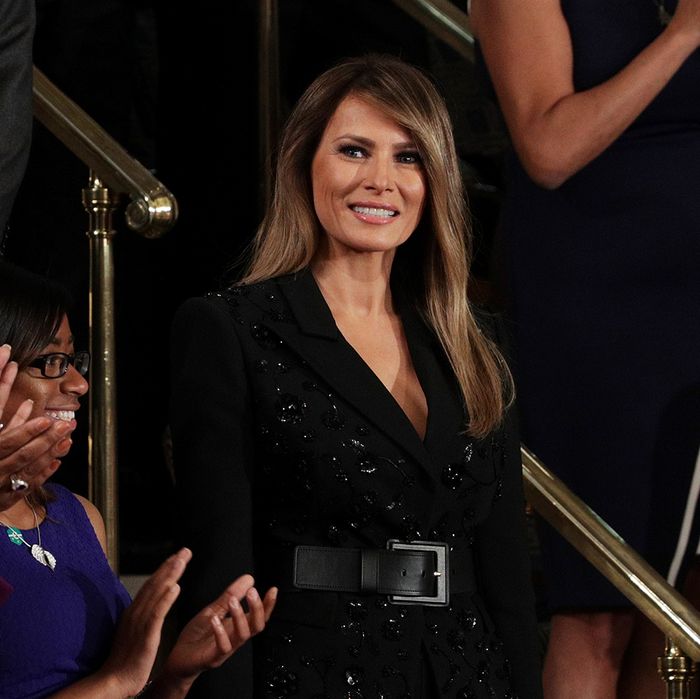 Melania Trump.
Photo: Alex Wong/Getty Images
On Tuesday, Melania Trump made an appearance in the chambers of Congress during President Donald Trump's first address to a joint session of lawmakers. Earlier in the day, Melania was photographed wearing a red dress as Trump signed executive orders directing NASA and the National Science Foundation to encourage more women to enter STEM fields. But when Melania walked into the chambers of Congress, she did so wearing a black embroidered suit jacket and skirt by Michael Kors.

In the past, Melania has opted to shop for her clothing online, much like she did when she bought her white bell-sleeved dress for the Republican National Convention on Net-a-Porter. The black jumpsuit by Ralph Lauren that she wore to the third presidential debate was also available to buy online. And this time, Melania's dress choice for the joint session of Congress is also available for purchase on Kors's website. The matching pieces feature an embroidered floral pattern and are from Kors's ready-to-wear spring 2017 collection. The retail value of the matching suit pieces is among the pricier items Melania has opted for: The jacket retails for $4,995 and the skirt retails for $4,595.

While some designers have publicly spoken against dressing the First Lady because of their political opposition to the president, Kors has refused to elaborate on the matter. Amid the backlash from some fashion designers, others, like Tommy Hilfiger and Diane von Furstenberg, have said they would happily dress Melania if the occasion presented itself. (Notably, Ralph Lauren, who dressed Hillary Clinton during her presidential campaign, also dressed Melania for the inauguration in January.)
When Kors was asked last year about his thoughts on the politics of dressing the First Lady, he said, simply, "That's none of my business."