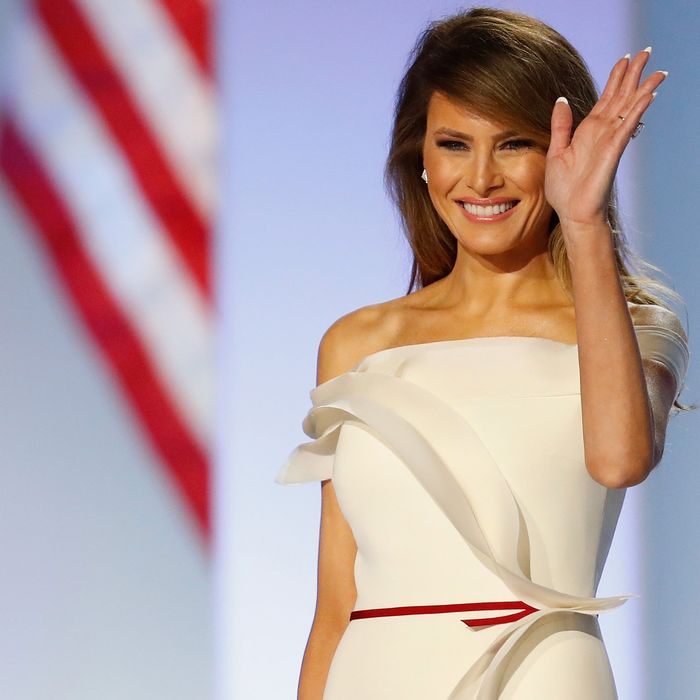 The new First Lady is just moving at her own pace, okay?
Photo: Aaron P. Bernstein/Getty Images
Melania Trump has been virtually absent from the public eye since her husband was sworn in as president. The president took his eldest daughter Ivanka, and not the First Lady, with him when he went to pay his respects to a fallen Navy SEAL, and until Wednesday, she hadn't named a chief of staff. But in an interview with the New York Times, Melania's advisers assured the paper she'll definitely be doing First Lady things — she's just moving at her own pace.
"It has only been a short time since the inauguration, and the First Lady is going to go about her role in a pragmatic and thoughtful way that is unique and authentic to her," said Stephanie Winston Wolkoff, a former Vogue staffer and her newly hired chief strategist. Lindsay Reynolds, her chief of staff, added that the First Lady's office is "working to ensure that the White House Visitors Office is fully staffed and operational" before dealing with the thousands of White House–tour requests that have reportedly piled up since Michelle Obama's departure. (The First Lady's office traditionally handles tours.)
It's pretty normal for first ladies to be staffed up and ready to dive in on day one. Myra Gutin, a professor at Rider University who specializes in first ladies, said Trump is "far behind the curve compared to where modern first ladies have been by the time their husbands are inaugurated, in a quite unprecedented way." But according to the Times, she's hired an interior decorator — Tham Kannalikham — to overhaul the presidential living space, and she's set to announce the hiring of Natalie Jones as her social secretary. "I am putting together a professional and highly experienced team, which will take time to do properly," Trump said in a statement.
Anita McBride, who was Laura Bush's chief of staff, said Melania's ostensible absence might just be her hallmark: "Everybody has expectations of what they think it should be, but the reality is it's really for the First Lady to determine how she can fulfill the role that's true to her." Oh, and according to Wolkoff, Melania is definitely moving to Washington.