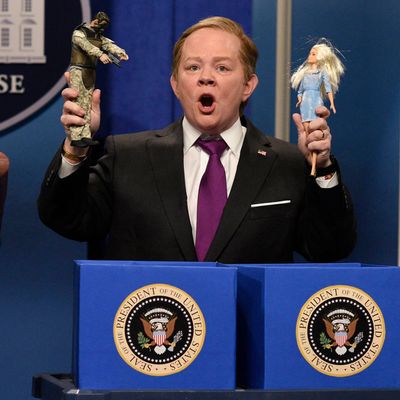 Dipping into his toy box.
Photo: Will Heath/Saturday Night Live/NBC
On last night's Saturday Night Live, Melissa McCarthy reprised her bombastic and downright creepy imitation of Sean Spicer doing one of his press conference freak-outs, and boy, it was golden. From the horrifying wad of chewing gum to the lectern that rushes at reporters, the cold open was just a thing of delight. Plus, the backstage pics are equally great, especially the one of McCarthy planting a big one on her husband Ben Falcone while she's still in Spicer makeup. Given how upset the president reportedly was with SNL casting a woman to play his press secretary, this sketch probably went over like Ghostbusters … I mean, gangbusters.