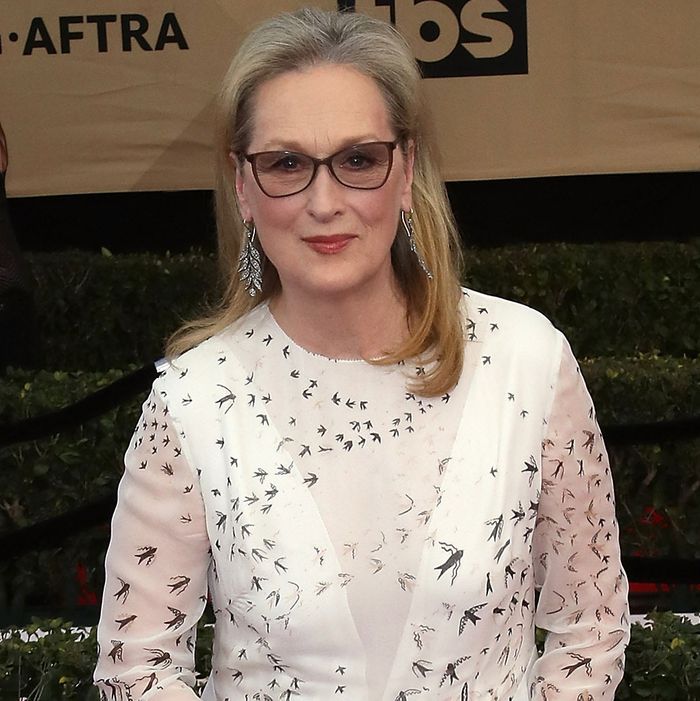 Do not come for Meryl Streep.
Photo: David Livingston/Getty Images
Karl Lagerfeld's prized pet Choupette isn't the only one with claws around here. Meryl Streep channeled Miranda Priestly responding to Lagerfeld's claim that she canceled a dress order because another designer offered to pay her to wear their creation.
In a formal statement to People, Streep wrote:
In reference to Mr. Lagerfeld's 'statement,' there is no 'controversy': Karl Lagerfeld, a prominent designer, defamed me, my stylist, and the illustrious designer whose dress I chose to wear, in an important industry publication. That publication printed this defamation, unchecked. Subsequently, the story was picked up globally, and continues, globally, to overwhelm my appearance at the Oscars, on the occasion of my record breaking 20th nomination, and to eclipse this honor in the eyes of the media, my colleagues and the audience.

I do not take this lightly, and Mr. Lagerfeld's generic 'statement' of regret for this 'controversy' was not an apology. He lied, they printed the lie, and I am still waiting.
Earlier this week, Streep's rep issued a much shorter statement denying Lagerfeld's claim. This was Chanel's reply.

Chanel engaged in conversations with Ms. Streep's stylist to design a dress for her to wear to the Academy Awards, with the full understanding that she was considering options from other design houses. When informed by the stylist that Ms. Streep had chosen a dress by another designer there was no mention of the reason. Chanel wishes to express our continued and deep respect for Ms. Streep.
Streep is up for a Best Actress Oscar tonight for her starring role in Florence Foster Jenkins.
Update: Chanel contacted the Cut with the following statement from Karl Lagerfeld.

Chanel engaged in conversations with Ms Streep's stylist, on her request, to design a dress for her to wear to the Academy Awards. After an informal conversation, I misunderstood that Ms Streep may have chosen another designer due to remuneration, which Ms Streep's team has confirmed is not the case. I regret this controversy and wish Ms Streep well with her 20th Academy Award nomination.