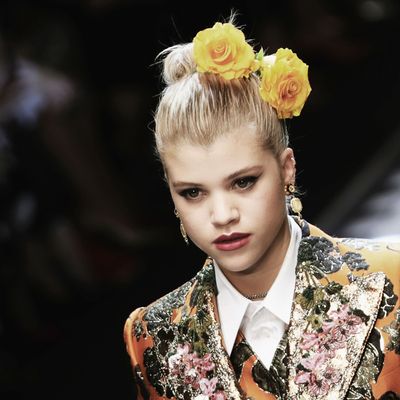 Dolce & Gabbana.
Photo: Vittorio Zunino Celotto/Getty Images
It's been a whirlwind trip through Milan, where I learned that the backstage catering in Paris is far superior and that being too lazy to get bang trims is on-trend. I also spent some time with the makeup and hairstyling teams at Prada, Alberta Ferretti, and Versace to learn the five most important backstage lessons from the city that invented the concept of free (no, really) food with apertivo (fancy, pre-dinner drinks). Tom Pecheux explained how he got that eyeliner to stay put on Bella Hadid at Alberta Ferretti, and I learned how to pull off flowery hair without a whiff of anything-ella, and also got schooled in creating a loose braid that won't fall out. (Other key Milano lesson: The gelato at Venchi is not to be missed, and neither is the fresh-made Nutella spread. Ciao!)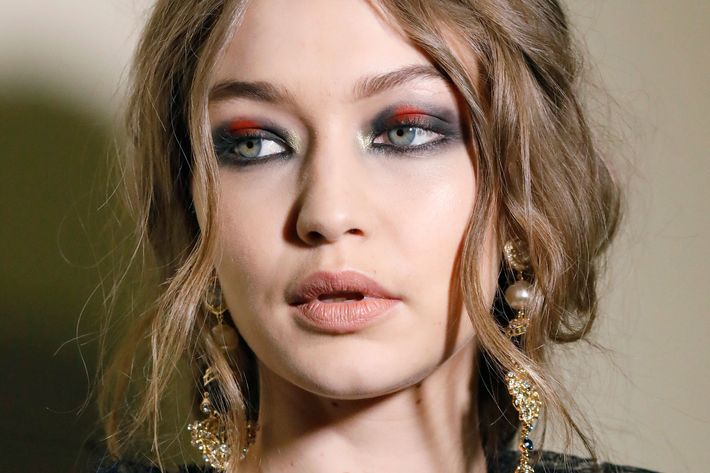 1. You don't need black eye shadow. I know there's a black eye shadow in one of your Naked palettes called Black-Out. But to get the glowing-ember eye look (my description, not theirs) seen at Alberta Ferretti, the secret was lots and lots of black eyeliner. Makeup artist Tom Pecheux, who has never met a black eyeliner he didn't like, did the look by covering the right and left sides of the eye in deep dark pencil. (Incidentally, he's Carine Roitfeld's favorite makeup artist and his assistant, Samantha, is the one who took me to Venchi. So he has good taste in chocolate and chocolate-black liners.) "Pencil smudges better," he said. "It gets a little greasy, but holds better and won't get powdery." In the middle of the eyes, he and his team added M.A.C red Chromacake, and used another brush to blend the two, a look that Pecheux said was Venetian-inspired. Most of us smudge our eyeliner using a Q-tip. But for the messy line under the eye, Pecheux used a fluffy, not densely packed eye-shadow brush, and blended at the lash line, to create a softer, more precise line.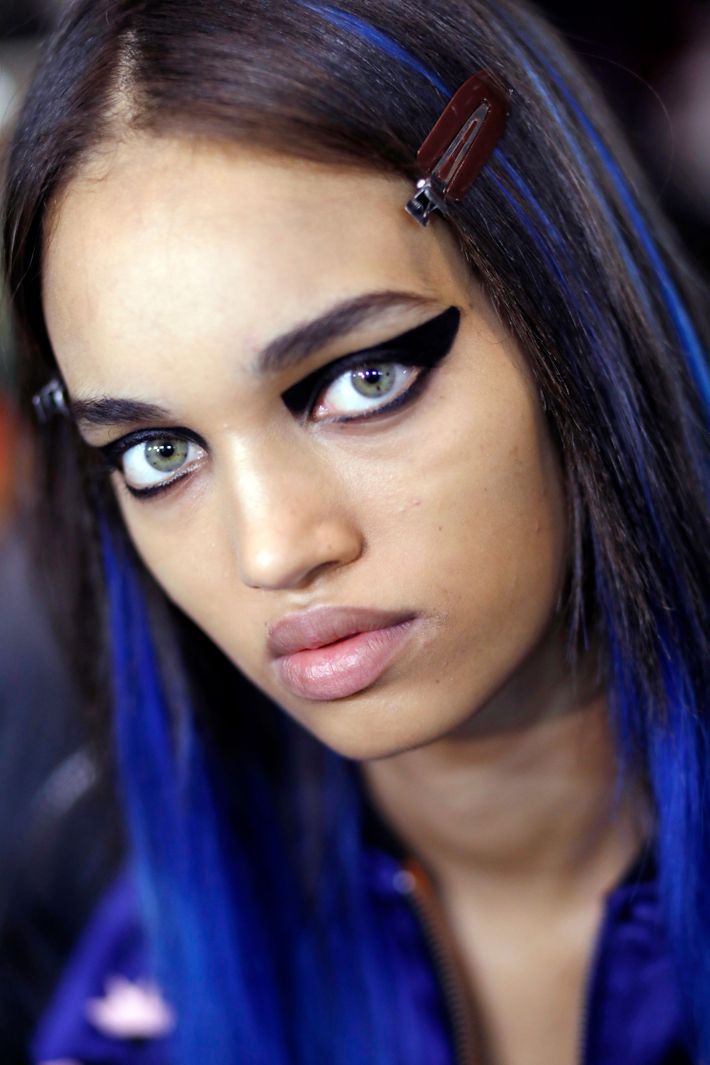 2. Layer up. Like residents of Copenhagen in the winter, makeup artists pile on layers of color to stand out. Celebrity makeup artist Michael Ashton said that mixing eyeliner textures was a secret to Adele's fortified liner. And backstage at Versace, to create the strong eye look, Pat McGrath drew on the shape with her Caviar eyeliner and then pressed in pure black pigment to make the look extra intense.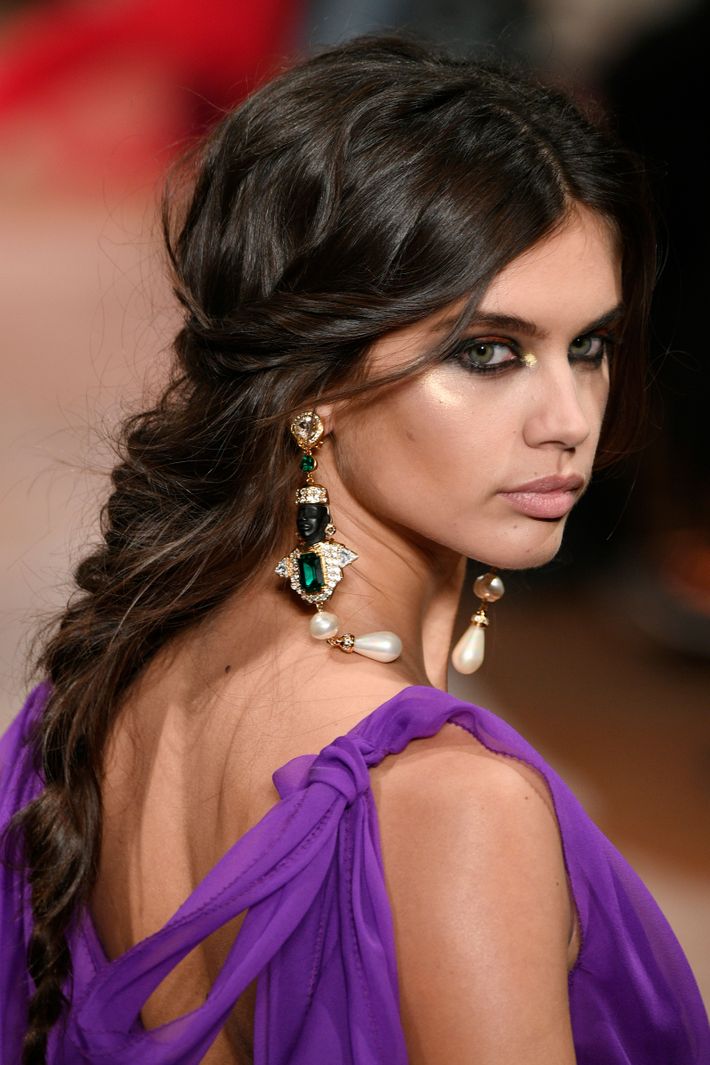 3. Your braid needs hair product. If you want your braid to look like your Pinterest Rapunzel dreams, you'll need a hair texturizer (and extensions, if you want a long braid). The texturizer will give the braid some hold so that loose pieces won't slip out, and still look voluminous but loose. At Alberta Ferretti, Redken's creative director Guido Palau used the brand's Windswept all over the hair, constructing a loose, three-finger braid that started around the ear level and went down. Using the texturizer also keeps each strand looking full.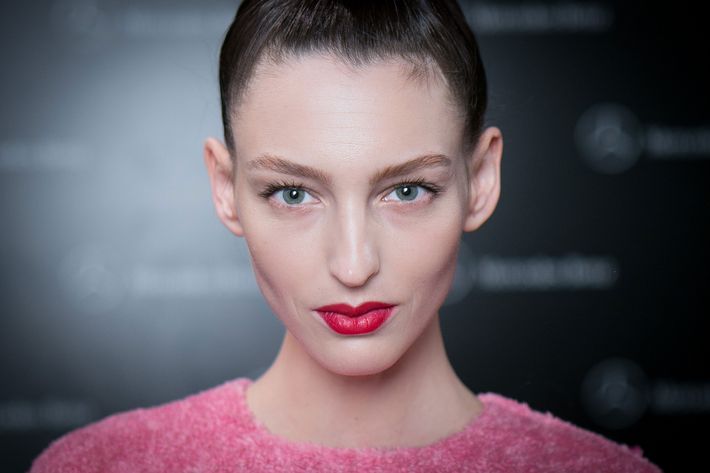 4. Your fingers are better than a lip pencil. Pat McGrath has access to some of the best makeup tools in the world, but the ones she likes best are the ten fingers God gave her. Backstage at Prada, only a few girls received red lipstick and a few others the blue-black eye, but McGrath and her makeup artists used their hands to get the look. "I've just always preferred it, to use fingers rather than a heavy pencil that makes an ultrasharp line. It gives that beautiful feathered outside, you wouldn't even know unless it was a trained eye," McGrath said. You can see the same soft line on the red lips at Dolce & Gabbana.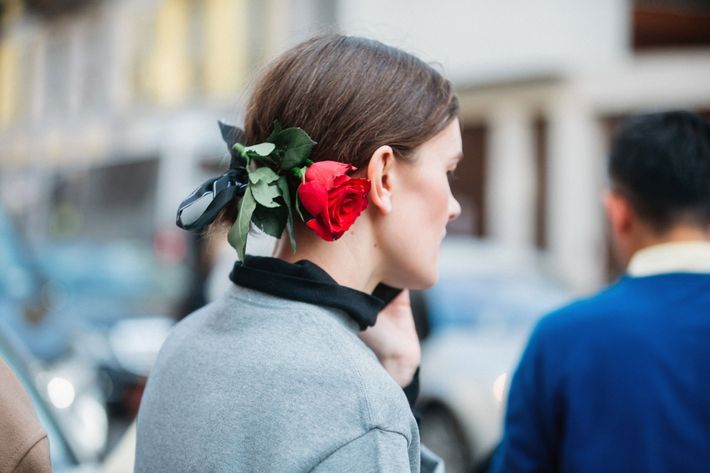 5. Flowers don't have to mean Coachella. At Dolce & Gabbana's show spectacle, Palau showed that hair flowers have a place outside of Snapchat filters and music festivals. To keep the look from screaming "bohemian," Palau inserted flowers into chignons and tucked them behind the ears, which looked particularly beautiful paired with Pat McGrath's varieties of Vermillion, ruby, and red-pink lips.