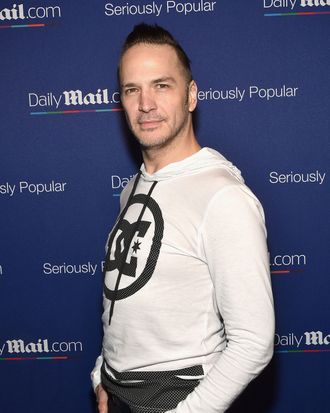 Michael Alig.
Photo: Mike Coppola/Getty Images for DailyMail.com
The healing crystal trend continues to grow: Spencer Pratt has a massive collection, Katy Perry says rose quartz helps her find love, and now Michael Alig — a club promoter otherwise known as the 'Club Kid Killer' who served 17 years in prison for bludgeoning his roommate and drug dealer Angel Melendez to death — is apparently jumping in on it too.
The New York Post reports that Alig, 50, was picked up by police in a Bronx park at 1:30 a.m. on February 2. Alig, who had a pipe in his pocket, reportedly told police that he used it to smoke crystal meth. Per Thump, the drug charge was dropped, but he was charged and pled guilty to trespassing; he was later conditionally discharged.
But as Alig explained to "Page Six," the whole drug thing was just some "confusion over healing crystals." He insists that he wasn't carrying crystal meth but a crystal called "piedra alumbre."
Classic mix-up.