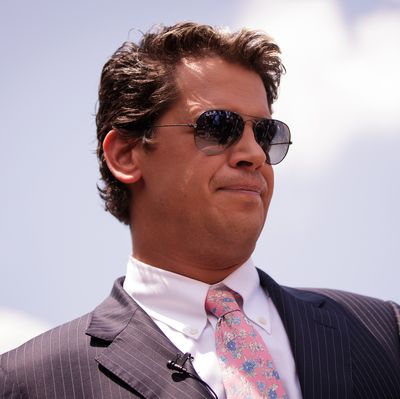 Milo Yiannopoulos.
Photo: Drew Angerer/Getty Images
Conservative provocateur Milo Yiannopoulos lost his controversial book deal with Simon & Schuster on Monday. The infamous alt-right troll was removed earlier in the day from the Conservative Political Action Conference's speaking lineup when a video emerged of Yiannopoulos condoning, and laughing about, sexual relationships between grown men and boys. According to the New York Times, the video shows Yiannopoulos saying, "Pedophilia is not a sexual attraction to somebody 13 years old who is sexually mature. Pedophilia is attraction to children who have not reached puberty." This definition of pedophilia ignores that 13-year-olds are children. Following the revelation, the American Conservative Union released a statement rescinding their invitation to Yiannopoulos and condemning his words and Simon & Schuster canceled their book deal for Dangerous.
The book deal made headlines earlier in the year, when public figures like Leslie Jones, a victim of the writer's vicious Twitter attacks, and author Roxane Gay, who pulled her book with Simon & Schuster in protest, spoke out against Yiannopolous. They and 160 children's-books creators cited Yiannopolous's record of using hate speech and offensive arguments on social media and in his frequent articles for Breitbart as reason to not give the troll a bigger platform for his message.
Full Disclosure: New York Media has a four book publishing deal with Simon & Schuster.