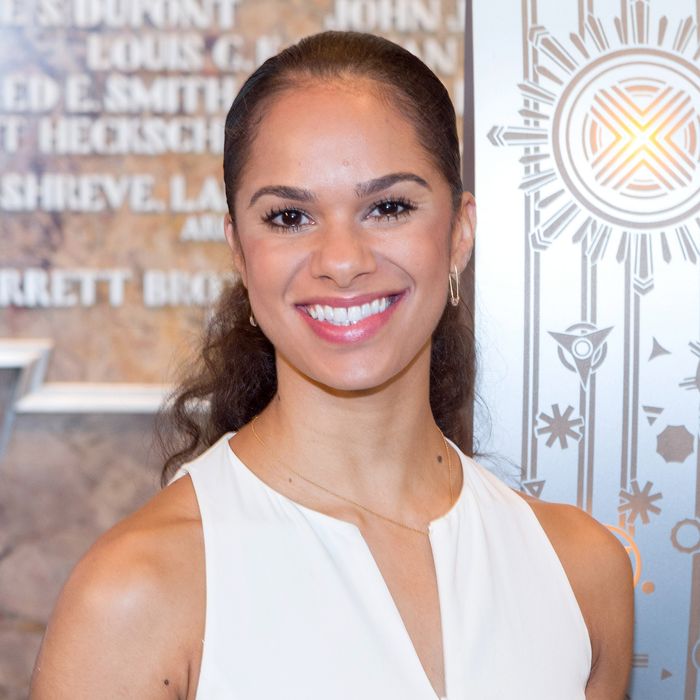 Misty Copeland.
Photo: Larry Busacca/Getty Images for Glamour
Once the news spread that Under Armour's CEO Kevin Plank is a fan of President Donald Trump and his policies, a ripple of dissent passed through the company's athletic spokespersons. One by one, prominent athletes and entertainers like Stephen Curry, Dwayne Johnson, and Torrey Smith, who all have endorsement deals with Under Armour, took to social media to distance themselves from Plank's comments. Misty Copeland, who also recently released a women's collection with Under Armour, made her stance clear with an Instagram post. In short, she "strongly disagrees" with Plank's comments about Trump and wants the company to clear things up.

Copeland made history when she became the first African-American female principal dancer with the American Ballet Theater, but prior to that, she was placed in the public eye when her 2014 commercial with Under Armour went viral. In the Instagram post she shared on Thursday, Copeland notes her appreciation of Under Armour but says she's at odds with Plank's remarks. "I've never backed away from speaking openly about is [sic] the importance of diversity and inclusion," she writes. "It is imperative to me that my partners and sponsors share this belief." She adds that she's spoken privately about the matter with Plank and hopes the company will "take public action to clearly communicate our common values."

While athletes associated with the company swiftly condemned Plank's remarks and some shoppers called for a boycott, no endorsement deals have been broken. Johnson, for one, shared his plans to continue working with the brand. "I feel an obligation to stand with this diverse team, the American and global workers, who are the beating heart and soul of Under Armour and the reason I chose to partner with them," he said via a statement, according to the Baltimore Sun. Curry also retweeted the same statement and, as of publication, Copeland's Instagram account still links to the Under Armour website.

As for Under Armour, the company released a statement following the backlash from Plank's comments, which reads, in part:

"We engage in policy, not politics. We believe in advocating for fair trade, an inclusive immigration policy that welcomes the best and the brightest and those seeking opportunity in the great tradition of our country, and tax reform that drives hiring to help create new jobs globally, across America and in Baltimore."