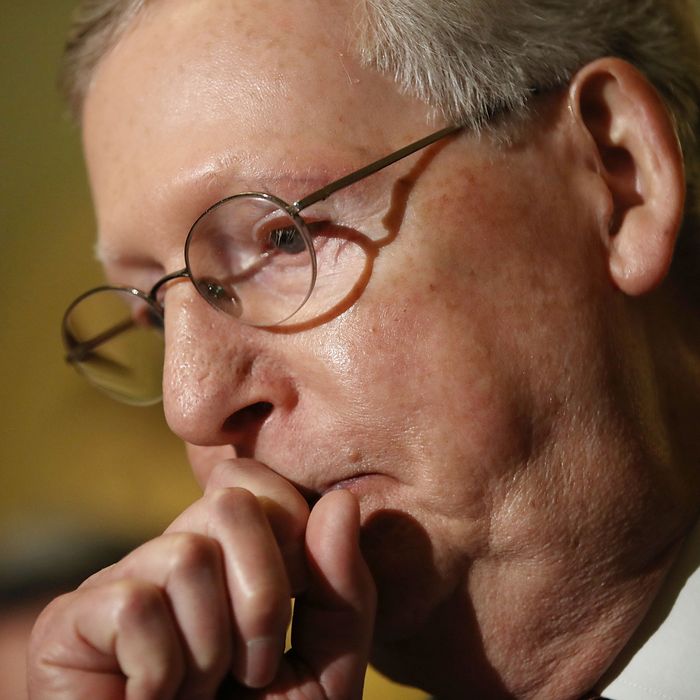 Good going, Mitch.
Photo: Win McNamee/Getty Images
On Tuesday night, during the hearing for attorney-general nominee Jeff Sessions, Senator Elizabeth Warren read aloud a quote from the late Senator Edward Kennedy regarding Sessions's character: "He is, I believe, a disgrace to the Justice Department, and he should withdraw his nomination and resign his position." Kennedy made the statement during the 1986 hearing, when Sessions was denied a position as a federal judge. But Warren was chastised for reading it because it "impugned the motives" of another senator.
She was allowed to continue her speech, but when she began to read a letter from the late Coretta Scott King, Senate Majority Leader Mitch McConnell cut her off again. The Senate voted 49 to 43 (along party lines) that Warren had violated Senate rules, barring her from speaking about Sessions for the remainder of the hearing. "Senator Warren was giving a lengthy speech," McConnell said. "She had appeared to violate the rule. She was warned. She was given an explanation. Nevertheless, she persisted."
Much like Trump's "nasty woman" comment, McConnell's words struck a chord. After all, "nevertheless, she persisted" is a neat way to sum up the modern feminist movement, as many on Twitter were quick to point out.
Whether McConnell's quote will inspire art exhibits, poems, or pantsuited movements remains to be seen. But there's already a T-shirt.