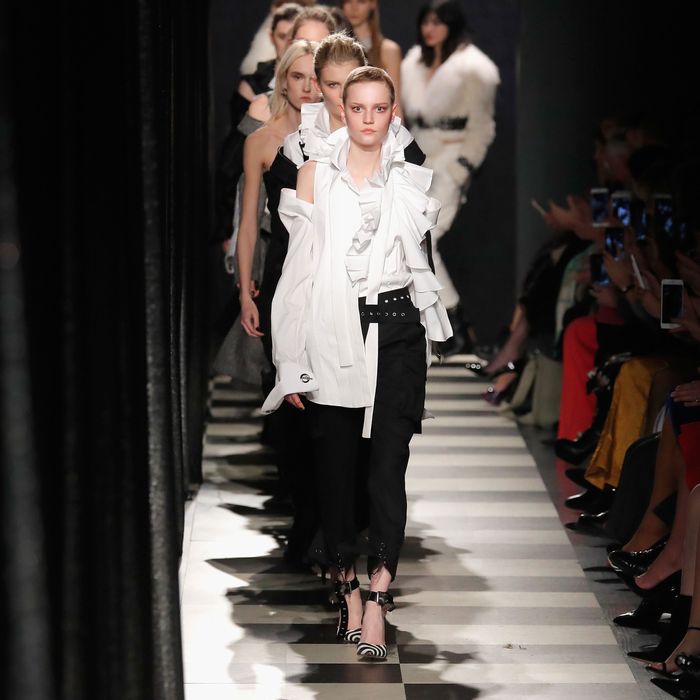 Photo: JP Yim/Getty Images for New York Fashion
Robert De Niro narrated an immigrant story at the start of tonight's joint Monse–Oscar de la Renta show, where Huma Abedin and Paris and Nicky Hilton attended New York Fashion Week's only two-for-one spectacle: Monse models walked first, followed immediately by Oscar de la Renta's models. The show never stopped. Colorful metallic sequins were everywhere.
It was a big occasion for designers Laura Kim and Fernando Garcia, marking their runway debut as Oscar de la Renta's new co-creative directors. (They founded Monse after working together at Oscar de la Renta.) Stefan Beckman Studio designed a mystical set in Skylight Clarkson Square, draping a shimmery silver curtain around a black-and-white checkerboard runway. The glittering backdrop was ideal for pre-show glamour shots (see: the Hiltons).
While they posed for photos, Bella Hadid prepped backstage.
Robert De Niro's voice opened the show's soundtrack with an excerpt from the 2015 film Ellis. De Niro plays an immigrant at Ellis Island Immigrant Hospital in the short film; in the film's song "Winter Morning II," which played tonight, his character explains why he came to America: "I arrived here one winter morning, or maybe it was spring. I can't remember anymore. The mind plays tricks."
A ruffled white shirt opened the show, draped over black trousers with black-and-white-striped heels. The first models wore what looked like the runway version of a power work wardrobe: more ruffled white shirts, gray dress suits, and then jackets lined with fluffy white fur.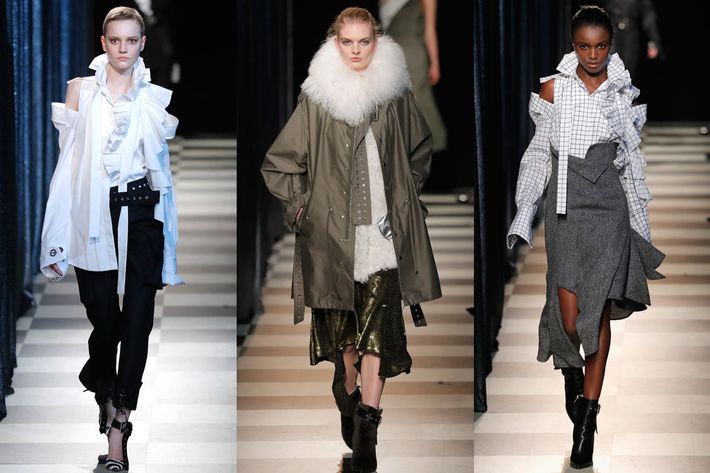 Sleek velvet evening looks came next — red, black, cerulean, and yellow gowns or jumpsuits. More colors followed: dizzying striped dresses, shimmery metallic pieces, and a few made-for-Instagram dresses dripping in sequins.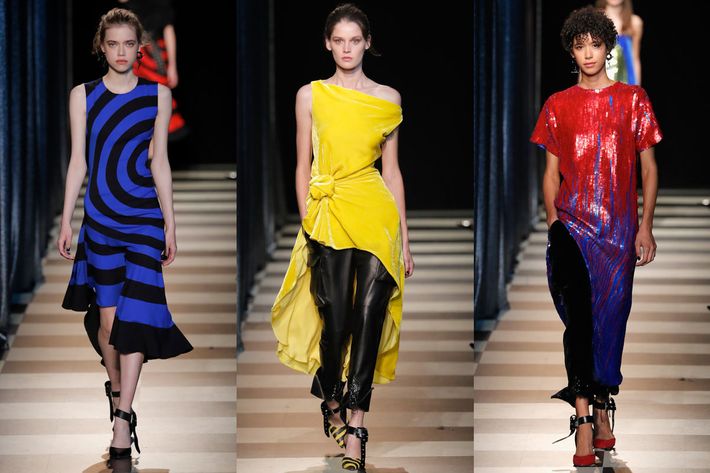 Gucci Westman created a high-sheen beauty look for Monse: sparkling brown shadow topped with clear lip gloss with metallic M.A.C lipstick.
After the last Monse model, lights faded to black and our editors watched the silver curtain fail to open in the dark room. This was meant to be a "big reveal," according to reports. But just a single spotlight flashed to mark the Oscar de la Renta show's start. A few gold-embellished black power suits opened and gave way to lots of striking colors. One bubblegum-pink coat is sure to be an Instagram hit.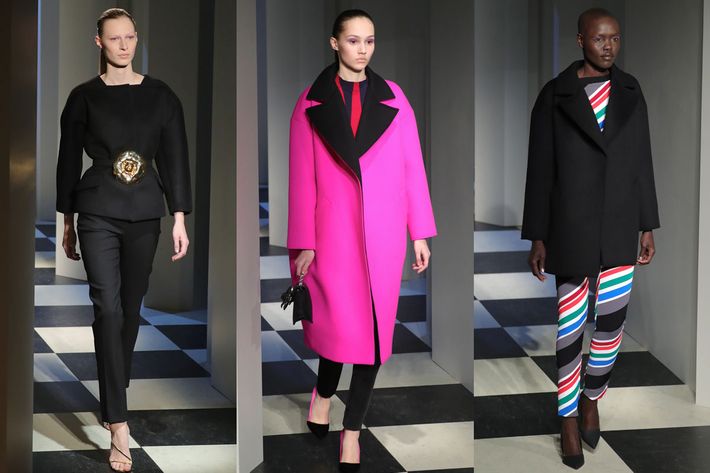 Like Monse, sequins shimmered on Oscar de la Renta designs as well — a flouncy dotted ankle-length gown, high-sheen sequin dresses and tops that resembled wearable disco balls, and one giant silver belt under a pale pink pantsuit.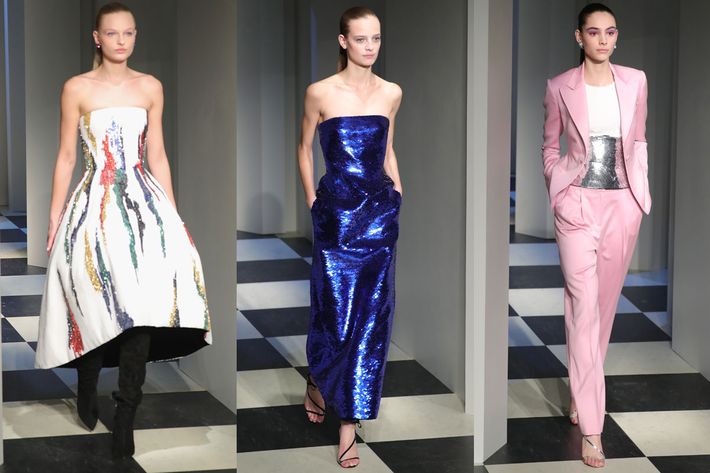 Models wore big bauble earrings and a colorful neon beauty look by Tom Pecheux.
These jewel-encrusted thigh-high boots were a lavish statement piece: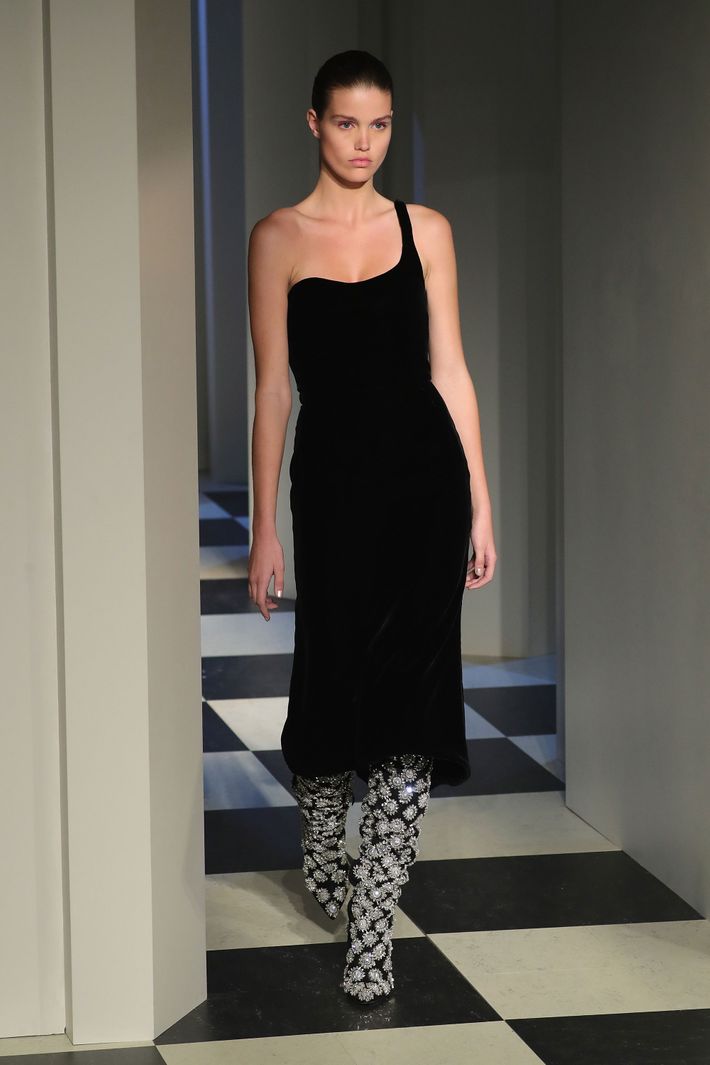 Bella Hadid closed the show in a strapless silky black gown with a slit lined in jewels.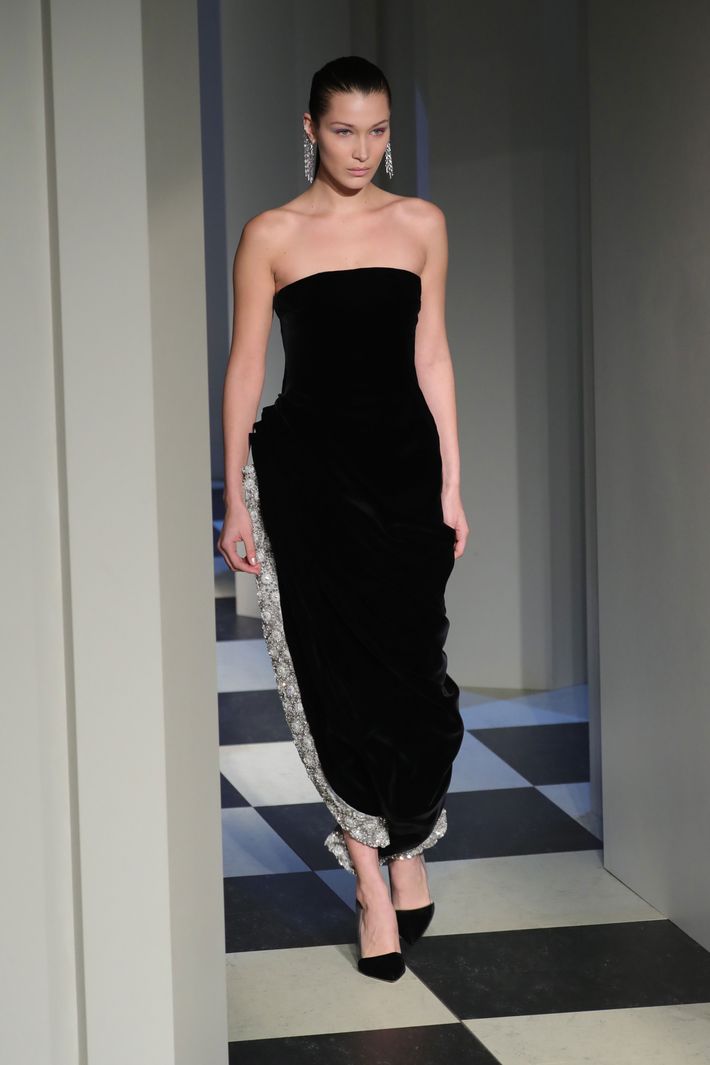 Two lines of models walked a final lap, passing each other, before Kim and Garcia lapped the catwalk and waved to the crowd.
Garcia picked up one silver bauble that fell from a dress or a suit and threw his hands in the air. They left the runway together.