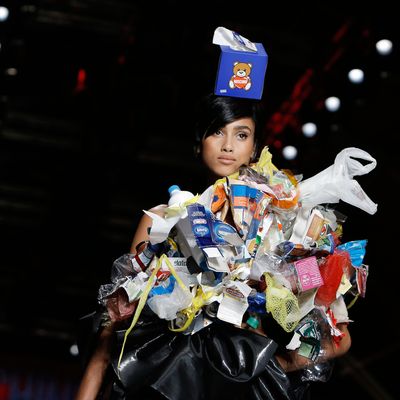 Moschino fall 2017.
Photo: None/AFP/Getty Images
"COUTURE IS AN ATTITUDE," read Jeremy Scott's statement T-shirt as he took his bow after today's Moschino show. And this season, the attitude he was aiming for was, evidently, trash chic. (In case you didn't glean that from the fact that the invitation was shaped like a mousetrap.) Scott drew from the idea of a woman who had lost everything and had to make her own clothes. Apparently, the options available to her included bubble wrap, cardboard, and duct tape, to judge from the looks on display.
It wasn't the only postapocalyptic show to grace Milan Fashion Week this season, but it was surely the most gleeful. He barreled into the theme with characteristic enthusiasm, presenting a trash can lid reappropriated as a hat, and bags made from tube socks and toilet-paper rolls. Gowns came shrouded in dry-cleaning film or shower-curtain liners, a jacket was lined in a rug pad, shopping bags became shoes, and one look even came bearing a cornucopia of assorted detritus. Pieces marked "fragile" and "handle with care" brought to mind Scott's '90s stint as a Moschino intern, which he spent "packing and unpacking boxes" for the house.

Some of the most arresting pieces were the dresses and coats made with printed archival Moschino editorials and advertisements, artfully ripped into tear sheets. They were a reminder that, mixed in with Scott's irreverence, there's an appreciation for the house's history.