The first clue were the words embossed in leather on the back of the invitation: Calvin Klein Established 1968. Walking down Seventh Avenue this morning to the company's headquarters on West 39th Street, I thought how deftly the words simultaneously acknowledged the weight of Klein's achievement, alluded to a watershed moment in American political history, and then drew us back to the present. Raf Simons was born in 1968, and today was his first show as chief creative officer for Calvin Klein.
It was the most anticipated collection in a long while, perhaps since the first shows that Helmut Lang did in New York in the late 1990s, and let's just say at the outset that it was wonderfully imaginative — and as real as your uncle. It was the work of Simons and the team led by Pieter Mulier, who, in Broadway terms, is Lerner to Simons's Loewe. They've been a creative act for 15 years, although there's no question that Simons sets down the melody. His collections, initially for his own menswear label and later for Jil Sander and Dior, have been remarkably consistent, and almost always spring from a romantic longing — to create something beautiful, to imagine a community of young guys — even if the results sometimes strike us as minimalist or unfeeling. "I see things from a distance," Simons once told me. He said that in reference to a show in the mid-'90s in which his male models literally approached the audience from a huge distance, in an outdoor setting in Paris. That perspective has matured and sharpened with the years, but it remains romantic.
Now Simons is in New York and his view of the U.S., unlike the famous Steinberg cartoon, and the fashions of many American designers, doesn't end at the Hudson River: It sweeps the country and lingers. Maybe that's because, like some of America's greatest composers and filmmakers, Simons is European. He sees the unique pattern and beauty of a faded quilt and turns it into a coat or the lining for an urban parka. He sees the square-shouldered toughness of a 1940s leather policeman's coat and produces a hipster's dream. He sees America's weirdly twinned obsession with hygiene and plastic, and creates gorgeous shifts with lace and feathers trapped under clear vinyl. Or how about a jean-cut jacket and trousers in pure white leather? That's surely an allusion to David Lynch — or maybe Elvis via Warhol.
In between were updated versions of early Calvin Klein jeans and cowboy shirts (straight from the archive), and good-looking pantsuits and tailored coats in glen plaids or those saturated solid hues of deep blue, plum, and green that Simons likes. Nothing was overdone or without clear intent, except perhaps some sheer clingy tops with knitted sleeves in cheerleader tones (I preferred the sleeves as separates, worn over the arms of a wool coat and pushed up). In fact, just as Nicolas Ghesquière of Louis Vuitton made the office suit look fresh last season, I felt that Simons did the same for sportswear.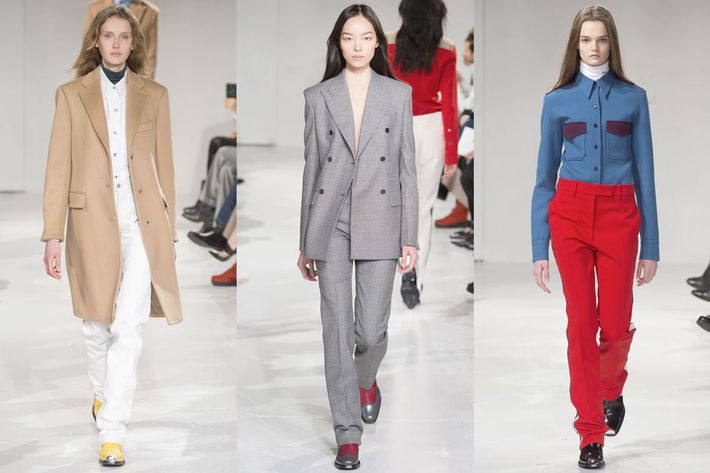 His friend and frequent collaborator, the artist Sterling Ruby, created the parade streamers and bunting that hung from the ceiling, part of a permanent installation. Again, think of the movies depicting sun-bleached shitholes on the Fourth of July. (Roger Corman's classic Jackson County Jail comes to mind.) This is not a satirical view of America, but neither is it wholly sweet. It is expansive, though, and engaging and real.
Simons at Calvin Klein makes sense for a couple of reasons: He started his career as a youth-culture designer in Antwerp, and explored that aesthetic extensively between 1995 and 2004. And he has always worked with fine tailoring, which fits the minimalist image of Calvin Klein. Yet the reality is that the brand has meandered through various types of pastiche for a couple of decades now. That leaves Simons with a blank slate to reinvent with the kind of freedom that would never be available at a couture house. You can't wait to see what comes next.