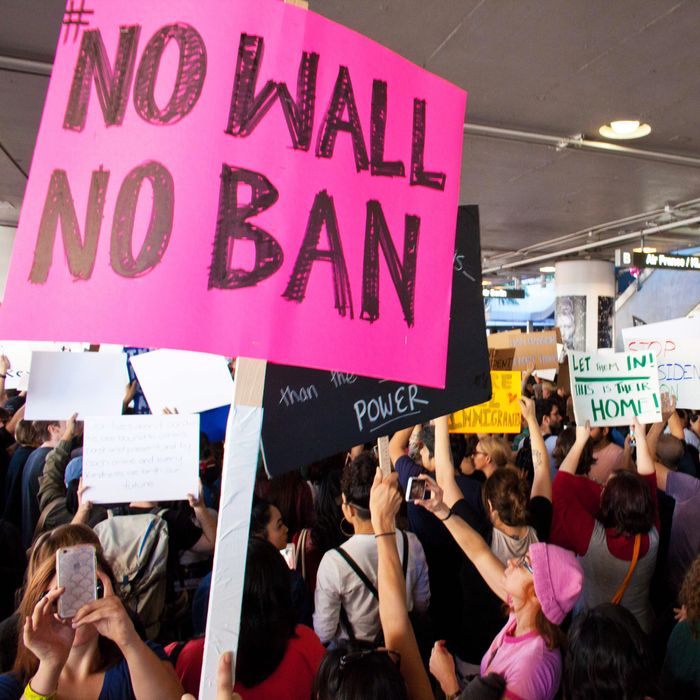 Protesters gather at the Los Angeles International Airport's Tom Bradley terminal to demonstrate against President Trump's executive order effectively banning citizens from seven Muslim-majority countries.
Photo: AFP/AFP/Getty Images
Mike Hager, a Michigan business owner who fled Iraq during the Gulf War, claimed he was traveling with his niece, two nephews, and his 75-year-old mother, Naimma, over the weekend when Donald Trump signed an executive action barring citizens and refugees from seven Muslim-majority countries from entering the United States. They'd been in Iraq visiting family but planned to return to the U.S. when Naimma, a U.S. green-card holder, fell ill and passed away.
Hager originally told Fox 2 Detroit that his mother died a day after the travel ban started, when she was kept from boarding a plane back to the U.S, and said he blamed Trump for her death. But a new story from Fox 2 Detroit found that Hager lied about the timing of her passing.
Imam Husham Al-Hussainy, who leads the Karbalaa Islamic Educational Center in Dearborn, Michigan, told Fox 2 Detroit that Hager lied. Al-Hussainy said she died of kidney disease in Iraq five days before the ban was put in place, and Fox 2 confirmed his report. The station has reached out to Hager for comment.
This post has been updated throughout.