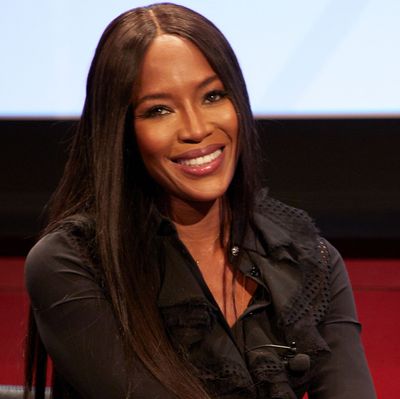 Naomi Campbell at yesterday's Hearst Master Class.
Photo: Courtesy of Hearst
Reputation aside, Naomi Campbell was pretty punctual at yesterday's Hearst Master Class talk, which started about ten minutes after the appointed time. And the supermodel, who covers the current issue of Town & Country, didn't hold back when chatting with the magazine's editor-in-chief, Stellene Volandes. Among the topics up for discussion: "walking" Yeezy with an injured foot, the contents of her and Christy Turlington's shared refrigerator in the '80s, her role on the Fox show Star, and the backstory behind some of her most famous onscreen moments. Here's what we learned.

On learning her signature runway walk from Mom: I remember when I was discovered as a model, my mother said no [to her modeling], but she caught me trying to do my own runway walk in the hallway. And she was like, "Well, then let me show you, if you really want to know." So my mother kind of gave me her spin on it.
On still making the occasional runway appearance: I do like the challenge. Like with the Kanye [Yeezy Season 3] show, he was like, "Would you like to do the show at Madison Square Garden?" "Yes, I would like to do the show at Madison Square Garden." Even though I couldn't walk, I was so determined. I had an injury, but I bandaged my knee up.
On her first roommate, Christy Turlington: I met Christy when I was 16 in London, and she said, "You've got to come to New York and live with me." We didn't have anything in our fridge except Rolling Rock. Nothing.
On starring with her fellow supes in George Michael's "Freedom '90" video: I remember he came up to me at this club in L.A. and goes, "You guys are holding out because I heard you're the leader and you've got to say yes. What do you want?" [I said], "I want two round-trip Concorde tickets." And he was like, "Is that it?" I was like, "Yeah." He goes, "If I give that, I've got you all?" "Yeah." And that's how it happened.
On becoming the first black model to cover French Vogue: How I got it is because I said to Yves Saint Laurent — I was crying — "They won't give me a cover." But yet, I had been his contract girl for three years, in every ad I did for him with Helmut Newton or [Gian Paolo] Barbieri. Mr. Saint Laurent said, "What's wrong?" I said, "Well, they said I can't talk to you." He was like, "Tell me." And I said, "They won't put me on the cover of French Vogue." I saw the other girls asking for the cover and I said, "I want one too," and he goes, "No, no not even a question." Next I heard he was not going to put the advertising [in the magazine]. Next thing I was getting my cover.
People say, You've gone through racism. I wouldn't say I've gone through racism. I would never accept it. And I would rise to the challenge to prove it and find another way to get around it and get what I wanted.
On how Lee Daniels offered her the role on Star: I was in Brazil last April. I go every year to host amfAR. I was at the luncheon and he called me on FaceTime and said, "Look at your husband and daughter!" And it was Lenny Kravitz and Ryan [Destiny]. [I met Lee when] I did a Rock the Vote commercial and I was late and he screamed at me in front of everyone. We kind of liked each other and then we've just worked with each other ever since.
On her relationship with Nelson Mandela: I started in philanthropy without knowing what I was doing really in 1993, when I got to meet Nelson Mandela at his home in Johannesburg. And he said, "Okay, this is what you're going to do. You're going to be my goddaughter. I'm going to put you to work." And that's what I did. I went to the townships, I went to the bush, I spoke to women and children, I gave out condoms to the hospitals and I traveled with him a lot and I enjoyed it. I was very quiet about it. It wasn't for the public. I was very protective of the kids. I never wanted the kids to feel like they were being used for any type of publicity or anything.
On using Instagram to keep track of her old photos: I've found [tagged] pictures of me doing fittings where I'm like, "I knew that picture would end up [getting out.] I should have told them to cut my head off. I've got no makeup on and I look bedraggled, at two o'clock in the morning."
I've connected a lot because of Instagram. There's one guy in the Netherlands, who, when I was doing my Taschen book, he collected every single picture so we used this guy, a wonderful guy named Peter, as a point of reference for my book because he had everything.
On the biggest misconception people have about her: That I'm not funny. But I know I am.