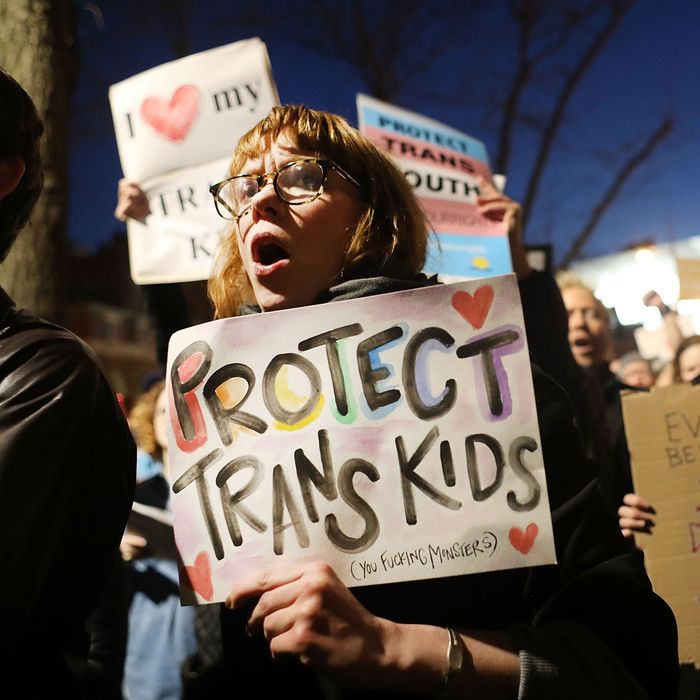 Photo: Spencer Platt/Getty Images
Last month, Gallup published the results of a survey that was the largest representative sample of LGBT Americans collected in the country. Researchers polled 1.6 million Americans and found that an increasing number of adults identify as LGBT (Gallup left out the "Q" in its findings). But there's still a shortage of data where the LGBTQ population is concerned, which is why a new report published by UCLA's Williams Institute is so groundbreaking.
According to the report, which is the first to provide population estimates for youth who identify as transgender in all 50 states (plus the District of Columbia), 0.7 percent of people ages 13 to 17, or 150,000 teens, would identify as transgender if asked.
As might've been expected, the estimated distribution of trans youth mirrors state population size; the largest populations of youth that identify as transgender are found in California, Texas, New York, and Florida, while the smallest populations are found in North Dakota, Vermont, and Wyoming. The report also found that the number of adults who identify as transgender tends to decrease with age — 0.7 percent of adults ages 18 to 24 identify as trans, with 0.6 percent for ages 25 to 64 do, and 0.5 percent for 65 and older.
Because data on the transgender population is so sparse, researchers at the Williams Institute based their estimates on a Centers for Disease Control and Prevention survey called the Behavioral Risk Factor Surveillance System, the New York Times reports. The survey lets states choose questions to ask their residents, and one of those optional questions deals with trans identity. More than 150,000 people answered that question each year, which allowed researchers to extrapolate using a new statistical technique and "well-worn demographic and geographic patterns."
Dr. Jody L. Herman., one of the report's authors, said such data is especially important now that the Trump administration is considering policy that directly affects trans youth. "Our estimates suggest that thousands of youth could be negatively impacted by laws that would limit their access to school facilities and undermine protections against discrimination," she wrote.