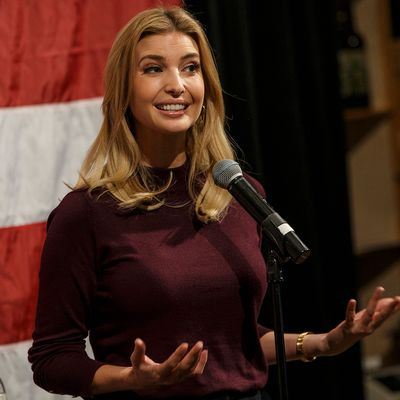 Yikes.
Photo: Boston Globe/Boston Globe via Getty Images
Racked is reporting that Neiman Marcus has joined Nordstrom as the latest retail giant to drop Ivanka Trump's namesake line since feeling the effects of the #GrabYourWallet boycott. The grassroots effort has mobilized shoppers to boycott stores that stock Trump's clothing and accessories, and like last week's #DeleteUber hashtag frenzy, it seems to be working. The high-end jewelry from Ivanka Trump's line is no longer for sale on Neiman's site, and Racked confirmed it's been pulled from at least one brick-and-mortar store in New Jersey.
A representative for Neiman Marcus made the following statement:
Neiman Marcus has a very small Ivanka Trump precious jewelry business which is comprised 100 percent of consigned merchandise (merchandise owned by the vendor). Based on productivity we continuously assess whether our brands are carried in stores, on our website, or both.
A Nordstrom representative made a similar statement earlier in the week to Fortune via email, writing, "We've said all along we make buying decisions based on performance … In this case, based on the brand's performance, we've decided not to buy it for this season." A spokesperson for the brand previously stated: "Nordstrom ordered both apparel and shoes for the spring, and followed through with the orders on the apparel. They canceled the shoe order, kept the apparel order, and moved the apparel from online into stores. It's there."
As on Neiman's site, Ivanka Trump is no longer listed on Nordstrom's list of designers, although four pairs of Ivanka Trump shoes are currently for sale — on deep discount — on Nordstrom's site.