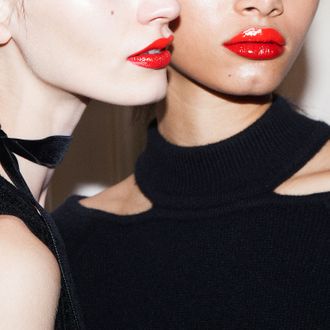 The lips from Jason Wu's Fall 2017 runway.
Photo: Christine Hahn
"This would be a disaster to go out in," makeup artist Gucci Westman said frankly of the beautiful yet glossy and clumpy "deconstructed film noir" eye look she was creating at Monse. Some looks, despite all the tutorials and painstaking step-by-step instructions in the world, are best left on the ten-minute runway show and to the professionals. These backstage beauty lessons aren't those though — from amongst the complicated hairdos and laboriously pretty eye looks, I found a few tricks usable for everyday life from the fashion world's best makeup artists and hairstylists. Here are the best five, including how to make that black eyeliner finally stick, a new take on a (mostly) red lip, white eyeliner that isn't '80s, and how to create a Pinterest-worthy braid.
1. Your lips don't have to match like your socks. At Jason Wu, six or seven lucky girls had mismatched pairs of lips. Yadim for Maybelline applied a red-orange color (Maybelline Color Sensational Vivid Matte in Orange Obsession) to the top and a red blue (Maybelline Color Sensational Vivid Matte in Red Punch) to the bottom lip, using red lip pencil to slightly draw in the lips at the outer corner, followed with a gloss. "I wanted the ends straight," he explained, adding that he and Wu chose the mismatched lips to do something different from previous seasons. The key to making the mismatched look interesting rather than discordant is to choose two reds that look very similar in color, so that when the lips are pressed together, they look like they're almost the same color, said Yadim. Topping off the red, he added blue mascara (Maybelline Great Lash in Royal Blue) only on the ends of the lashes for a pop of color that wouldn't look clownish or too garish.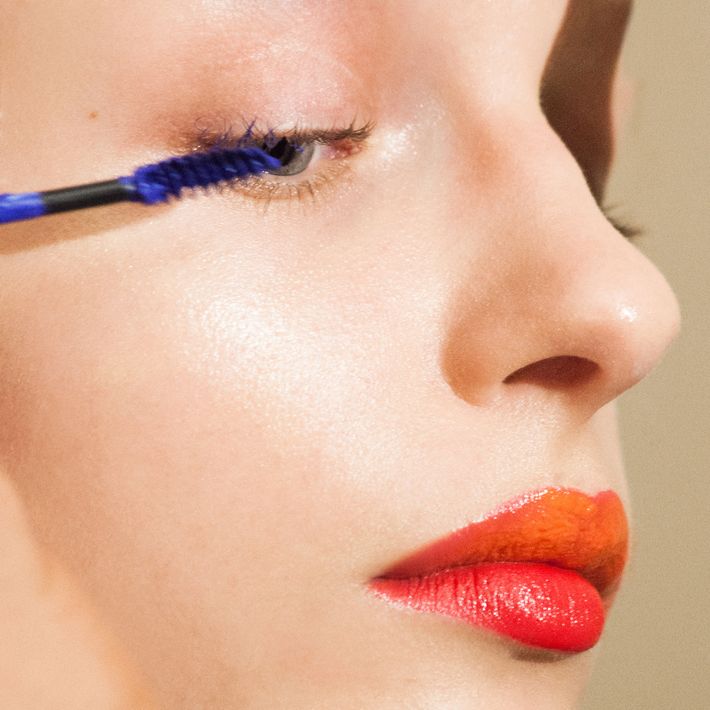 2. You need more than one black eyeliner. The look at Alexander Wang seemed pretty simple: Smudged black eyeliner. But the product breakdown contained no less than four types of NARS Cosmetics black eyeliner. Diane Kendal explained that to get a perfect black ring around the eye that acts like a tightline, reminiscent of a Dwarf Hotot rabbit, you need a mix of liner textures, which grab and adhere to each other for durability. Eye primer won't stay put if you apply it closely to the lashline, so the texture mix is key. If your eyes don't tear up easily at Google commercials and aren't particularly watery, a kohl and pencil liner will work. If your eyes got a little misty during the A Dog's Purpose trailer and tend to water easily, you'll want to use a mix of liquid first, followed by a gel pencil liner, which has more grip.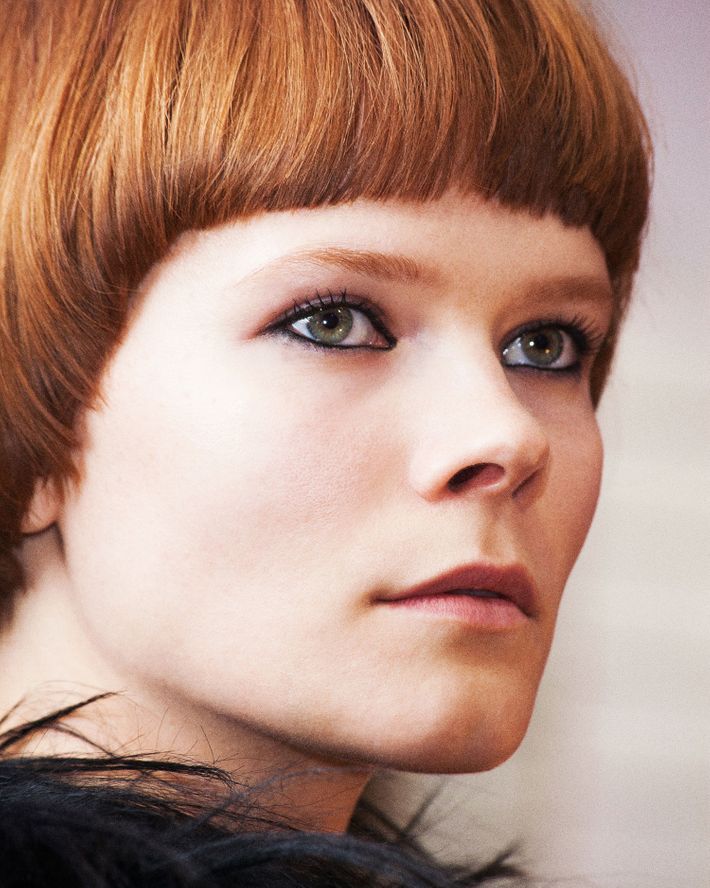 3. You also need a white eyeliner. White eyeshadow isn't just for Instagram tutorials. Other than black, white eyeliner is the most frequently used color at Fashion Week, in a very subtle way. Blending the liner and placing it only at specific points is essential so that you don't try this look and look like you bleached your lashes. At Proenza Schouler, Diane Kendal used white eyeliner again (MAC Cosmetics Fascinating Kohl Eye Pencil) on the inner corners and lower outer edge of the lashline, inspired by a Vogue Italia cover she did with Steven Meisel. The pencil was blended so softly that you could see only a trace of it in pictures. This morning at Tory Burch, Kendal used the same trick to keep the models looking awake and fresh-faced for their 6 a.m. call time. She applied a powdery white illuminator to the inner corners of the eyes.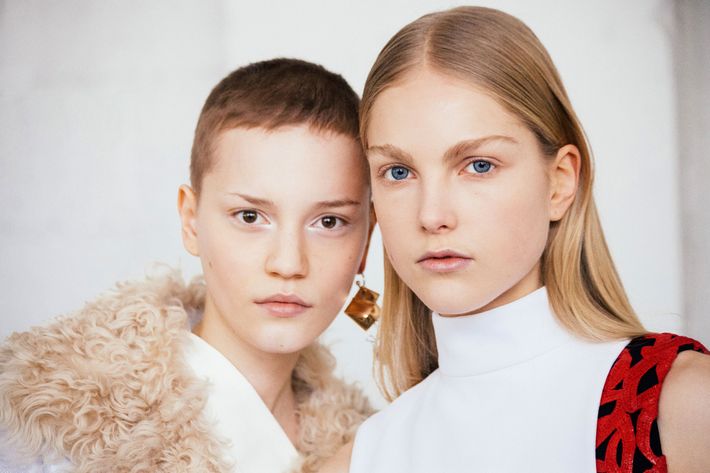 4. Maybe also get a hot-pink eyeliner? "With some designers you need Xanax to get through their show, but not in this case!" said Tom Pecheux, as he happily blended baby-blue eyeshadow onto Bella Hadid at Oscar de la Renta. Pecheux created three bright, happy eye looks for the "new" Oscar de la Renta, which I'm calling the "anti-Xanax" eye (or the "joie de vivre" eye, if you're looking for something more PC). There was baby blue, Orange Crush–like orange, and violet sheer washes, anchored by vivid slashes of eyeliner. My favorite was the violet pairing with hot-pink eyeliner. To keep the eyeliner looking bright and vivid even when the models had their eyes open, Pecheux used a hot-pink eyeliner first (MAC Cosmetics Process eyeliner) with hot-pink loose pigment (MAC Cosmetics Azalea Blush) on top.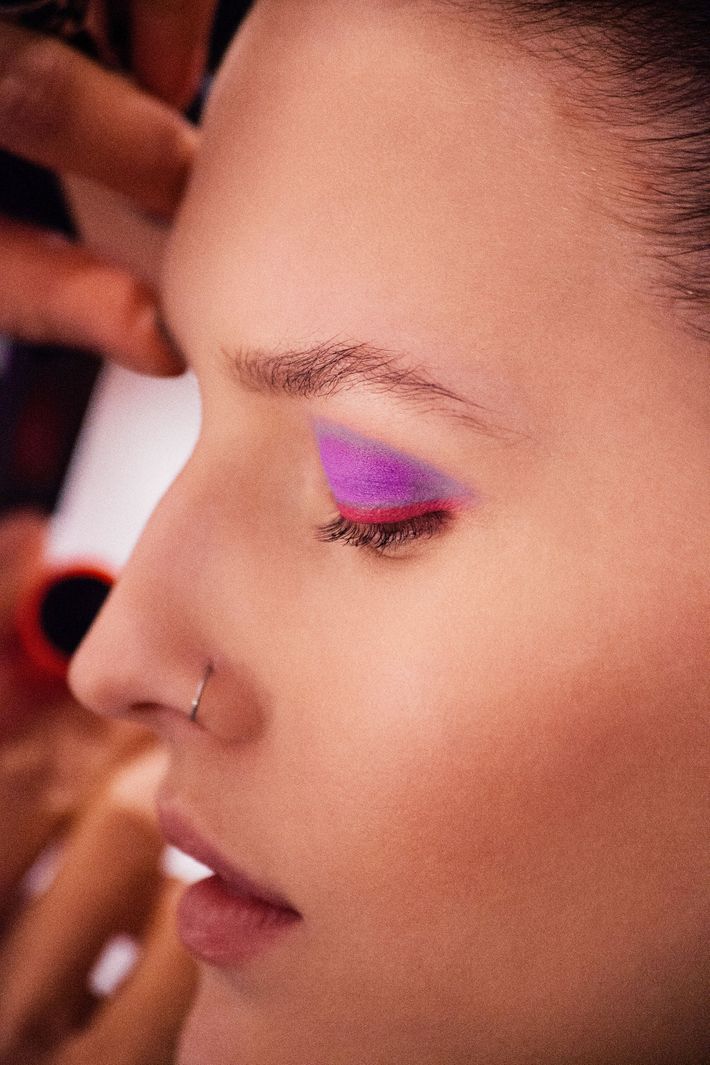 5. Try putting your camp-weaving skills to work. Backstage at Jenny Packham, hairstylists were applying their friendship-bracelet-making skills to the models' hair. To create a "waterfall braid," the likes of seen on Pinterest, Odile Gilbert and her team took a section of hair from the right, pulled it horizontal, and used it to weave in and out of the loose hair until they reached the back. Imagine a knitting needle pulling through the hair around ear-length and you'll understand the effect. A piece was also taken from the left side of the hair and twisted, to meet in the middle and secured. Prior to "knitting" the hair, Gilbert also prepped each model's hair by adding Tresemme's 24 Hour Body Foaming Mousse to wet hair, and then in what seems like a counterintuitive move, blowing it straight and then curling it with an iron. It makes the hair smoother, she explained, rather than just curling it without the blow dry.