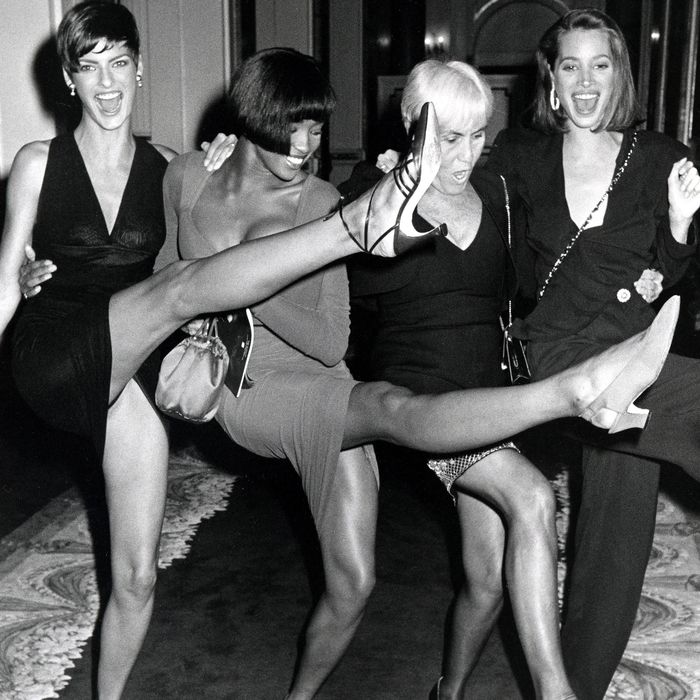 Photo: Ron Galella/WireImage
Last Friday night, at Fendi's F Is For … Fashion Week kickoff party in the Financial District, A$AP groupies mobbed Fulton Street. They were desperate to see a Rocky, a Ferg, or even (Snapchat willing!) a Jenner sister. They endured long lines, icy weather, and deny-happy door guards — but still they persisted, lured by text messages, Instagram stories, and the siren song of FOMO.
Once inside, the chosen few (Sofia Richie, Tyler, the Creator, and Bella Hadid among them) wandered through a nifty digital sound garden. There was vodka. There was flirting. There were neon walls for optimum selfies, and Kendall hiding somewhere with fellow Estée Lauder face Joan Smalls. Perhaps this would be THE Fashion Week party — the one that makes everyone else on Twitter jealous you got in. That is, until violence broke out at the entrance … and on the dance floor … and over a livestream of the event, broadcast by Fendi's media partner, Boiler Room. (It's still on YouTube and starts at 2:26:30, if you want to see.)
"Remember when we would go out every night of Fashion Week?" sighed model Theodora Richards, after we'd migrated to the less-volatile Calvin Klein rave in midtown. "Remember when it was just fun?" To be fair, pieces of the Fendi party were great. And DJ Metro's entire crew deserves respect for stopping the fight, instructing the crowd to be "positive only," and finishing their set loud and strong. But Richards did have a point. We used to die for Fashion Week — without actually risking our lives in the process.
To be honest, this isn't a particularly new malaise. Like cinching a Burberry trench or swinging a Chanel bag, bitching about New York Fashion Week will always be chic. But this season, the bad vibes have stopped being all talk, and some of New York's key players have drifted away. Tommy Hilfiger moved his entire denim circus from Manhattan to Venice Beach, bringing his chosen ringleader — Gigi Hadid — along for the ride. Brooklyn style-darling Rachel Comey followed suit, luring Rashida Jones and Lake Bell to a downtown gallery for her show. And Rebecca Minkoff went west, too, bringing see-now-buy-now to West Hollywood royalty like Lauren Conrad and Aimee Song. (Rodarte, Hood By Air, and Proenza Schouler are leaving New York too, albeit to Paris.)
"The runway seasons have always been crazy," says Cynthia Rowley, who has been showing her clothes in New York since 1988. "But it used to be more magical, because it wasn't about watching a show on your phone. Photographers took the pictures — professionals! — and everyone else watched the runway as if it were live theater. I would always try to make the audience gasp in some way. [In 2003], the set was a pop-up cardboard house. We had it crash down on purpose before the show — it made a big whoosh! sound on the floor, and the whole front row got their hair blown back — and then the models started walking over the ruins of the house. Everyone was shocked." The next year, Scarlett Johansson sang "The Candy Man Can" on a mound of silver foil, created as an installation by the artist Will Cotton.
"[New York Fashion Week] shows were like theater," says Richard Sinnott, creative director of Michael Kors Accessories. "I used to work at Bazaar, and getting a ticket to someone's runway was akin to getting a seat at a Broadway play. In the '90s, it wasn't just a fashion show; it was a show-show. It was church. Sure, there were crashers, but they were fashion students. They weren't there to see a star or get their pictures taken for a blog. They were just obsessed with fashion. They would linger outside the tents like rock-concert groupies."
"The '90s were so much more about the clothes on the runway," agrees Paper's Mickey Boardman. "This was before the editors themselves became stars. At the Todd Oldham show, the photographers stood right along the runway, and Veronica Webb would walk by and pose for each one of them. It took her like five minutes to get down the catwalk, and those were the only pictures from the show, really. They'd have to go home and develop them, and the next day — if you were lucky! — you'd see them in the Times or Women's Wear Daily … And the people in the standing room knew every look, and every model, and they were living for it. Now, everyone goes to take a selfie. I was at a runway the other day, and I thought, 'There are ten people here looking at the clothes, and everyone else is taking selfies. Or texting.' Why are you at Fashion Week if you don't want to see the clothes?"
But while the back row may have been better behaved circa 1995, the supermodels more than made up for it. "You knew if Naomi [Campbell] was there, then it was going to be a wild party," says actress Sandra Bernhard, who was part of the real-life-model cast at last Sunday's J.Crew presentation. "When the show was over, you went out. People danced on tables, and nobody had phones to broadcast it."
"The parties were definitely crazier," confirms Sinnott. "Partly because Fashion Week was a bigger deal, and partly because nobody was around to put it on social media. I was at one after-party at a restaurant, where [a famous '90s model] showed up in a head-to-toe beaded dress, but she was so late that the bar had already closed. They wouldn't give her a drink so she screamed, 'Then why am I wearing this sh*t?!' She pulled her dress — a gorgeous, one-of-a-kind runway sample — up over her head, tossed it at the bartender, and walked out onto the street in just a G-string."
"I think New York Fashion Week jumped the shark when everything became sponsored," Boardman says, after confirming my (hazy) circa-2005 memory of designer Alice Temperley filling her bathtub with champagne, and inviting Milla Jovovich and Gwyneth Paltrow to jump in. "When you're going to see a new collection, you don't want someone pushing free tampons and Fiber One bars at you on the way in. It really kills the idea that you're about to see or celebrate something special."
As a social scene, is New York Fashion Week beyond hope?
"It's not over," says Paul Sevigny, the nightlife emperor whose dance-heavy haunts include Paul's Casablanca, Paul's Baby Grand, and the infamous Beatrice Inn (RIP). "It's just watered down, like Art Basel Miami Beach. There are too many players at New York Fashion Week right now and not enough fresh talent. From what I hear, Alexander Wang's parties are closest to the [old-school] ones." To the chagrin of everyone who trekked up to Harlem for his show, Wang did not have an after-party this year.
"I think Marc [Jacobs] has the right idea by banning phones this season," adds Yahoo Style editor-in-chief Joe Zee. "He used to throw these parties at Paris Commune in the West Village right after his show, which was still in the Puck Building, and everyone would be there. Celebrities. Designers. Models. People went crazy, because we weren't being watched. Nobody's assistant would send out an anonymous tweet saying, 'Lady Gaga's on Bank Street, everyone come try to see her.'"
Then there's the matter of perspective. "When has New York Fashion Week ever been fun?" laughs Christy Turlington Burns, who met with editors for the launch of Calvin Klein's new fragrance, Eternity Intense, a full week before New York Fashion Week started. "Paris Fashion Week is glamorous; it has such beautiful venues, and the hair and makeup can truly be an art form. But more often than not, New York is mostly just hard work. You're standing around in someone's showroom for hours. It's cold. And the parties? Parties aren't usually fun unless your friends are there, too," she smiles. "Right?"
Turlington's Fashion Week Fatigue seems to be contagious, at least with current fashion "It" kids. Witness the baby trinity of Elsa Hosk, Rachel Hilbert, and Jasmine Tookes — three Victoria's Secret bombshells who skipped the weekend's fashion festivities to eat burgers and fries (really) at the Westville Hudson diner. Or Jeremy Scott, who eschewed his usual club night for an after-party ("it's more of a gathering") in the brightly lit lobby of the New York Edition Hotel. As rose-gold pitchers poured pineapple cocktails, fashion friends like Leigh Lezark and Mia Moretti could see each other, sit with each other, and actually converse, too.
"If you want Fashion Week — any week — to be memorable, start by putting people in a room together who are interesting, talented, and like to have fun," confirms Sevigny. "That's the most important thing you have to do." No bathtubs or naked models required.