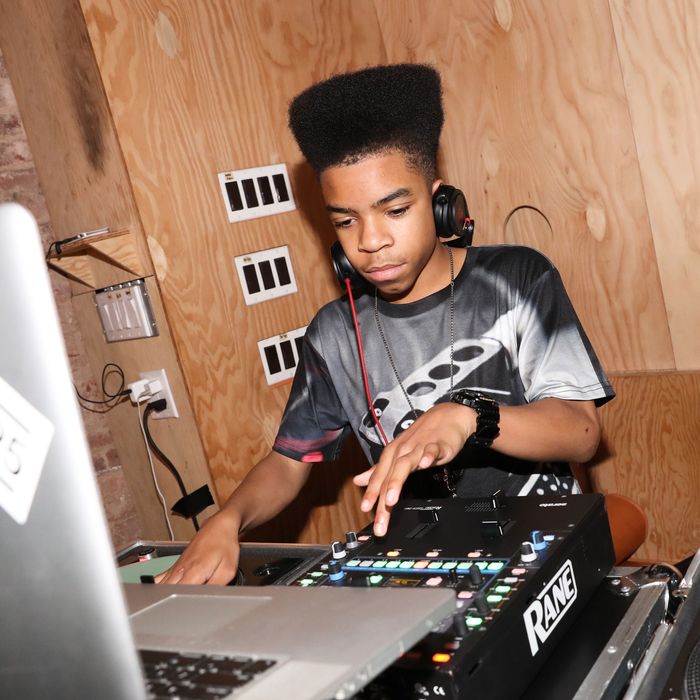 DJ Prince.
Photo: Neil Rasmus/BFA.com/Neil Rasmus/BFA.com
It's been a busy year for DJ Prince, né Ryan Robinson II. He's hung out and selfied with Usher, chatted with Lauryn Hill, danced with Karolina Kurkova and Daphne Groeneveld, and spun at multiple New York City Fashion Week parties, a private Governor's Island event with a 15,000 person guest list, and even a New Jersey wedding. And he recently turned 15.
Just last week, the Indianapolis-based Prince was spinning turntables at the InStyle magazine relaunch party at the Carlyle Hotel for an event co-hosted by editor-in-chief Laura Brown and cover star Emily Ratajkowski. Prince said his favorite part of the party was "the look on people's faces when I spin something they don't think I should know!" The morning before the party, he was spinning on "Sway in the Morning" on Shade 45 and had a meeting at the RocNation offices.
It's not uncommon for party guests, bolstered by gin and tonics, to wonder aloud how old the DJ is. Late last year, he spun at another party hosted by Brown, who calls him her "bestie" at Le Turtle. A few weeks before, Prince was DJing at Nike SoHo's grand opening where he met Fabolous, DJ Scratch, and Victor Cruz.
Brown explained that he's "my best friend when I'm 42 and he's 15. But hey, such is life," she said over the phone, discussing the friendship between the two. "I think when I caught eyes on him, he was 13." Brown had seen a video of Prince posted by Twitter comedian Jenny Johnson and quickly became interested in him. After following him on Instagram, the two began commenting on each other's posts with various emoji — Brown posted trophies and hearts — before the eventual DMing began. In July, Prince had lunch in a diner uptown with his parents, manager Kenny Hawthorne, Brown, and her boyfriend.
Prince has always loved music, and grew up listening to artists like James Brown, Hall & Oates, Stevie Wonder, and Phil Collins. He was inspired to turn to DJing at age 11, thanks to his dad's knowledge of music from the '70s, '80s, and '90s. "The first time I experienced DJing was on an app on my iPad," he says. "I would go into school and on the weekends, I would play music for my mom and dad, or just anyone who would come over. Eventually I got on turntables — I started about two years ago."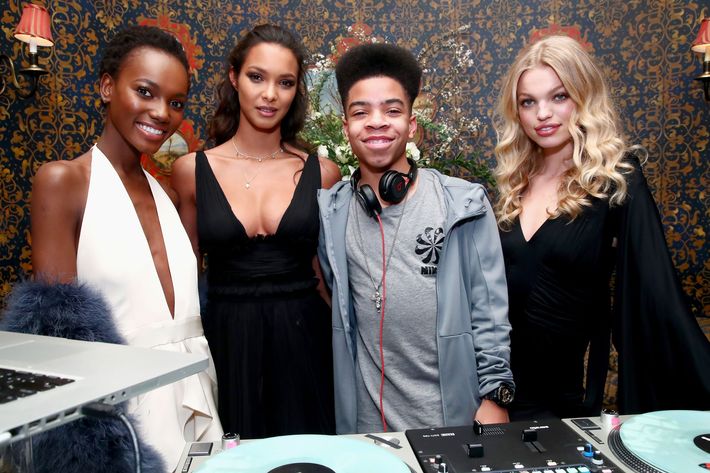 It was around that time that Prince got a manager and started playing at bigger events. Still, he considers one of his first big breaks to come a little less than a year ago, in March 2016, when he opened for one of his mentors, DJ Jazzy Jeff, at the Vogue Nightclub in Indianapolis. He previously had a relationship on social media with the DJ, who had the show planned in Prince's city. DJ Jazzy Jeff's team knew about the relationship and reached out to see if Prince wanted to open the show. "DJ Jazzy Jeff changed the order of the lineup, so he could watch my set before I went on. It made my night!" he says. Instagram has been a huge source of business for Prince. "Posting videos of what I was doing got me noticed."
As for his stage name, Prince takes inspiration from an unexpected place. "I always look at my mom and dad as being the king and queen of the house," he says. "When I started DJing, it just made sense." The name "Ryan" also means "little king" in Irish history.
Although for Brown, Prince's name and sense of style serve as an undeniable connection to the Fresh Prince of Bel-Air. When she first saw him on Instagram, she thought, "What a really unique kid, who at the time was only 13 — who is giving a full '80s Fresh Prince look and has such a love, appreciation, and ability to play and enjoy old-school hip-hop."
Since he started four years ago, Prince says, "My skill has changed by just listening to a variety of different music that most 15-year-olds don't really listen to." He cites everything from Fabolous to Dave East, Jill Scott, Earth, Wind & Fire, Adele, and Boney James.
However, he is still just 15 years old, so he's doing normal 15-year-old kid things, like going to school — though he sometimes takes a day or two off to go DJ at one of Brown's events in New York City or to meet his idols. "I'm a normal 15-year-old who just happens to rock parties," he explains. "I don't have a curfew, because I move a little differently. My parents make sure I'm chaperoned whenever I'm out, though. It cuts down on their worrying and unnecessary drama."