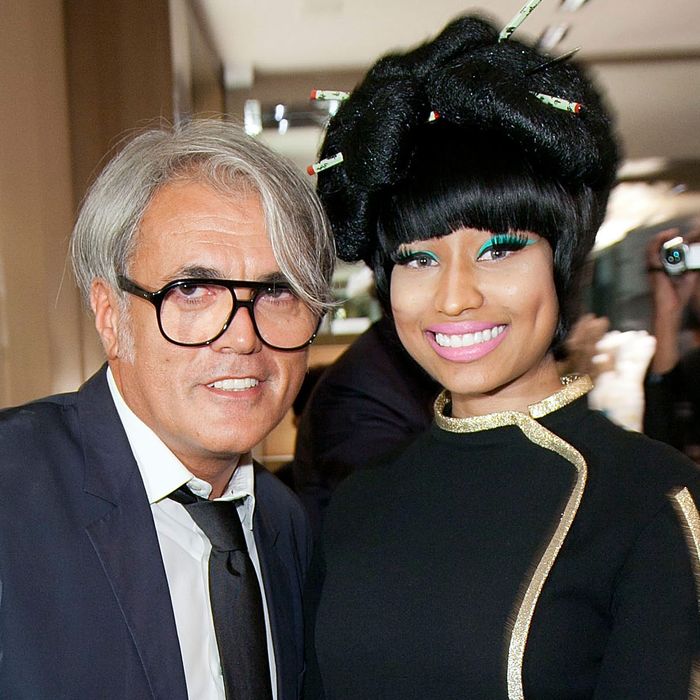 In happier times.
Photo: Ben Hider/Getty Images for Giuseppe Zanott
While the week has been dominated by Kanye versus CFDA, that conflict has died down a bit, leaving us without a fashion feud. And without further ado, Nicki Minaj just launched a competing beef with shoe designer Giuseppe Zanotti. Minaj sent out a flurry of tweets and Instagram posts and comments suggesting that Zanotti, who's designed a number of "Nicki" shoes, needs to, in the words of freelancers everywhere, #RunMeMyCheck. (A refrain that, along with #GiuseppeWhatsGood, was quickly taken up by her legion of fans.)

Zanotti has collaborated with several celebrities — including Zayn Malik, and, back in the day, Kanye himself — on collections, but has no official collaboration with Minaj. However, the rapper claimed on Instagram that the designer has been using her as inspiration without formally enlisting her as a collaborator, even after her agency reached out about the two working together. "The racism & disrespect won't b tolerated," she warned in a series of tweets, which you can read below. (Oh, and she also threatened to take him in a hypothetical boxing match.) We've reached out to a Zanotti rep for a reaction, and will update this when we hear back.

Update: Guess the hashtag campaign had some effect — Minaj retweeted a fan who noticed that the brand appears to have removed the "Nicki" styles from its site.