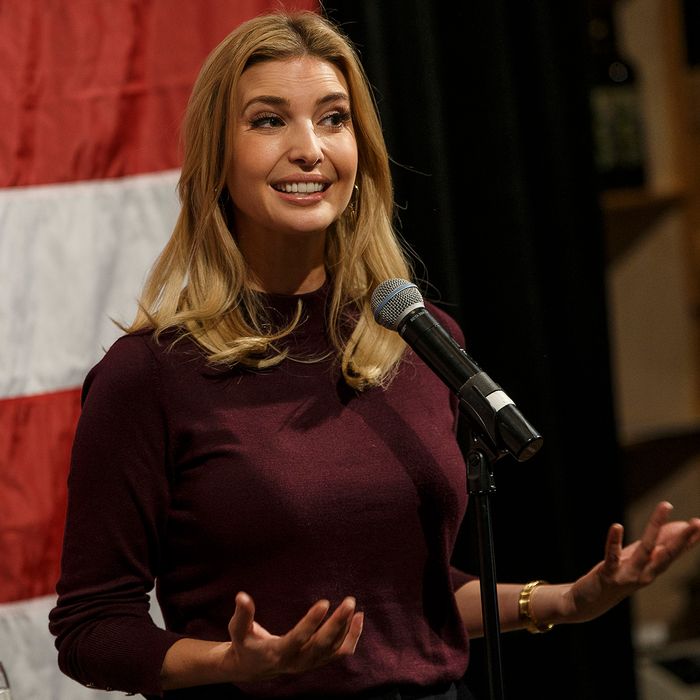 Looks like the boycott against Ivanka Trump products might have worked.
Photo: Boston Globe/Boston Globe via Getty Images
Since the 2016 election, Ivanka Trump's namesake brand has taken a few hits and slid on the public favorability rating scale, but its biggest loss to date might be due to its assessment by a major retail company. On Thursday, Nordstrom confirmed that it is officially dropping the Ivanka Trump brand and will no longer be stocking new items, according to Fortune. The decision was apparently made due to the fact that sales simply weren't high enough to justify carrying the line for next season. "We've said all along we make buying decisions based on performance," a spokesperson for Nordstrom told Fortune in an emailed statement. "In this case, based on the brand's performance, we've decided not to buy it for this season."
Ivanka has tried to publicly distance herself from her eponymous brand after facing criticism stemming from the seemingly never-ending controversies involving her and her father's politics. Her brand has been the subject of public scrutiny for months now, and there was noticeable fallout from the #GrabYourWallet movement, which called for boycotting her line. To try and settle matters, Ivanka made the initial move to separate her social-media accounts from her brand and stopped unceremoniously plugging her products at public appearances. To further try and quell fears, she announced she was stepping down from her company as well as leaving Trump Organization.
That doesn't seem to have resonated with shoppers, though. Then again, Ivanka has also failed to actually file the paperwork necessary for separating herself from her businesses. According to ProPublica, she's still listed as the chief executive officer of her company, and her social-media accounts still link to her corporate website.
Update 02/03/2017 at 5:00 p.m.: A spokesperson for Ivanka Trump's brand provided a statement to Refinery29 about Nordstrom's decision. "Nordstrom ordered both apparel and shoes for the spring, and followed through with the orders on the apparel. They canceled the shoe order, kept the apparel order and moved the apparel from online into stores. It's there," the spokesperson said.