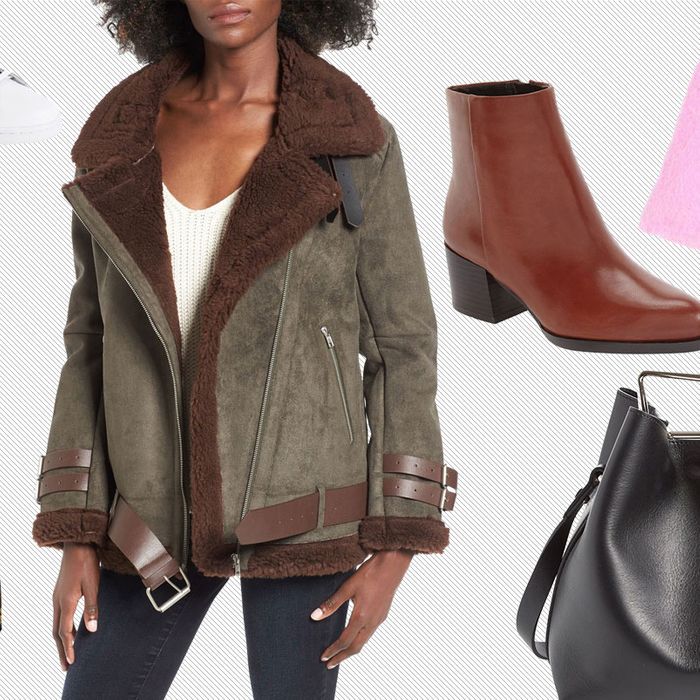 Some people like to cure their boredom with Netflix sessions on the couch, but for me, I like to peruse a great sale. It's been an expensive habit, but most of the time I just fantasy-shop — meaning, I put extravagant pieces in my virtual shopping cart that I tell myself I'll purchase when I become a millionaire. This weekend, though, there's a sale that doesn't require me to dip into my life savings. Starting today both online and in-store, Nordstrom's designer collections and high-street brands, like Shellys London and Topshop, are up to 50 percent off. Scroll below to see the picks I'll be shopping for as soon as that late-night boredom slump rolls around.

I once tried to buy this fuzzy bubblegum-pink hat during Topshop's own holiday sale, but it sold out within hours. Sure, it's obnoxiously pink, but in a sea of neutral coats it's like a spot of cheer on your head. In other good news, this past Fashion Week showed us the pink trend is showing no signs of stopping.

With a hint of sparkle from jeweled buttons, Kate Spade's faux fur coat looks way more expensive than it is. You can embrace the "rich lady from Aspen" look without spending a month's rent.

A word to the wise: Anytime boots are on sale, buy them. You'll be patting yourself on the back when they're double the price in a couple months. These chestnut booties by Sam Edelman are versatile enough to wear with winter coats, but not so dark that you can't get away with them in spring.

So you've embraced the hoodie trend to kingdom come, but you still don't want to look like a teenager waiting for the next Supreme drop. Here's an upgrade to the hoodie with a bit more sophistication: This one's made of cashmere and wool, so it feels extra soft but still looks stylish. Layer underneath a houndstooth peacoat to look like a street-style regular.

A midi dress in the freezing cold can actually be practical: layer it over a turtleneck — or even over pants if you're into taking fashion risks — or play it safe with stockings and over-the-knee boots. Either way, the possibilities are endless.

When you're running around town, your handbag should never feel like a ton of bricks. This buttery-soft mini-handbag is a perfect on-the-go companion, but the style is not too trendy that it will feel like a relic in a few months' time. A designer bag at half off, it's also likely to sell out fast.

Cropped jeans that aren't too tight, or too short, and still let you show off all those sock boots.

The best way to extend the life of your more dramatic summer tube tops and strapless tanks is to invest in a few turtlenecks. They're easy to layer and never bulky. Chelsea28's come in both black and white, so they'll be the most useful basics you own.

This shimmery off-the-shoulder top does most of the styling work for you. Pair it with minimal earrings and a pair of high-waisted trousers and you're ready for a night out.

It's the sneaker everyone tries to emulate, but now the classic Adidas shoe is available at a discount. Stan Smiths are rarely on sale, but luckily there are still a lot of sizes left.

A real shearling alternative would cost double the price, but you'll never be able to tell it's not a much more expensive runway original. This is also a chic and equally warm alternative to the not-always-flattering down puffer.

If you buy something through our links, New York may earn an affiliate commission.