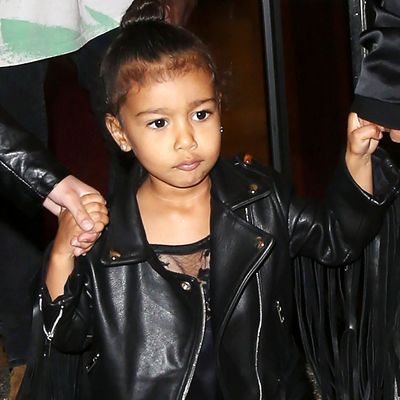 North West.
Photo: Splash News
It is a well-established fact that North West has accomplished much in her 3 and a half years of life. Or, at least as much as can be expected of someone who has yet to begin kindergarten. Still, just because she's one of the youngest in the Kardashian family, doesn't mean that she's skipping out on helping the family business when need be. In fact, little North has apparently been quite the aid to parents Kim Kardashian and Kanye West as they work on their upcoming kids' clothing line.
In a series of Snapchat videos shared on Tuesday, Kim teased an upcoming kids' line she's reportedly working on with Kanye. And North, of course, was the perfect model to highlight some of the forthcoming collection's pieces, including a yellow sequined dress and a matching shearling-lined coat.

Kim and Kanye have teased the idea of a kids' line in the past by revealing custom Yeezy 350s for baby Saint, though nothing concrete had since been confirmed. And after the roller coaster of events the couple experienced during the second half of 2016, it's only in recent weeks that things seem to be getting back to normal for the two, with Kim back on social media and Kanye working on a show for New York Fashion Week.

So perhaps it's little surprise to learn that North has taken matters into her own hands. That yellow color, sequined material, and shearling lining on North's outfit? Why, she picked it herself.