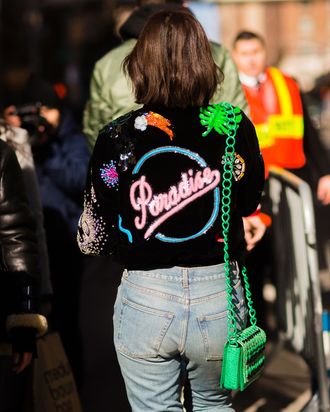 Today's Golden Peacock.
Photo: Nabile Quenum/Nabile Quenum
The Marc Jacobs resort 2017 show isn't a forgettable one — in fact, it was probably conceived with peacock dressing in mind. The collection was full of MTV sweatshirts, and an abundance of quirky pins featuring little palm trees, flamingos, rainbows, and just about every patch you could ever dream of. This specific jacket had all those fun details, but we love it even more here because the owner paired it with an '80s ombre-metallic shirt, artsy earrings, and retro sunglasses, making her our day-seven Golden Peacock Award winner.