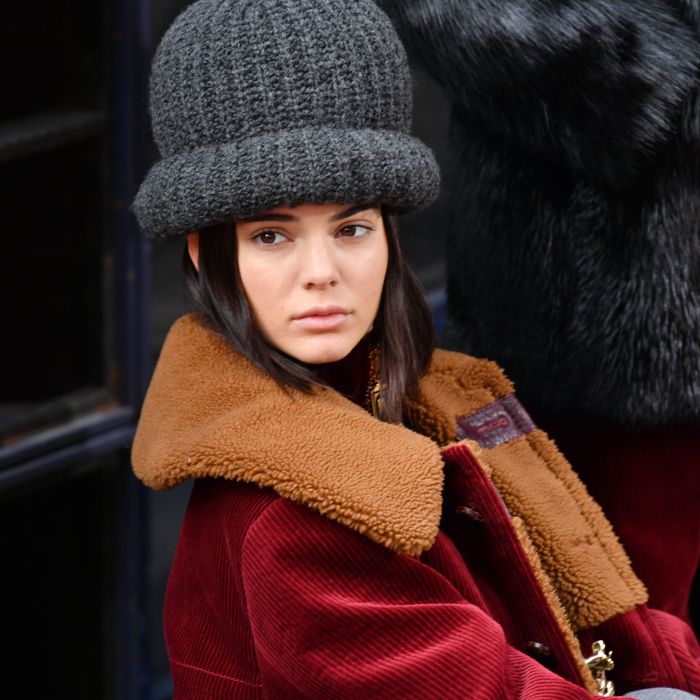 Kendall Jenner at Marc Jacobs Fall 2017.
Photo: Slaven Vlasic/Getty Images for Marc Jacobs
There were not just one, or six, beauty looks today at Marc Jacobs, but a whopping 37. But unlike fall 2010, when Jacobs and François Nars sent out 64 models in 64 wildly different club-kid makeup looks, today's multitude of beauty looks was more of a statement about the continuing importance of uniqueness, diversity, and the mixing and matching of modern makeup culture.
If you were to sum up the makeup look in two words, it would be: "It depends." Although makeup artist Diane Kendal explained that Jacobs was inspired by the documentary Hip-Hop Evolution, there were no overt nods to it. Instead Kendal said, "Some girls have mascara, some don't. Some girls have got gloss on the lid, some don't. Some girls are getting with mascara. Some are getting a lip. Some are getting eyeliner, that's black around the waterline. Some are getting a cat eye. Some aren't getting any." So you see how it depends. The makeup look given to each girl depended upon the look worn by the model ("Some were more sexy, some were more boyish," explained Kendal). Then Jacobs and the team really looked at the model — looking at her beyond just being one of the many high-cheekboned, photogenic humans in his modeling cast which included Slick Woods, Dilone, Lineisy Montero, and Jamie Bochert, but as an individual, choosing what would work best for her. If "you doing you" can be considered a beauty trend as much so as side-parted hair or glitter lips, it's a promising one with good implications.
Marking the first year Marc Beauty was used backstage, Kendal mixed primer (Marc Jacobs Beauty Undercover Coconut Face Primer) with highlighter (Marc Jacobs Beauty Glow Stick Glistening Illuminator) to create a more diffused gleam. Lips were mostly left bare but if they weren't, Kendal swirled a brush into black lipstick (Marc Jacbos Beauty Le Marc Creme Lipstick in Blacquer 000) and a deep red (Marc Jacobs Lip Creme Lipstick in Blow 210) to create a dark cabernetlike shade.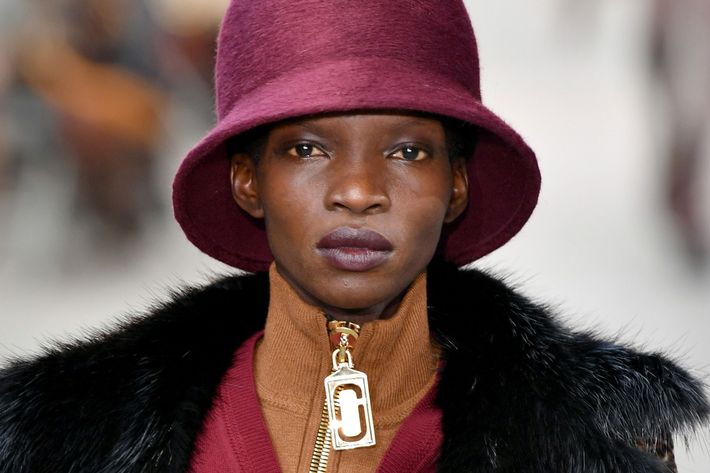 Hairstylist Guido Palau was in an excellent mood backstage. "As you know, I'm usually much more grumpy because I'm running around!" he told the beauty journalists. But no elaborate hairdos for Palau this year. Instead, practically all the models, except for two or three, wore fantastic hats created by Stephen Jones. The hats were a blend of '70s-meets-couture, like Kangol/Andre 3000 meets cloches. Much like in real life, there isn't much to creating fashion-y "hat hair." "No, not doing anything to the hair," Palau said, finally getting his chance to do virtually little backstage after François Nars had the same opportunity in spring 2015 when the makeup look was, actually, no-makeup. The curling irons were all plugged in, the hairpins sat in piles, but nothing was used. Only Bochert and one other model, named Dara, didn't wear hats. Bochert kept her hair as it was, and Dara got a side-swept half-up hairdo (textured using Redken's Windblown), pulled up with a little volume to mimic the height on the hatted models. It's also great that following last season's dreadlocks controversy, the hair didn't have any obvious references to Jacob's hip hop culture inspiration.
This season, the stressed one was manicurist Jin Soon Choi as she and her team ran around applying 34 sets of press-on nails. Individuality extended to the nails too, as a few models got simple, buffed nails, but the majority received rounded rectangular nails that were kept long "for glamour," explained Choi. Using a new Marc Jacobs Beauty polish called Trax (inspired by the color of Marc's favorite pair of 15-year-old maroon track pants), Choi decorated the nails with a design that had black and gold stripes (using the shade Gold Finger) along with M-A-R-C J-A-C-O-B-S spelled out, using studs provided by the Jacobs team. Some models received a '60s beige called called Ladies' Night, with double-J accents on the pinky.
Individuality sounds like a stunningly simple beauty idea, but one that isn't often employed at many fashion shows, when the same uniform beauty look is given to an entire modeling cast. Why is this a problem if everyone is beautiful and looks good in the beauty, you might be thinking? Sometimes uniformity is interpreted so literally that it stamps out diversity so that a model isn't able to keep to keep her own natural hair texture or the makeup artist fails to bring a shade of foundation that matches a model's skin tone. If the runways are meant to be seen as one standard of beauty, diversity is important, especially as fashion and media continue to push to make runways more "real" and reflect more of "real life." With all the important conversations happening about the importance of representation, it's nice to see a beauty look that champions uniqueness, even amongst photogenic models. And this trend may seem like nothing new, since most of us unconsciously practice "individuality" every day, whether it be we're selecting a foundation tone that suits us or a serum for our curly hair. But ultimately, we are all snowflakes — unique and complex, after all.