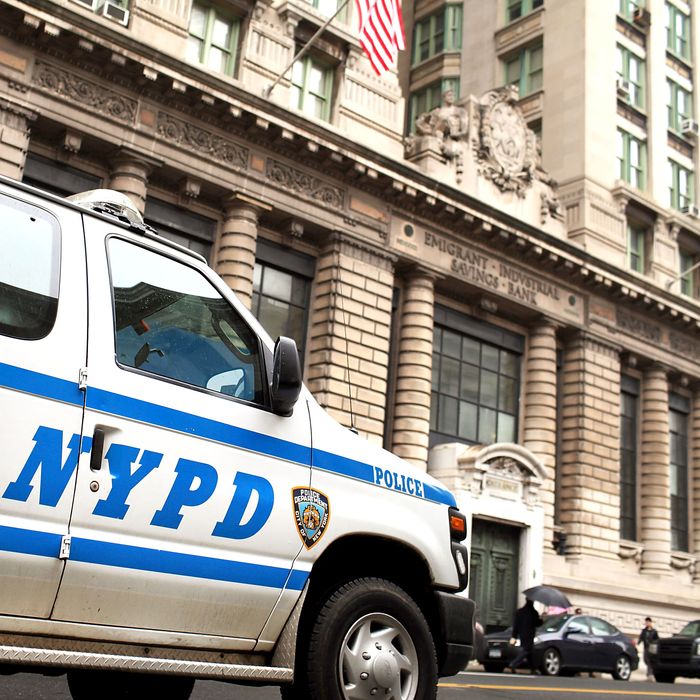 An NYPD officer is suing for civil-rights violations.
Photo: Spencer Platt/Getty Images
Officer Danielle Alamrani is suing the NYPD for civil- and human-rights violations, claiming she was harassed for years for wearing a hijab to work and that her superiors did nothing to address the situation. According to DNAinfo, she became a police officer in 2006 and converted to Islam a year later, but when she began wearing a hijab to work in 2008, her co-workers began to call her things like "terrorist" and "Taliban."
She filed a complaint with the NYPD's Equal Employment Opportunity Branch, but according to the lawsuit, no action was taken. Things escalated until December 25, 2012, when Alamrani says she was "physically attacked" by two officers who called her a "Muslim bitch" and attempted to rip her headscarf off. "I will punch you in the face," one of them told her, according to the suit.
She complained to the EEO a second time, but rather than discipline the two officers, the branch reassigned them both. And 94th Precinct captain Peter Rose, who recently landed in hot water for his comments about "stranger" rape, continued to assign her to shifts where she had to work with both officers, despite her complaints.
Alamrani says the harassment continued until December 2015, when she was transferred to another precinct. She's suing for an undisclosed amount of monetary damage, and she's also asked the court to require the NYPD to rethink its response to harassment. "I hope that those that are within the NYPD take notice and take action to make sure this never happens again," her lawyer said.