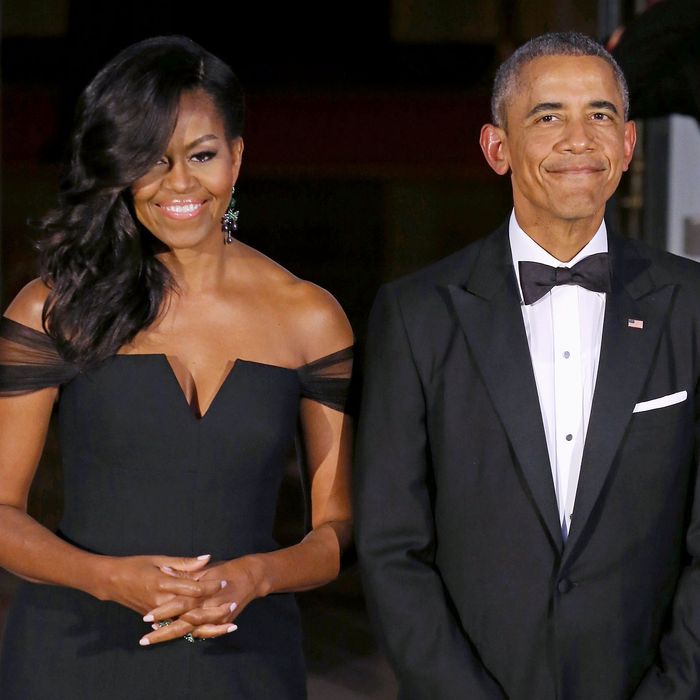 Imagine if Barack and Michelle's roles were reversed.
Photo: Chip Somodevilla/Getty Images
This election cycle, Michelle Obama proved she could give a speech as well as — and maybe even better than — her husband. But according to her law professor, Michelle's skills rivaled Barack's in other areas, too. TMZ caught up with Charles Ogletree Jr., a constitutional law professor at Harvard who taught both the Obamas when they attended the university. And according to him, Michelle was the better student — and would've been the better president.
First, Ogletree confirmed that Barack was totally that guy in law school: "He was speaking too much,'" he said. "He wanted everything. He said, 'I can answer that question, professor.' I said, 'Barack, I want to call on Mary.'"
Barack might've been talkative, but Michelle is the one who impressed Ogletree. "You know, his wife should've been president," he told TMZ. Barack "was great too, but she was better."
So … Michelle 2020? Not quite. "She could easily be president, but I don't think she will," Ogletree said. Judging by the number of times the Obamas have said exactly the same thing, that's a pretty safe bet.