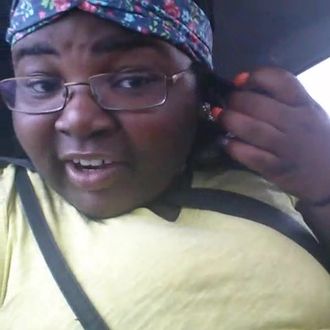 The Vine that started it all.
Peaches Monroee, the teen who introduced the phrase "on fleek" to the world in an unforgettable Vine, has launched a GoFundMe campaign to start her own cosmetics and hair-products line. The phrase caught on with Twitter users, musicians like Christina Milian, Ariana Grande, and Nicki Minaj (who called out Milian for using the phrase!), and even brands like House of Pancakes and Taco Bell. However, Monroee, as she prefers to be called, hasn't seen any financial reimbursement or recognition from the people and brands using the phrase.
As she told The Fader in 2015, "I gave the world a word. I can't explain the feeling. At the moment I haven't gotten any endorsements or received any payment. I feel that I should be compensated. But I also feel that good things happen to those who wait."
"People are still using [the phrase]," she told the Cut in an email, even though her Vine went viral in 2014. "When I go places people still recognize me," she wrote. "I was scared at first, but I thought to myself, if it's still being used 3 years later why not start something and expand." She added, "My plans for the hair line is make sure people enjoy/learn about hair extension, also I want to expand, by reaching millions of people; also with the cosmetic line I want to bring out my creative side, I want so many young ladies and women to feel even more beautiful. But I do know this is going to be hard work but I am willing to do [it], even while in college."
Twitter fans are throwing their support behind Monroee for her campaign, writing that anyone who used the phrase should kick in a few bucks — especially if they profited from it themselves.