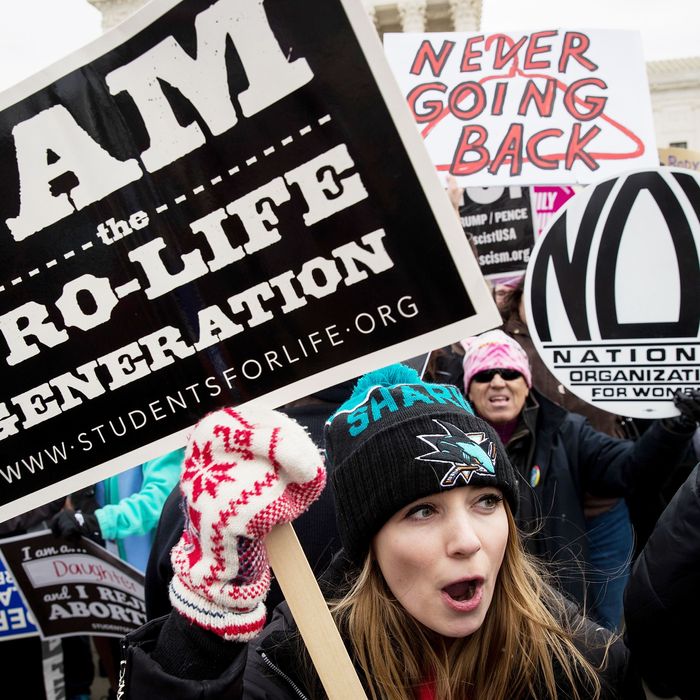 The bill would ban abortion at 20 weeks.
Photo: Drew Angerer/Getty Images
A bill that would ban abortion at 20 weeks is advancing in Pennsylvania, after the state's GOP-controlled Senate Judiciary Committee on Monday voted to send it to the full Senate, the Associated Press reports. Last year, nearly identical legislation passed Pennsylvania's House of Representatives, but stalled after opposition from Democratic governor Tom Wolf and medical organizations.
Currently, Pennsylvania allows abortions through the 24th week of pregnancy, according to the Guttmacher Institute. Pennsylvania Senate Bill 3 would make abortions illegal at the 20-week mark, with no exceptions for rape, incest, or fetal anomalies (even though most fetal anomalies are detected around 20 weeks of pregnancy). If the bill becomes law, Pennsylvania would be joining at least 16 other states that have a 20-week ban.
Governor Wolf has already called the bill radical and unconstitutional and he could use his veto power if the bill ends up on his desk, but according to the AP, it's unclear whether supporters could override him. Susan Frietsche, senior staff attorney at the Women's Law Project, told the Cut in a statement that SB3 is "blatantly unconstitutional," and pointed out that it was voted out of the Judiciary Committee "by nine middle-aged Republican men."
"SB3 risks women's lives by enabling politicians with no medical training to force doctors to provide less-than-standard care to patients under threat of arrest," Frietsche said. "It's as if they want misogyny to justify this outrageous level of political interference into families struggling to make what should be private decisions."
Update 2/8/17 at 3 p.m.: The bill passed the GOP-controlled Senate on Wednesday with a vote of 32/18, after "an emotionally charged debate," the Associated Press reports. The bill next requires approval from the House of Representatives, which it is also expected to pass, but still faces a veto threat from Gov. Wolf.