There's something really pedophilic about those," murmurs Phoebe Waller-Bridge, staring at four miniature, perfectly red apples nestled tightly in plastic wrap at a central-London Marks & Spencer, where she is shopping for a dinner party she's to host that night for elderly relatives. "I need to make a fucking kick-ass fucking meal so my husband will be like, 'Ay, ay, check this ricotta hotcake out.' "
Waller-Bridge is given to sexualizing food, among other things; she opened her 2013 Edinburgh Fringe Theatre Festival one-woman show, Fleabag, by declaring that she'd just ordered a "very slutty pizza. The bitch is dripping and that dirty little crust wants to be in me." When she turned the show — about a single 20-something maneuvering through relationships (familial, romantic, and sexual, the last two treated as often separate categories) — into a six-episode television series for BBC3 last year, she changed the opening to a scene in which her character is forced by amorous circumstance to consider the possibly above-average size of her rectum. Perhaps inevitably, when it arrived on Amazon this fall, Fleabag was hailed as the latest woman-helmed, anti-heroine and/or raunch comedy, a list that includes everything from Bridesmaids to Trainwreck to Girls to UnREAL, a mad-lib mash-up of all that feminist blogs and Twitter trolls alike get most excited to discuss. These groupings do not exactly thrill Waller-Bridge, though she's admiring of her peers. "If you go into the mainstream with a female perspective that seems to resonate with a lot of people, you have a political agenda imposed on you, you are told that you are a feminist," she says. The direct influences Waller-Bridge cites are nearly all male — Louis C.K., the original Alfie, Bret Easton Ellis, even one particular scene in East of Eden in which John Steinbeck dispenses with a character's life in a single tragic sentence — yet she's rarely compared to men. "Since you said those things about women, therefore you are a role model and an icon and you can't fuck up now because you have to be sensitive to something political," she says. "And everything a comedian wants to be is funny. Attaching something political to someone whose art has nothing to do with politics is fucking unfair. It's like putting rocks in the pockets of somebody who's just gone for a nice swim. They're going to fucking drown! That's why all women in the media sink eventually, because they aren't sinking, they've been drowned!"
Fleabag, in fairness, is risqué, though rarely in a predictable way. Waller-Bridge's character (whom fans tend to refer to as Fleabag, since she is never named) masturbates to a video of Barack Obama giving a speech about democracy; her stepmother puts on an art show that includes an installation of penis molds, including Fleabag's ex-boyfriend's and father's; she imagines, at one point, that a dog is hitting on her; she runs into a hookup at the store while buying tampons and quickly switches out supers for regulars. And it's full of wickedly sly jokes about the female condition, dark in a classically British way. In the first episode, a feminist lecturer (played by Waller-Bridge's real-life mother) asks who in the assembled crowd would give up five years of their life for a perfect body. Fleabag and her sister are the only ones in the audience whose hands shoot up, reflexively, before they exchange embarrassed looks and lower them back down.
But the series is, at its core, about grief — and the complicated ways grief and sex can be intertwined. Fleabag is mourning the death of her best friend, Boo. (It's more emotionally horrific than that, but watching that unspool is at the heart of the series, so I won't be a jerk and spoil it.) In almost every episode, she gets into low-key madcap trouble born of a complicated stew of self-destructiveness, nihilism, and the kind of defensiveness that usually only grows up to protect something very tender.
Boo's death is seen by everyone in Fleabag's life, including Fleabag herself, as the proximate cause of her sadness, but there are clues suggesting that her unhappiness began earlier, perhaps when her mother died of breast cancer and her father remarried. Fleabag has a sweet, vulnerable, off-and-on doormat of a boyfriend who finally breaks up with her midway through the series, after which she is unmoored, free to be as wanton as the pain she feels. ("The thing I really got off on," Waller-Bridge says, "was putting a female character out there that was all-knowing about sex and one step ahead, who knew what the guys were thinking before they thought it and yet still played slightly dumb to them. Oh God, it brought me so much pleasure.") Fleabag sleeps with an extremely handsome man, whom she delights in mocking a little for his vacuousness ("When did you realize you were so good-looking?" she asks. "Shit got real around 11," he replies. "Aunts got weird") while clearly enjoying having snagged his attention. Then there's the bucktoothed man who picks her up on a bus. She steals a 20 from him while he's not looking, trots him out at a family party as her plus-one when she feels acutely in need of an I've-got-my-life-together accessory, then joylessly screws him in the failing café she owns. The only time she is shown orgasming is from masturbation; she even pushes her boyfriend off her during sex to do so. "I have a horrible feeling that I'm a greedy, perverted, selfish, apathetic, cynical, depraved, morally bankrupt woman who can't even call herself a feminist," she says to her father. Believe it or not, the character is sympathetic, especially when she breaks the fourth wall, as she often does.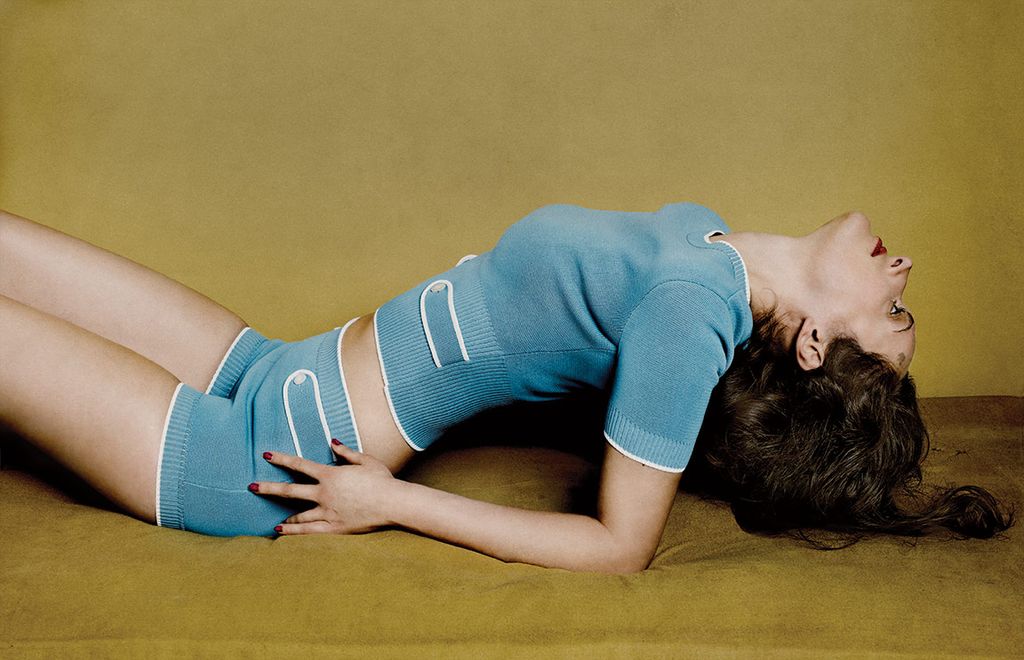 It's often assumed that when a woman writes a story about a woman, the material is autobiographical rather than imagined. Waller-Bridge will cop to some similarities with Fleabag. "I was gettin' about," she says crisply, then laughs. "I was a real cynic, a real broken romantic." And certain bits in Fleabag are ripped directly from life, she tells me, like a particularly memorable sequence in which she escalates a pledge with her boyfriend that they surprise each other every day; she dresses up as a ninja, grabs a giant kitchen knife, and startles him in the shower (in real life, Waller-Bridge was the showerer and her husband was the knife-wielder, but says she reacted exactly like the character, by crying and, strangely, apologizing). A scene in which Fleabag's sister — who in her own words has "two degrees, a husband, and a Burberry coat" — orders only a tomato sandwich, was a loving tweak at Waller-Bridge's own sister. Later, when we meet up with Vicky Jones — a director who is her frequent collaborator, best friend, and the real-life inspiration for Boo — I ask her how much of her friend she sees in Fleabag, and Jones goes into a long answer about the skill with which Waller-Bridge sees patterns in people and how she approaches art from an analytical perch, at the end of which Waller-Bridge says gleefully, "Well dodged!"
"Okay, you want the dirt," Jones says. "We had some fun for a few years, what feels like forever but was probably about six years. We went out, we had a lot of sex, we met a lot of people, we had really great nights where we'd wake up the next day — "
Waller-Bridge cuts in. "We didn't have sex."
"Oh, no, no."
"We were so close, we didn't need to," Waller-Bridge says. "Everything else was there, but lots of people thought that we must have been having sex, because we loved each other so much. It was more like, Why don't you guys just do it?"
Jones nods. "It was so much about talking into the night, with an increasing, building honesty about who we were."
Jones is blonde, thoughtful, and gentle-seeming. A friend of theirs once described the pair as being each other's subtexts, which Waller-Bridge loved. "My early plays are all about romance and love and people finding one another in the end, and Vicky's are these dark perverted fucked-up things," Waller-Bridge explains. "Vicky's always crashing around in these lovely floral dresses telling everyone how amazing they are, and I'm habitually a bit more caustic."
Waller-Bridge had only just met her now-husband, the documentarian and journalist Conor Woodman, when she began writing Fleabag, and she did it essentially by imagining what her life would be like if Jones died. "The story is of a friendship that means so much to them both," says Jack Thorne, a playwright who's worked with both women, "and as she was writing that, she was falling in love with Conor, and so in some ways Fleabag is about being pulled away from friendship, the abandonment of them that happens when you do fall in love." In other words, rather than seeing Fleabag as a dark look at what other emotions can come into play when you separate sex and love, you could see it as a dark valentine to the kinds of relationships that don't need sex to be love.
Waller-Bridge, 31, is nearly six feet tall, with the looks of a pre-Raphaelite muse whose hairdresser told her it was time to lighten things up with a chic bob. She has a mobile face and is sunnier and more open than her onscreen character, but like Fleabag, she's given to a running commentary on the absurdity of events unfolding around her. She swears like a sailor — or maybe a posh Brit — and usually in service of superlative, sincere praise. Her brother makes "fucking badass" sandwiches; the actor, Hugh Skinner, who plays her boyfriend, is a "fucking genius"; a friend's project is a "fucking beauuuuuutiful play." On the day we meet, she wears a linen tweed trenchcoat and red lipstick in a shade not dissimilar to the one Fleabag wears with such aplomb and regularity that the Hairpin tracked down the show's makeup artist to find out just what products created the look. (For the record: "a blend of oils, waxes, and pigments," based on a M.A.C color called Dare You.)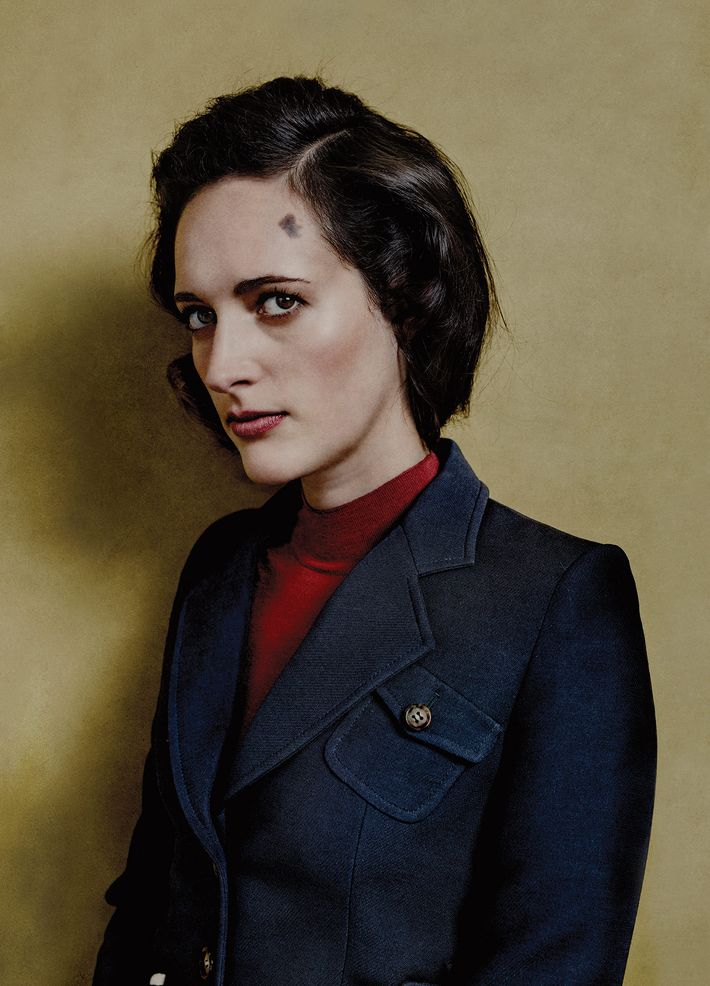 In film and television, dishevelment — or aggressively come-hither clothing — often signals that a female character is in emotional distress; meanwhile, a general Apatovian shambolicness has become almost de rigueur for female anti-heroes, their sloth and discomposure reimagined as an act of equality. But Waller-Bridge's heroine jogs, applies for a small-business loan, attends an all-women silent-meditation retreat, and is completely pulled together on a physical level, stylish in a very precise, understated way. (When her makeup smears, it is such an unusual and arresting moment that someone decided it ought to be on the poster advertising the show.) The character's own allure, at least sexually, is something she rarely doubts. When Waller-Bridge was hiring directors for the TV adaptation (Jones had never worked in television), "we kept meeting all these young bucks who were like" — she begins a macho growl — "Hey, yeah, we'll put the camera up her ass. It's a sexy grubby world she lives in." She switches to a higher-pitched, proper voice, an imitation of herself. " 'No no no, it's very clean, very stylized.' I felt very panicky." She eventually hired "a bungling gent," married and in his 50s, who said to her, "Oh for God's sake, darling, I am Fleabag."
Waller-Bridge's work is shot through with barbs about the way looks change a woman's relationship to the world. She takes particular delight in turning her self-perceived flaws into jokes. "Well, you know I've always been insecure about my face," Fleabag tells Boo as they talk about what they'd like to change in themselves. "There's nothing wrong with your nose!" replies her friend. Partly, Waller-Bridge says, her preoccupation with objectification (self- and otherwise) came out of her younger self. "The 'Pizza is a dirty little slut' bit is something I find really funny," she explains, "but it was rooted in her just thinking that's how you value everything, and that's how she values herself. Throughout a lot of my 20s, my sexual allure and power was one of the most important things about me, my currency. I did really panic and found myself just moisturizing all the time."
Meanwhile, an early, "pure" relationship had ended, and her next boyfriend watched a lot of porn. She began to join in, with what she describes as a mixture of sexual empowerment and creeping self-doubt about what he was getting onscreen that he couldn't get from her. She kept watching after they broke up, until she realized that it was making her feel bleak. "I was starting to see women in a different way. Just shamelessly objectifying them on the tube," she says. "I don't think I would have ever written Fleabag if I had bigger tits." A moment later, she adds: "It's a really dark thing to say."
We're in line at Urban Outfitters, where she's holding a couple of Christmas gifts: 52 Things to Do While You Poo, for her younger brother, Jasper, who manages bands, and The Little Book of Feminism, for Jones. ("It's actually a really good book," she says. "At first I was cynical: 'You can't have a little book of feminism'. ") "I had these wonderful friendships with brilliant women, but how is it that these happy, empowered, sexually voracious women around me are all sad? How does that work out?" She pauses, almost like she's processing — and rejecting — the conservative idea that there is a direct link. "It comes down to your relationship with your self, doesn't it?" she says in a jokey therapy voice, then adds, more seriously: "It really does."
Fleabag's title is taken from Waller-Bridge's family nickname, Flea. She grew up in Ealing, a leafy part of West London. Her family was close — her mother works for the Ironmongers' Company, a charitable institution, and her father worked in finance, co-founding the Tradepoint stock exchange (the two divorced when Waller-Bridge was in her late teens). "She was always going to be an actress," says her sister, Isobel, one year older, who is now a composer for film and television and did the score for Fleabag. The two girls would choreograph dances to Ace of Base and put on elaborate radio plays, complete with DIY sounds effects like crunching gravel to signal the approach of a character. "We always had such an open and noisy household full of people, and we were encouraged to present things," says Isobel. "It was a bit von Trapp. I'd play a piece on the piano; Phoebe would read a monologue." Isobel remembers with particular fondness one very dark piece, about a woman brutally hurt in a car crash, that her mother insisted Phoebe perform on Christmas Day.
After turning down a spot to read English at Trinity College Dublin, Waller-Bridge studied at the prestigious Royal Academy of Dramatic Art, where, she told the New York Times last year, she became bored with playing "crying girls who had just had an abortion or were having a bath" and complained to the head of the academy. She was subsequently cast as a bearded cross-dresser. Soon after graduation and applying to law school, Waller-Bridge met Jones, then a struggling director a few years her senior. They'd been around the same Soho writers' bar nights, and Waller-Bridge walked up one evening to express her admiration and drop off a paper copy of her CV. Jones cast her in one of the first paying gigs she got as a director: a vanity project mounted by a woman who'd come into a bunch of money after a car-accident settlement and requested that her handsome plumber, who'd never acted before in his life, play the romantic lead opposite her. Eventually, Jones was fired, and the play's funder asked the assembled cast if anyone else wanted to go with her. Waller-Bridge walked out, and their deep friendship began. They founded DryWrite, a theater company that put on shows at the Soho Theatre, and began working on their own short plays, ten minutes long. In the mornings, they'd walk several miles from Kensal Green along a canal to Soho, talking the whole way about life and work. It was, in a way, through Jones that Waller-Bridge got together with her husband. They'd encountered one another at a bar, briefly, years earlier, which she really didn't recall when she got a Facebook message from a man who'd seen a play she was doing. The part called for Waller-Bridge to spend much of the role in a bathtub ("All legs and ass," she says) and he sent a flirty note saying, in effect, he'd love to see if he could recognize her with her clothes on. "In a classic example of Vicky's humanity, while I'd read it and gone, 'Oof, creep,' she read it and went 'Aww.' " Waller-Bridge looked up his photo. "I went on one date and basically never left."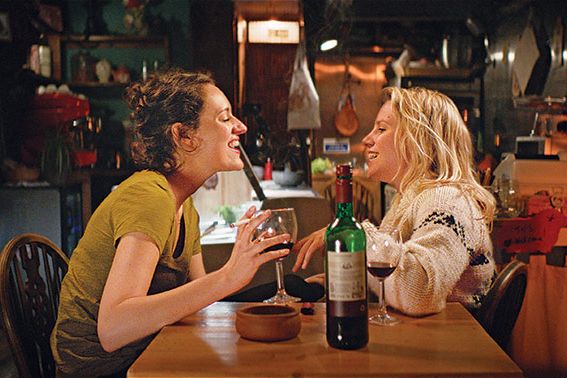 Waller-Bridge wrote Fleabag in three weeks in a "splurge," then edited by performing it for Jones (who directed the stage version). "If she laughed, it was in. If she gasped, it was in. If she said 'We can't do that,' it was in. But if the moment her face started screwing up, like, Mmm …, it was out." A BBC executive caught a performance at Edinburgh and decided — "within five minutes," he says — that the show could work on TV. Around the same time, Waller-Bridge's earliest attempts at playwriting, those ten-minute plays, became the germ of Crashing, a Channel Four ensemble comedy — now streaming on Netflix — about six friends who all live as boho-chic squatters in an abandoned hospital in London. Both hit the airwaves, coagulating into what's officially known as "a moment." It was as if the world had become "Technicolor," says Waller-Bridge. The Guardian's readers voted Fleabag the second-best TV show of the year. British Vogue called her up to ask, "Darling, how do you feel about shorts?"; in the resulting fashion spread, which Waller-Bridge finds hilarious, she is carrying a skateboard and wearing roller skates. "I got so many messages from friends who thought I'd elected that look." She scrolls through her iPhone to gleefully show me. "Every time I see the rails of my photo shoots it's like Dr. Seuss, or as if they've skinned Muppets," she says. She scrolls farther, determined to find a dress a stylist had suggested for a big interview. "The guy was like, 'I love it. It's like really fashion-forward.' " In the photograph, she is posed with her arms up, like a tree, wearing an ironic expression and a dark-green dress with extremely three-dimensional ruffles on its top half. "I was like, 'Yessss, very forest-forward.' "
In December, Soho Theatre remounted the theatrical version of Fleabag for two weeks, which sold out nearly instantly. She's talking about bringing the one-woman show to New York and is considering whether she has enough left to say about the character for another season. Film4 has commissioned her and Jones to write a movie together (they haven't settled on a subject), and BBC-America asked her to adapt a series of novellas about a female psychopath and the MI6 agent tracking her into Killing Eve. "It's a female relationship I've never seen before," Waller-Bridge explains. "I'm incredibly drawn to this woman who has relinquished herself of all guilt and shame in this world. I feel liberated being around women who are liberated. I'm fascinated by how I will feel in a decade because I know in my heart I will feel better, and despite what the world is throwing at us — 'You will be less important, less vital, less significant' — I also know in my fucking bones I'm not going to care as much."
On a mild December evening after our shopping expedition, I meet Waller-Bridge at a Kensal Green pub called Paradise, where she, Jones, and Amy Morgan, the lead actress in a new play of Jones's called Touch (and a longtime friend of both women) are gathering. They've just finished a Sunday Times Magazine photo shoot to promote the play (about a 33-year-old woman who moves from Wales to London) and are enjoying the afterglow of camera-ready hair and makeup among a crowd of people dressed as if they've come from work as bankers or lawyers. Waller-Bridge is in a long black dress, but has snuck on a pair of scuffed white sneakers.
It had been the Times journalist's last day on the job, so the trio had begun with Champagne over lunch. "Loose lips sink ships!" Waller-Bridge shouts happily, raising her vodka soda, then starts reminiscing about their early days in London theater. "I was raped horrendously in one," says Waller-Bridge. "Raped over a sofa! That's the first thing I ever saw her in," replies Jones affectionately. "My dad was in the front row. I was like, 'Dad, did you like it? Did you like it?' " Waller-Bridge laughs hard. "I said to him once, 'Dad, I've got a play.' And he said, 'Are you naked?' 'No.' 'Are you being raped?' 'Nope.' 'Can't wait, darling, really psyched!' "
Jones considers. "Fleabag doesn't have any nudity or any gratuitous sex, because if there isn't a good reason for it …"
Waller-Bridge finishes her sentence. "Bumps the audience out into a new reality."
Jones nods. "You start worrying about the actor and you think about the cameras."
"I'm always excited!" says Waller-Bridge. "I want to see what people's tits look like."
"I bet they think there's nudity in Fleabag," says Morgan.
"All the time, yes. I had this interview where this guy was like, 'You were trying to grab people's attention with the nudity and the explicit sex,' " says Waller-Bridge. "There's a bit of Hugh Skinner's bum in the shower, but come on, give the people what they want!" She gets a phone call and steps outside. "That was Mummy," she says lightly when she comes back in.
Jones tells her what she's missed. "We solved feminism! I've never thought of it more clearly than I have in this conversation."
"Funny women on TV have been around for ages," says Morgan. "But if it's not about a woman having sex, it's not called feminist, it's called a sitcom."
"Because people, not just men, are afraid of women talking about sex," Jones continues. "And so it's a backlash, effectively."
Waller-Bridge nods. "It's also a way of simplifying a whole conversation by putting one blanket over it."
"And simplifying women's stories, which is so fucking horrifically ironic!" says Jones.
"Vicky always said to me, when I was getting too into the darker side of Fleabag and I was like, 'Oh God, this just is a show about sadness,' she was like, 'No, never forget, at the end of the day, this is a show about the glory of being a woman,' " says Waller-Bridge. "And in the glory of being a woman, the darker bits are involved."
Styling by Rebecca Ramsey; fashion assistant, Julia Lurie; makeup by Kim Kiefer at Frank Agency; hair by Shukeel Murtaza at Frank Agency. Dress by Bottega Veneta. Top and shorts by Miu Miu.
*This article appears in the February 6, 2017, issue of New York Magazine.