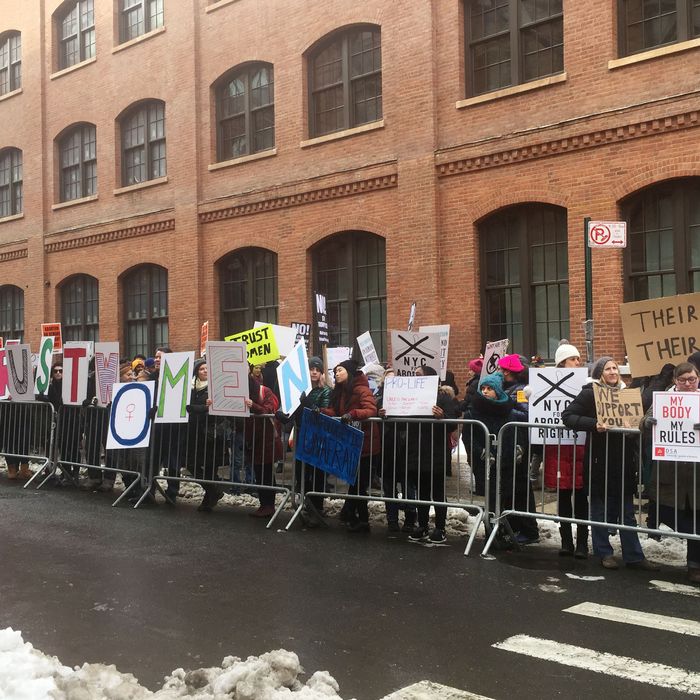 Pro-choicers out in force.
Photo: Jenni Miller
Saturday's Defund Planned Parenthood rally at New York City's Margaret Sanger Clinic was met with resistance by a group of pro-choice protestors who effectively drowned them out. The protestors standing with Planned Parenthood were out in force with slogans and signs ranging from "Abortion on demand and without apology" to a crafty tinfoil vulva. (This was one of two pro-choice rallies happening in lower Manhattan Saturday, with the other taking place in nearby Washington Square Park.) The Cut spoke to several protestors who were present to get their take on the rally.
Writer Chelsea G. Summers told the Cut that this wasn't her first time at the pro-choice rodeo. "My very first political protest in 1982 was in Washington against the Reagan administration's pro-life agenda, and I can't believe that all these years later I'm still protesting to ensure that women have the right to a safe, legal abortion without apology." As for the Defund Planned Parenthood rally, we both agreed that it was less than impressive.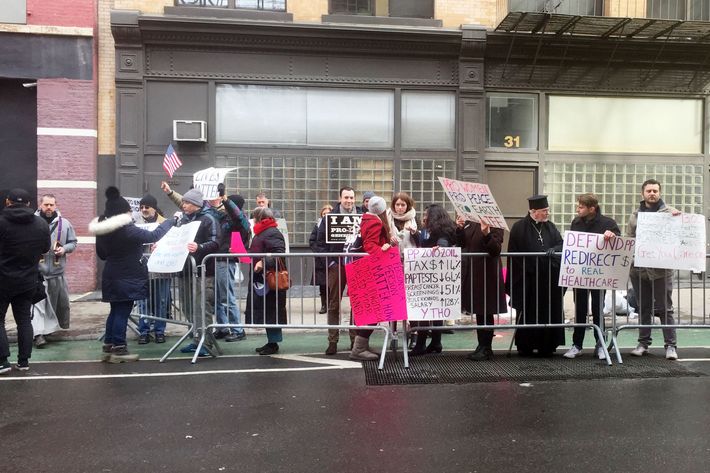 One woman holding a sign that read "Get your rosaries off my ovaries" noted, "I think this is a really essential right for women to determine what happens to their bodies, and it's just really shocking and scary — but you know what, every generation has to fight for its freedoms, so this is good. This is good that people are rising up, another generation. I'm old enough to have [protested] against the Vietnam War and fighting for women's rights and civil rights, and … [it] makes me feel hopeful to see things like this. To see young people, the next generation, taking the place of my generation and learning how to defend ourselves."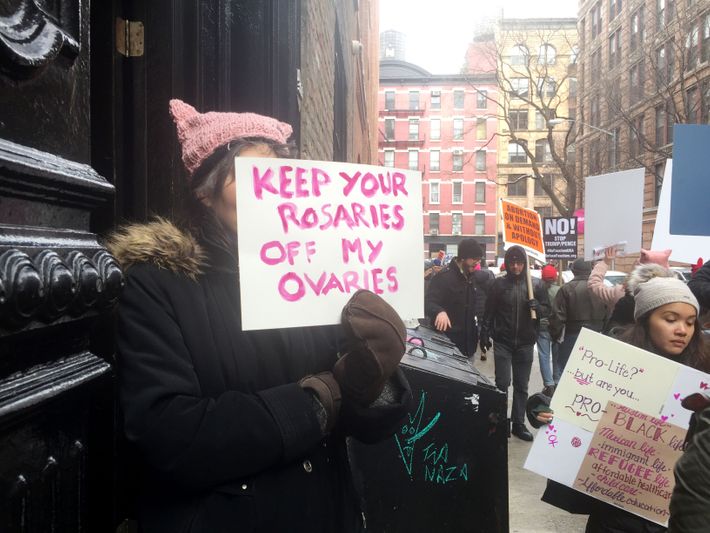 Delicia Jones, who wore a purple arm band to denote she was one of the organizers, said:
I'm here to stand in solidarity with the women who receive services here. I've also been a patient at this very clinic, so I just come here in the knowledge that I never had to deal with this kind of attack and this kind of harassment, and I wouldn't want another sister to feel like she was alone in that moment, especially — I know the fear and the shame that can be pushed on you from folks, so I just wanted to come out and show my support. I also feel like Planned Parenthood is an incredible service provider, but they're not a political entity. They're not the people. They do not make the movement; we make the movement, and I think that a lot of folks are here because — not because we stand in opposition to Planned Parenthood or that we don't support them totally, we do, and I do — I think it's because we feel like the time right now is so important for us to be active when the right is being active as well, when the right is, you know, showing their face and showing their force, and we just feel like we have to do the same thing.