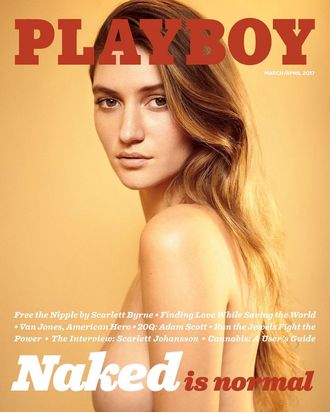 Photo: Courtesy of Instagram/playboy
Because everything old is nude again, naked models will once again grace the pages of Playboy.
Back in 2015, the magazine announced that as part of their redesign, they would no longer feature photographs of fully nude models, opting instead for suggestive poses and the good ol' hand-bra trick. At the time, Playboy's chief executive, Scott Flanders, said, "You're now one click away from every sex act imaginable for free. And so it's just passé at this juncture."
That mind-set didn't last long. In October, the New York Post's Keith Kelly reported that Hugh Hefner's son, 25-year-old Cooper Hefner, had been named Chief Creative Officer at the company in his father's stead. But before he even worked there, Cooper was apparently displeased with the move away from nudes, leading to speculation that Playboy would soon return to its old ways.
In fact, the March/April 2017 cover features a topless shot of model Elizabeth Elam censored by the headline "Naked Is Normal." (According to the Post, despite the return to "breasts and butts," full frontal nudity is still off the table.)
A tweet from Cooper expounded on the change. In a text overlay on a photo of himself, he wrote "I'll be the first to admit that the way in which the magazine portrayed nudity was dated, but removing it entirely was a mistake. Nudity was never the problem because nudity isn't a problem. Today we're taking our identity back and reclaiming who we are."
A sad day for everyone who read Playboy for the articles.